Review: StuffIt Deluxe 6.0

Developer: Aladdin Systems, Inc.
Price: $79.95 (list); $29.95 (upgrade)
Requirements: PowerPC-based Mac with OS 8.1.
Trial: None
With StuffIt Deluxe 6.0, Aladdin has updated its venerable compression product yet again. Recent updates have not been compelling: the new StuffIt 5 format was incompatible, slower, and only marginally tighter. And other than changing the format it seems that recent upgrades have focused mainly on making StuffIt Browser compatible with the latest releases of the operating system. Version 6 is different. It includes several important new features and improves the usability of the product.
Overview
StuffIt Deluxe compresses and decompresses using the proprietary StuffIt 5 format, and encodes and decodes just about any other format you can find on the Internet. (It cannot, however, create archives in the old StuffIt 3 format, so people you exchange archives with will need StuffIt Expander 5.x or later.) These basic features are simple and tackled long ago, so StuffIt Deluxe concerns itself mainly with providing increasingly easy ways to access them. The PDF manual is a handy reference for learning StuffIt's various efficiency tricks.
A suite of drag and drop utilities (StuffIt Expander, DropStuff, and DropZip) let you expand and create StuffIt and Zip archives. Three more drag and drop utilities handle more infrequent tasks. DropSegment lets you break files into smaller pieces for easy transfer using removable media or the Internet; the pieces can then be joined using StuffIt Expander. DropConverter converts files of varying formats into StuffIt 5 archives. The last, Secure Delete, has nothing to do with compression; it erases files and overwrites their locations on disk to prevent anyone from reading sensitive documents that you've deleted.
The True Finder Integration features make working with StuffIt even easier. The Archive via Rename component lets you invoke common StuffIt features by renaming files in the Finder. For instance, adding ".sit" to a file's name turns it into a StuffIt archive. TFI's Magic Menu adds a StuffIt menu to the Finder, as well as a contextual menu with similar features. The StuffIt Browser lets you manipulate StuffIt archives in the Finder as though they were folders. Drag files into an archive window to add them to the archive; drag them out to unstuff them.
Finally, the StuffIt Deluxe application combines the features of StuffIt Browser and Magic Menu into a single scriptable application that requires no extensions or Finder hackery.
Changes
All the StuffIt applications have been Carbonized. This means that they run natively on Mac OS X but no longer run at all on 68K Macs. Most interface elements have also been updated for the Appearance Manager, so they look nice on OS 9 and inherit the Aqua look and feel on OS X.

StuffIt Deluxe Running on Mac OS X Public Beta
StuffIt can now decode the .rar and .lha formats, and it can create LHa archives. The contextual menu in the Finder has been improved: it is now more intelligent about the options that it displays. For instance, it no longer provides an option to expand a file that is not compressed or encoded.
The Aladdin Compression control panel that let you choose between fast compression and slow (but slightly tighter) compression has been eliminated. Instead, each StuffIt component lets you choose the compression method in its preferences dialog; it is no longer possible to globally change the compression method across all components. I could not find a way to select the compression method used by the StuffIt engine when it's used as a helper for other applications such as e-mail clients or Greg's Browser.
The most welcome revisions are to the StuffIt Deluxe application. In previous versions, it was a pale imitation of the StuffIt Browser. However, the new Deluxe application brings support for multiple windows per archive, so that browsing an archive is just like browsing folders in the Finder. It also has resizable and reorderable columns that make it easier to see the information you care about without using a lot of screen space.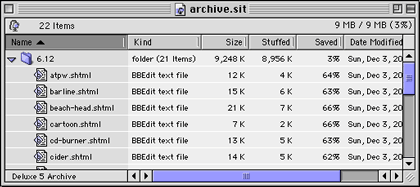 StuffIt Deluxe Running on Mac OS 9
The improvements to the Deluxe application are particularly important because StuffIt Browser and the rest of True Finder Integration are incompatible with Mac OS X. (They rely on patching the operating system, a feature that Mac OS X wisely disallows because of the stability problems it can cause.) The Deluxe application thus becomes the primary interface for everything but basic compression and expansion. In fact, it works better on OS X than on OS 9: OS 9 divides windows into layers by application, but Mac OS X allows arbitrary window layerings. So on X it's easy to work with Desktop (Finder) and Deluxe windows at the same time even though they belong to different applications.
New Features
In addition to the above refinements, StuffIt Deluxe 6 includes two totally new features. You can now attach Return Receipts, which are short text messages, to archives. When an archive with a Return Receipt is opened or unstuffed, StuffIt can optionally save the message to disk or open your e-mail application to respond to it. All the major e-mail programs are supported, except for Apple's Mail, which only runs on Mac OS X.
Archive Search is like Sherlock for StuffIt archives. It can search inside a collection of StuffIt archives. The available criteria are what you'd expect: you can search by filename, file size (stuffed or unstuffed), date, kind, label, etc. As with Sherlock, you can combine multiple criteria to narrow a search.
Archive Search is cool, but I wish Aladdin had used "Fewer" instead of "Less."
After completing a search, Archive Search displays the found files in a manner similar to Sherlock. Double-clicking a file unstuffs it, and you can also Reveal an item, which opens it in StuffIt Deluxe.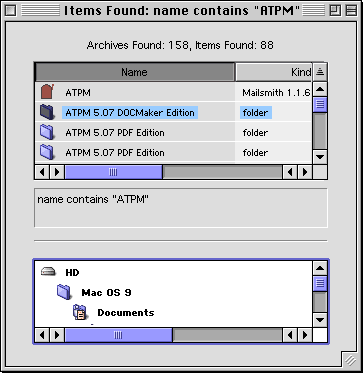 Shortcomings
StuffIt Deluxe 6 addresses many of my complaints about previous versions through the usability improvements described above. However, a few problems remain. The most annoying is that True Finder Integration is still modal: it locks up the whole Finder until the operation is complete. A much better solution would be for True Finder Integration to call on helper applications that could do the work in the background. DiskDoubler, which has been defunct for years, supported this and even let you queue operations.
The other major problem is that all the StuffIt components hog the processor, even when they're in the background. This is not an issue on Mac OS X because the operating system can pre-empt them and give processor time to other programs, but on Mac OS 9 it is very difficult to do anything in another application while StuffIt is working in the background.
Finally, support for the two different compression formats remains half-baked. DiskDoubler made it easy to tell which files were compressed with which method, and to convert between them. Its AutoDoubler component could scan for files compressed with the fast (but less effective) method and recompress them with the tighter algorithm when the system was idle. StuffIt Deluxe has neither of these features.
Conclusion
Everyone needs StuffIt Expander, which is free. The latest version includes all of Deluxe's expansion and decoding features, which were previously only available to StuffIt Expander through the Drop Stuff with Expander Enhancer package (or the full StuffIt Deluxe). For $30, DropStuff or DropZip will respectively add StuffIt compression and BinHexing or Zip compression, UUEncoding, and MacBinary. For the occasional user, these are reasonable alternatives to buying the full StuffIt Deluxe package or using Apple's free Disk Copy. For those who frequently work with archives and strange Internet file formats, StuffIt Deluxe 6 is the way to go. It has its flaws, but it's getting better and it's easily the best StuffIt yet.