Review: Backyard Soccer, MLS Edition

Developer: Humongous Entertainment
Price: $19.99
Requirements: 133 MHz PowerPC, System 7.5.3. Ages 5-10.
Trial: None
Once again, the Backyard Kids have taken to the field in Backyard Soccer, MLS edition. They're joined by 15 of today's leading players from the Major League Soccer and the US Women's team, as kids of course. Play elements are similar to the other Backyard games, reviewed here previously. Pick your players, your home field, and your starting lineup, and start the game!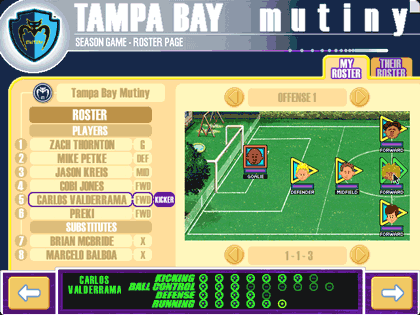 Sunny Day is back as play-by-play announcer and is joined by colorman Earl Grey. They call an exciting game, as your mouse hand gets a workout. The simple point and click interface is used in this case to move the ball around and to select who's going to kick it. Special care should be taken when selecting your home field: when my son Scott chose a cement playground, the ball just kept rolling forever, which made it hard for expert ballhandler Carlos Valderrama to maintain control.
Once again, I stacked my team with Major League Soccer players; however, some of the Backyard Kids are professional class as well. I really enjoyed this game, even though it was made for my daughter Amanda, who's six, and for my son Scott, who just turned four. OK, Scott does tend to kick the ball into his own goal a lot, but he has fun, and that's all that matters. He was even able to choose his favorite color—green—as his team color.
I was disappointed by not being able to create my own player, as with the other Backyard games. However, game play was really easy. I was passing like an expert almost immediately, and I played through the game until I'd worked my way up to the Premier division, which I won. Along the way, incidentally, there was an indoor invitational soccer tournament.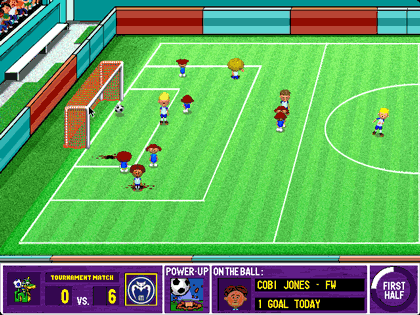 I was able to get pretty good at banking the ball off the wall while passing. I also scored off a corner kick. As with other Backyard games, you're awarded various powerups for excellent game play. Although I wasn't able to figure out what an "excellent play" was, I was able to score with an underground powerup.
Then came the Astonishingly Shiny Cup of All Cups Tournament. I played against teams from all over the world, and the competition was tough. While by this time I was able to master passing, kicking, tackling, and shooting, goal keeping was still a mystery. I was scored upon for the first time, and I even lost my first game. However, I still won the tournament, and the Cup.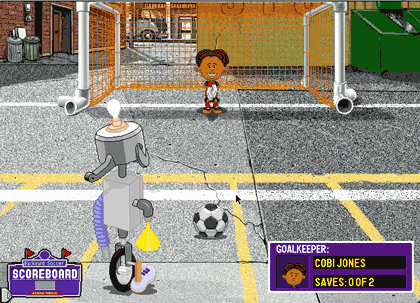 If you feel you need practice, you can shoot penalty kicks against Mr. Clanky, who also doubles as the referee during game play. Or, you can tend goal while Mr. Clanky shoots at you. Backyard Soccer Major League Soccer Edition will undoubtedly provide hours of fun for the whole family; that is of course, if you ever let your kids use the computer!