Review: Finale 2001

Developer: Coda Music Technology
Price: $545; $199 (competitive upgrade); $149 (upgrade from v. 1.0-'98); $99 (upgrade from Finale 2000)
Requirements: PowerPC-based Mac with System 7.6.1.
Recommended: 40 MB hard disk space
Trial: Feature-limited (no saving, only one page per printout with "Finale Demo" superimposed.)
Happy New Year
Another year, and another version of the venerable notation program Finale. Well, not quite. As with Finale 2000, Coda released 2001 a few months ahead of the calendar, then added maintenance upgrades over the course of the fall. Now on version "c," Finale 2001 has achieved the same stability as its predecessor.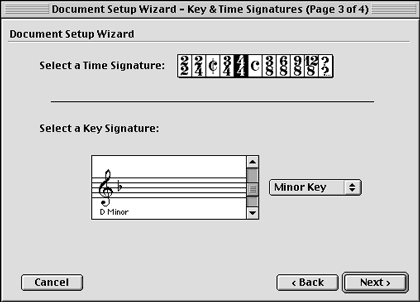 The New Wizard Menus
A More Powerful Wizard
The Set-up Wizard, introduced in Finale 2000, has been expanded to include key and time signatures, initial tempo, font, and a pickup (anacrusis) if desired. Copyright information can now be included in the same step as title and composer, though the feature would be more useful if the copyright symbol were added automatically. Not everyone remembers Option-G.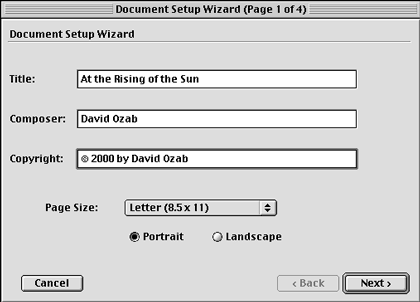 The Revised Title Menu With Added Copyright
In the second page of the setup wizard, where the user adds parts, Finale 2001 includes orderings for orchestra, jazz band, concert band, and choir (which is identical to orchestra, but with the choir under the orchestra, and above accompanying instruments, like piano or guitar), along with custom orderings for any number of mixed chamber groups or combos. This was a feature I suggested in my review of Finale 2000, and I'm glad that it was incorporated in this upgrade.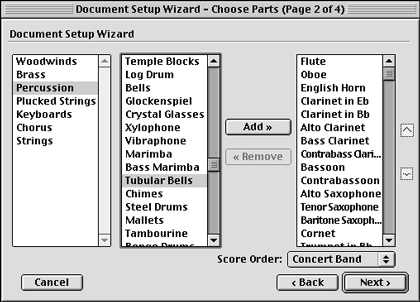 The Revised Parts Menu
A More Flexible Fretboard
Guitar chord symbols have long been an important part of Finale, and, in the past, users have had the option of including fretboard diagrams along with chord names. These diagrams were limited to the most common fingerings, however, which might or might not be appropriate for the voicing of a particular passage. Finale 2001 adds a Fretboard Editor, which is accessible through the manual chord entry menu.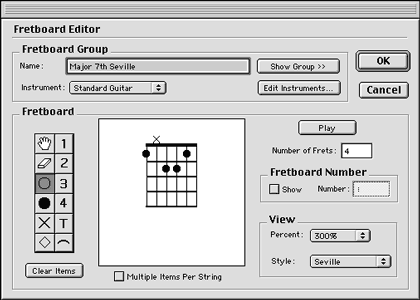 Fretboard Editor
Editing is very easy. Simply select a fingering mark from the menu on the left and click on the desired location. To see transpositions of the same chord type (i.e., all major, minor, minor sevenths, etc.), select the show group option. Chord transpositions can then be selected from the group menu in the lower portion of the window.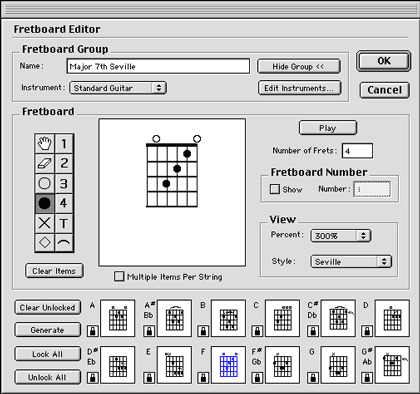 Expanded Fretboard Editor
In the above example, I have edited the F major seventh chord to place it in first inversion (A in the bass) in order to connect it smoothly to an A minor chord. A sample progression that includes this chord follows:

Sample Progression With an Edited Chord Diagram
A typical open chord voicing can be conveyed simply through chord labeling, but the diagrams make the voicing clearer.
New Publishing Options
The traditional route for publishing is printing, and Finale has become the standard for self-publication though its excellent printed output. Coda is betting on an expanded role for publishing on the Internet and has added three new options to take advantage of what they see as a growing market.
"Save as Web Page…" turns a Finale file into a Web page that can be edited by any Web page editor and viewed with the new Finale Music Viewer Plugin. "Post at Finale Showcase…" takes the same file and automatically loads it on Coda's Web site (once this feature is up and running, as of the time of this writing the page is still under construction). "Distribute at Net4Music…" posts the file to net4music.com (as a PDF file), an Internet publishing site that claims secure transactions and a 40% cut on sales.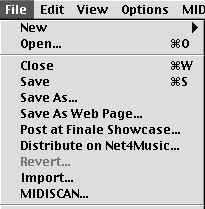 Internet Publishing Options
Honestly, I'm not sold on these features. PDF format is already used extensively to post sheet music on the Web, and the Acrobat Reader plug-in is fairly universal while Finale's Music Viewer plug-in is brand new. As for posting on Coda's Web site, I'd like to see the terms under which Finale agrees to post samples before I can comment further. I have similar reservations about net4music.com. As far as I can tell from the site, only two self-published composers have posted their music so far. All the other scores are by established musicians and/or composers, only some of whom are in public domain. I have to assume that net4music.com has legal clearance to sell all the copyrighted works, even though I can't find a clear statement to this effect on the site.
Other Features
It's pretty much a grab bag. Slightly better spacing in page view, an automatic final bar in the last measure, some new plug-ins and templates, and so on. In particular, Coda makes a big deal of their new Mic Notator option, which lets you record music from an acoustic instrument instead of a MIDI keyboard. They do, however, recommend buying a $30 Finale instrumental microphone in order to take full advantage of this feature. Like all pitch to MIDI converters, it can only handle melodies, and higher instruments track better than lower ones. (Honestly, I couldn't get this feature to work through my G3's built-in mic; it couldn't even distinguish between the notes I was playing and the background noise.)
Final Verdict
All in all, it's a good upgrade, but I'm not sure it's worth $99 for Finale 2000 owners like myself. The one major addition is the Fretboard Editor, so you should upgrade if you can't live without that. I also recommend it for users of Finale '98 and earlier, due as much to the features introduced in Finale 2000 (which was a substantial improvement) as to the features added to this version. Though the program is still Excellent in general, my doubts about Coda's choice of Internet publishing options, along with my reluctance to pay $99 for a minor upgrade, lowers my final rating just a little.