Review: 3D Bridge Deluxe 1.0

Developer: Freeverse Software
Price: $19.95
Requirements: Mac OS 8.1.
Trial: Fully-featured (30 days). Puppets for online play are richer with purchase of CD.
I was excited to hear that one of my favorite software companies had come out with a bridge game, but I'm bummed to have to tell you that it'll need a lot of work before I can stand to play it. Available evidence suggests that none of the writers or programmers actually consulted a serious bridge player when they were drawing up the characters' card-playing abilities. I'll get to the flaws soon enough, but let me throw in a happy thought first: if you're new to the game of bridge or would like to try it out at home in a non-threatening environment, this may very well be the game for you.
As we've come to expect from Freeverse, the presentation is excellent, with vivid backgrounds, cool music, and chatty characters (some of whom we've met in their other games). If you've played much real bridge at all, though, you're probably not going to like this game very much.
Problem One: You can't claim or concede the remainder of the tricks. If for no other reason, that would stop me from purchasing it. There's nothing quite so tedious as playing out a small slam that everyone at the table knows is cold for 12 tricks. Having to click on each card and wait for the opponents to follow suit, even at the fastest speed the game allows, is still a huge waste of time. But like I said, if you're new to bridge, and if pondering all of those tricks as they happen is educational, try the game out and enjoy it.
I hadn't played in a year or so, and my last experience was with online heavyweight OK Bridge. Compared to the somewhat cool Windows software they have, telnetting from a Mac is far inferior; however, playing cards online isn't about some pretty interface, but about being able to play with real people while still in your underwear.
I've only found one Mac bridge game that was very good—Bridge Baron—but still haven't invested in the full version. I haven't been out looking for bridge software lately, so there could be all kinds of great stuff out there. When my weekly download newsletter arrived with news of Freeverse's newest offering, I couldn't wait. I downloaded the demo right then and jumped in, but I'd learned my lesson with Freeverse's Burning Monkey Puzzle Lab and stopped to peruse the ReadMe file first. Just trust me, it's worth a skim. Lotsa fun.
I found the preferences, bumped up the skill level and aggressiveness of the other three players, and clicked on all of the available bidding conventions. Jam the speed up to fastest, turn the score-card on, and we're ready to go.
Problem Two: Oh, how sad I was to realize that these players are really, really dumb. You expect a certain amount of stiltedness in the bidding of computer players, but at least the card play itself could be well programmed. "Third-hand high" is a great rule for the first hour you ever play, but once in a while after that we're allowed to turn on our brains to decide when it's foolish. Check out Jet's brilliant play of the Ace of Spades to cover his own partner's King of Spades in the dummy.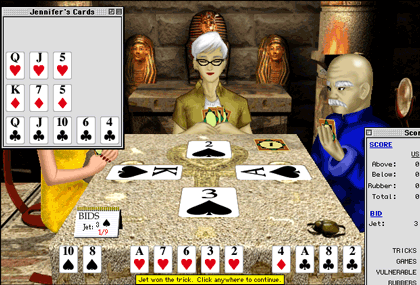 He deliberately led the Ace, knowing he was going to drop the King under it. Yes, there are isolated situations in which this kind of transportation issue solves a problem, but trust me, Jet's not that bright. He's just leading out his tricks.
Problem Three: Wussy bidding. Look at this hand of Jenny's, minus the Ace of Hearts, which played to the first trick. She made two bids on this hand: 1 Diamond and 2 Diamonds. Unforgivable. This hand has the power to inspire all sorts of exciting auctions, in the clutches of someone with even a smidgen of imagination.
Of course that's the trouble with these players; they have no imagination. I guess that's why most games end with your side winning and get really boring really quickly.
If Freeverse wants to snazz up this game for its next upgrade, the gang needs to lurk at OK Bridge or at a real tournament for a little while, just to get a feel for how the game can really be played. Listening to the postmortem after a hand is really where we learn the most about bidding and card play. Better yet, ask a successful advanced player for some tips (not me, but I'd be glad to tell people where to look).
3D Bridge isn't designed to mimic actual tournament play—there's no substitute for that actual rush—but we could certainly figure out a way to move the players up the evolutionary scale a bit. With the skill level these characters have right now, we might as well be playing against that burning monkey.
A nifty benefit of purchasing Freeverse's games is membership on the HMS Freeverse, their online gameroom in which you can play against real live folks. If you have broadband access and some decent playmates, 3D Bridge has much more to offer, since you're playing against actual brains instead of simulated ones.