Review: Kodak Photo CD, Picture CD, & Photo Net
We live in a digital age, and digital photography has become very popular. But maybe you own an analog camera and like taking pictures the old way. Or maybe you bought a new analog SRS camera because of the huge variety of zooms and macros. If you occasionally like to e-mail pictures to friends or share images over the Internet, you might consider a scanner; but a scanner eats up desktop space and may need additional software to enhance your pictures. If you simply want to "go digital" with your pictures now and then without getting too complicated, Kodak provides a few good alternatives.
• • •
Kodak Photo CD

Developer: Eastman Kodak Company
Price: starts at $25 per roll
Requirements: 68020-based Mac with System 7.0. Adobe Photoshop 3.0.x (for Acquire Plug-In).
Recommended: 68030-based Mac.
For a professional approach, try Kodak Photo CD. You send in your 35mm film images (negatives, slides, B&W, internegatives) to be scanned and transferred to an XA-formatted CD-ROM. The disc can be burned over several sessions, making it possible to add images until the CD is full.
A standard Photo CD can hold 100 pictures scanned from 35mm film; there's space for four 24-exposure rolls. The pictures are stored in five resolutions. The highest resolution is 3072 x 2048; the lowest is 192 x 128. All resolutions are stored in one file. These five resolutions are called: Base/16 (192 x 128), Base/4 (384 x 256), Base (768 x 512, TV format), 4Base (1536 x 1024, HDTV format), and 16Base (3072 x 2048). The 4Base and 16Base images are compressed using Huffman encoding so no information is lost during compression.
The Photo CD mounts on your desktop like a normal CD-ROM. The pictures appear in five different folders (one for each resolution) even though there is actually only one Photo CD file on the CD containing all five resolutions. Or, you can use the Kodak Photo CD Acquire Module, a plug-in for Adobe Photoshop. This software enables you to acquire images stored in Photo CD format and to perform basic functions like sharpening, cropping, zooming, and rotating the images. A preview window helps to select the picture you want. In the 16Base resolution, an image made with a standard 35mm film camera measures about 5 x 3.4 inches for a print resolution of 600 dpi.
The image quality, in general, is good. However, most pictures need retouching to remove dust or hairs and to crop the images, because the scanning process seems to be done quickly and because the edges and corners of images tend to fade.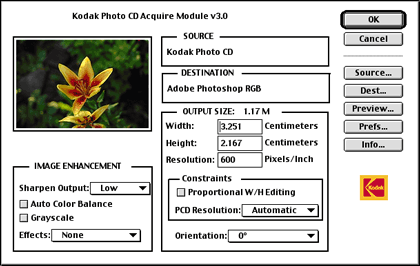 When introduced in 1992, Kodak Photo CD was aimed not only at professional users, but also at the consumer market. The Photo CD format and the Photo CD were intended to revolutionize the photography sector the way the audio CD had changed the music market. Along with Photo CD, players were developed that could be used to watch your images on your TV set (as well as to play normal Audio CDs). The Photo CD stayed, but the players were replaced by desktop computers. The Photo CD format has been widely supported through alliances with Apple and Microsoft.
Neither the technology nor the software have changed much since then. Kodak seems to consider its own product outdated. The Acquire Module hasn't been updated in the past five years, but the world of desktop publishing and personal computing has changed significantly. Scanners and CD recorders are very cheap today. Compared to the prices for a cheap scanner and CD recorder, a Photo CD is very expensive (starting at $25 per film roll), and it may take up to two weeks till you hold your Photo CD in your hands. Since it rarely happens (at least in my experience) that a roll of film contains only world-class pictures, it may be worthwhile to spend some money on a scanner if you need the high quality. The quality of scanners even in the $100 range is good enough to digitize even your best pictures.
Kodak Picture CD

Developer: Eastman Kodak Company
Price: $8.95 per roll
Requirements: PowerPC-based Mac with Mac OS 8.0, 20 MB of application RAM.
Recommended: G3-based Mac.
With the "everyday picture-taker" in mind, Kodak designed Kodak Picture CD. This service is only available from an original roll of 35mm or APS-film at the time of development. A Picture CD can hold 40 pictures, so there's space for only one 36-exposure roll. Since this CD contains holds only a single ISO9660-session, no further pictures can be added. The pictures are scanned and burned onto a CD similar to a Photo CD; however, there's only one resolution (4-base, 1536 x 1024-APS films are scanned at 1536 x 864 pixels).
The images are stored as JPEG files. Each CD ships with software to view, edit, and send your images. The Macintosh user interface is made with Macromedia's Director software and is designed for the average computer user. The editing features are limited to basic functions like rotating and cropping images, and removing red eyes. The retouched images are stored on the startup disk in a folder called "Kodak Picture CD." Every time you insert the same Picture CD, the folder is scanned and the edited images are shown together with the original pictures on the CD.
Users with Internet access can send their favorite pictures to their loved ones on the other side of the globe using the Picture CD software. The interface lets you select images and add text. However, you can't control the resolution in which the images are sent. The pictures are sent in a regular e-mail attachment. The slideshow displays your pictures on the screen, but again, the resolution can't be chosen manually and the pictures are shown only in the 768 x 512 format (on my 14-inch PowerBook display).
The wallpaper feature that lets you choose your favorite image as desktop picture is not available for Macintosh users, though the implementation seems to be in progress. The printing feature offers several templates to choose from and makes it easy to print several low-resolution images on one page.
Last but not least, you can use the software to export your images from the Picture CD to your hard disk. You can choose among different formats and JPEG compressions depending on the purpose (Internet, professional use, etc.). The overall look and feel of the software is very good. The application is easy to use and very intuitive. If you already have Internet access it's never been easier to send your pictures over the Internet. However, in some cases, the program on the CD didn't launch or kept crashing when looking for images on the CD.
Picture CD is aimed for occasional computer users, not power users. I must emphasize this. People who really want to work with their pictures and look for high quality scans should stay away from Kodak Picture CD. Some of the scanned pictures show a strong Moire effect, and images taken with 200 speed films look pixellated. The resolution of the images and the JPEG format limit the utility of the Picture CD for professionals and power users.
For those who don't need the quality or simply want to share their pictures over the Internet, Picture CD is affordable and easy to use.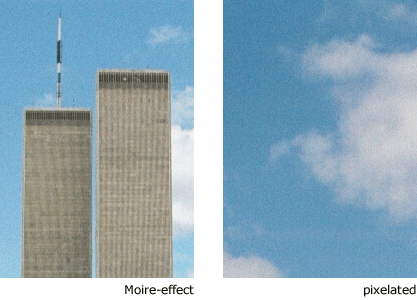 Kodak Photo Net

Developer: Eastman Kodak Company
Price: $5.95 per roll (+ $1 for downloading high resolution scans, 1536 x 1024)
Requirements: Internet-compatible PC and 4.0 Web browser.
For those who only want to share images and have no need for a CD, Kodak offers Kodak Photo Net. Your pictures are scanned in the same resolution as for Picture CD and stored on one of Kodak's servers for 30 days. A personal account is created, and you can access your images via the Internet as soon as they are processed (AOL customers can access the Photo Net via AOL using the "You've got pictures" feature). You can order reprints, send your pictures via e-mail, and download them onto your hard disk. However, all pictures are shown in low resolution. If you want the high resolution scan, you have to pay $1 for each picture. This is a major disadvantage of Photo Net. If you really want to manipulate your pictures, but you don't need the high resolution, Kodak Picture CD is the better choice.
• • •
All three of Kodak's options have their drawbacks. If you don't expect high quality scans, but you're looking for an intuitive and easy-to-use solution to manipulate your pictures or share them over the Internet, Kodak Picture CD is the best solution for a good value. The image quality of Photo CD may be much better, but it comes at a price and it lacks the ease of use of Picture CD.