Review: StoryBoard Quick 3.2.1

Developer: Power Production Software
Price: $249.99
Requirements: Mac with 68030, 4 MB application RAM, System 7.
Trial: None
StoryBoard Quick v.3 helps creatives accomplish the all important step between scripting and editing: Storyboarding. It's the previsualization tool for creating shooting boards. Whether you are an expert or just getting started StoryBoard Quick can help you create the visual sketch you need to bring your ideas to reality. It's cross-platform compatible; of course, we only care about one of them. :-)
When they were naming this software, they weren't kidding. I put up the following scene, which may or may not appear in Diamond in the Rough (my movie script), in five minutes: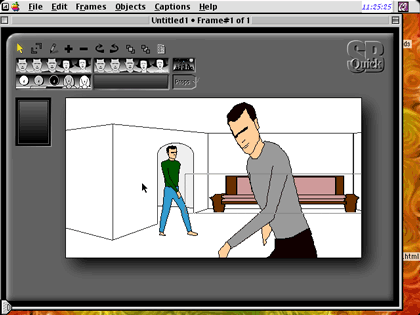 And a quick command later, I added a caption:
And, although I did only one slide just to get my feet wet for this review, the program allows you to put multiple slides on a page, to cut down on the amount of trees you use when you eventually print them out.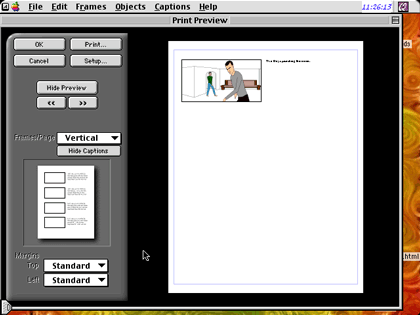 You could avoid this, however, by taking your PowerBook on the set with you, come to think of it. Save even more trees!
I did all this without an ounce of art training. Well, that's not entirely true, as long time readers know of my extensive background in the movie industry. The thing is, I can't draw too well. The program allows for this, and comes with pre-packaged figures, locations, and props. Of course, if you want to draw something that's not already included, a rudimentary pencil tool is included. The problem I had with this one is that I couldn't find an easy way to erase what I'd drawn. I tried all the normal avenues, but to no avail. I had to scrap a previous slide that I'd drawn because of it. I also had a problem getting the program to run under Mac OS 9, however, that may just be an extension conflict that I don't know about, as the software is OS 9-compatible, as mentioned above.
Additional features include:
Add text into frames or type into frame captions.
Captions: add script, dialog, shot, and camera notes.
Use Overview to see the whole project.
Import image files from video capture or scans and layer objects.
Import GIF format—so you can use Internet for location scouting and import images.
Zoom to create close-ups, over the shoulders, longshots, etc.
Rearrange boards with shuffle function in Thumbnail view.
Add up to four character libraries at a time!
Import scripts from any scripting program supporting FCF and TXT file format.
Multiple aspect ratios: work in TV, Feature Film, European Film, HDTV, and Wide Screen.
For the big boys, I recommend getting the full blown StoryBoard Artist, available from the same company. However, for the burgeoning DV director, this program is a must.