Review: Sheep

Developer: Feral Interactive
Price: $30
Requirements: 233 MHz Mac with 64 MB of RAM, Mac OS 8.6.
Trial: None
Sheep are smart
Unlike thou art
They walk the ground
Don't make a sound
You shear their hair
And leave them bare
And when the food supply gets stiff
Some push others off a cliff.
When I wrote that poem over ten years ago, I vowed that someday it would be famous. It actually fits the feel of Sheep pretty well, though hopefully in the game you, the shepherd, will prove to be the smart one…because the sheep certainly aren't! If you're looking for a fun, whimsical, cute sort of game, which is both pretty to look at and fun to play, Sheep is for you.
Introduction
In the spirit of all great arcade-type games, Sheep begins with a silly story line to motivate you to play your part in the game. These sheep are not actually creatures of earth, but highly intelligent creatures from space who came to earth, posing as stupid, to study the planet. Except they sort of forgot their origins, and now that it's time for the sheep to return home, they're too stupid to find the way.
You, then, are the shepherd. You can select one of four animated shepherd characters, each with its own strengths and weaknesses, and, of course, personal history. There are also four different kinds of sheep, each with its own set of characteristics, that you might have to herd through a game field.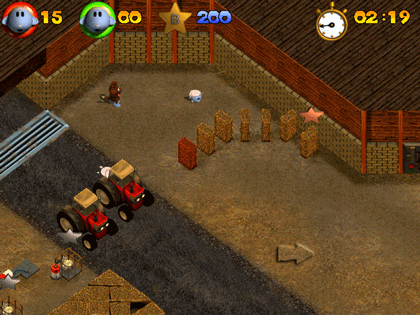 Game Play
The game is simple to play, using only a few controls (arrow keys, space, control, and shift). The mouse can be used in place of the arrow keys, but I found that somewhat difficult to get the hang of.
The game's 28 levels, each with a different playing field, new obstacles, and new threats to your sheep (the shepherd cannot die), come in groups of four. You can play a group's four levels in any order you like, choosing which breed of sheep you'd like for that particular level. In each level, you have a time limit (plenty of time, really) and a minimum number of sheep to rescue. If you manage to rescue every single sheep, there's a bonus at the end, but I've never managed to do that.
To herd the sheep, you run at them (at normal or fast speed), shout, or even pick them up and carry or throw them. Sometimes you'll be able to drop candy to attract the sheep, or pick up a radio, which will make the sheep follow you. It's not usually too difficult to make a herd of sheep go in the right general direction, but precision is difficult, and I've often spent time chasing a lone sheep around in circles.
Some enemy characters flip the sheep over on their backs, so you have to go back and right them. Other devices can kill the sheep, in ways ranging from burning to pounding with a hammer to electric shears. Don't worry about splattered sheep entrails: the game is cartoony rather than graphic. I've had whole herds of sheep go running full throttle under the hammers, as if getting flattened into pancakes is the best thing a sheep could want. Watching this game really is half the fun.
Bugs
Do sheep get fleas? There ain't no flies on the game when you play under Mac OS 9. Sheep changes the resolution of your screen before the game begins, and politely returns it to the way it was after you quit, so your icons don't get re-arranged on your desktop. I've experienced no crashes or freezes. It's also worth pointing out that this game is playable on even relatively old Macs, requiring a mere 233 MHz machine. It sounds like a lot, but there are increasing numbers of games released into the market that seem only to be interested in customers with the latest, most powerful Macs.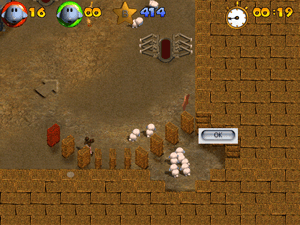 Playing Sheep in Classic Mode of OS X, however, isn't quite so perfect an experience. After quitting Sheep, your screen resolution isn't changed back, and your icons are an absolute mess all over your desktop. Also, I experienced the strange bug pictured above…what's that OK button doing there? Apparently what happened is that the screen saver of OS X kicked in, but didn't come to the front of the screen. Mouse movements and keystrokes were ignored by Sheep, but caused the username/password dialog (hidden by the Sheep game) to come up in the screensaver. I typed my password, and control returned to Sheep. A very strange situation, which is probably at least as much OS X's fault as it is Feral Interactive's; it could well be that this is a bug that has to be fixed by Apple. I should note that there's no indication of OS X compatibility on the packaging of Sheep, nor is OS X compatibility mentioned on the Web Site.
Conclusion
Sheep is a cute, fun, entertaining game. It has only a few controls, so it doesn't take too long to learn, but the many different levels provide increasing challenges.