Review: Black & White 1.1.3

Developer: Lionhead Studios Ltd.; published by Feral Interactive Ltd. and Graphic Simulations
Price: $50 (direct from Feral Interactive); $65 (bundle with Summoner)
Requirements: Mac OS 8.6, 333 MHz PowerPC with 128 MB of RAM, 750 MB disk space, 8 MB 3D accelerator, CarbonLib 1.4, OpenGL 1.2; or Mac OS X 10.1, 500 MHz PowerPC, 128 MB of RAM, 750 MB disk space, 16 MB 3D accelerator, latest CarbonLib, OpenGL 1.2.1.
Recommended: Mac OS 9 or later, 500 MHz PowerPC, 256 MB of RAM, 1 GB disk space, 24x CD-ROM, 32 MB 3D accelerator.
Trial: None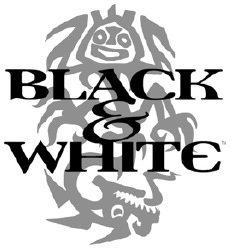 Overview
Imagine a real-time strategy game that melds the village growth and resource management of Warcraft, the citizen happiness creation of Caesar or SimCity, the quests of Warlords, the virtual pet-keeping of Tamagotchi, and the 3D perspectives and controls of Myth. That's a rough approximation of Black and White. Except, unlike any of those other games, you can be a good or evil god.
Installation
The game comes on two CDs: Black & White Game and Black & White Data. Insert the Game CD to launch the installer. (Note: If you have two CD drives, do not put the Data CD into the second drive! The installer will not be able to find the CD, and you will be forced to stop the installation.) You have two installation options: standard install (605 MB) or full install (860 MB). The full installation is recommended. The installer allows you to choose a drive and folder location for the installation. No files are installed anywhere other than the Black & White folder.
Black & White Game CD Files
Installer Window
Game Play
The game begins with a somewhat lengthy tutorial that introduces you to the terrain and your first villagers. You initially learn how to navigate and how to change your viewpoint—two very important skills for playing Black & White. Movement occurs by double-clicking on a place or by click-hold-dragging. You can jump to special locations via key combinations or function keys F1 to F9. (You can practice movement and interaction skills at any time by visiting The Gods' Playground.)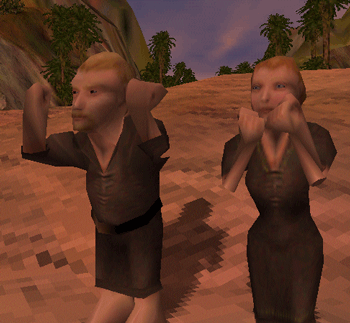 Your First Contact with the People
The tutorial continues and shows you how to interact with villagers, get information, take or move objects, go on quests, etc. You are guided by two small characters (Spiritual Advisors) that represent the good and evil aspects of your conscience. During the tutorial you rescue a drowning child, follow the parents back to a village, become their god, direct the building of a temple, go on a few simple quests, learn how to interact with and support your villagers, choose a creature, and begin the creature's training. Training your creature is very important, since it keeps your villagers faithful and can be used to impress (and thereby recruit people from) other villages. Your creature will also fight the creatures of rival gods, so you must train it to fight well.
Your Spiritual Advisors
You also have one or more villages to direct. You need to keep your villages fed, housed, and worshipping. You may keep them happy or fearful, depending on your god persona. You manage the village itself à la Civilization or Caesar, but you also direct the actions of individual villages à la Warcraft. You can create disciples to aid in the management of your villages. Miracles change resources and landscape, or are used for warfare. Miracles rely on energy generated from worshipful villagers (Prayer Power). Since miracles are a key aspect to winning, it is important to have many villagers available who believe in you and who can be summoned to pray at your Worship Site.
When you have met your villagers' needs, trained your creature, completed required quests, acquired miracles, and learned how to throw things, you can face the opposing god. If you are victorious, you move to a new land, where you get to do the same thing again. Land 5 contains the toughest opponent, the god Nemesis.
In summary, being a god in Black & White is difficult. You must learn how to navigate the 3D world, acquire and train a creature, impress and nurture villagers, direct the development of villages, recruit and oversee disciples, go on quests, learn how to cast miracles, and contend with rival gods.
Game Settings
The options menu lets you adjust the volumes of sound effects (SFX) and music. You can adjust the detail level of the terrain and objects, video resolution, and color depth using the arrows beside each choice. You can also toggle the setting for high-resolution textures. You will need a powerful Macintosh with a 32 MB video card to use all the highest settings. You must restart the game if you changed any of the video settings.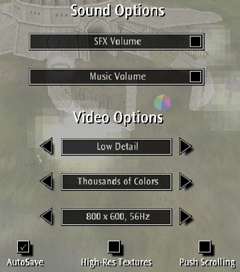 Sound and Video Options Translucent Window
Instructions and Help
Black & White comes with a small 46-page manual that describes the basic functioning of the game. It contains little advice on strategy or tactics. The manual is difficult to read because it uses an atypical, small, light-weight font overlying light gray drawings of creatures. During game play you can get information from signposts by clicking on them with the action button (control-click). Moving your hand cursor over objects in the game displays tooltips (if that preference is chosen). If tooltips are off, you can still see them by pressing the F1 key while your hand is over an object.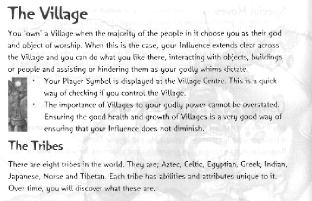 A Snippet from the Printed Manual
The Graphics Simulation Black & White Web site has a FAQs section that provides some help. Other Web sites provide tips, hints, strategies, cheats, etc. for Black & White:
A complete listing of Black & White related sites is provided by Gone Gold. Many of the sites also provide high-resolution screen shots or even movie sequences.
GameSpot's guide is quite thorough and can be downloaded as a PDF file if you are a registered user. 3D Gamers sells its Black & White PC Book for $17. Both books are geared towards the Windows version of Black & White, but the tips and strategies should be fully applicable to the Macintosh version.
Bugs and Omissions
I had difficulty slapping my creature during the tutorial, but it was the only bug I encountered. Rapid mouse movements did not work well, which also made throwing rocks difficult.
Black & White does not support Voodoo or 3dfx video cards (such as the GameWizard Voodoo 2 PCI card in my Macintosh), although it may work with them.
Summary
Black & White is an interesting game, and its beauty and attention to detail are remarkable (especially if your Macintosh has the horsepower to handle high detail graphics and high-resolution textures). Reviewers speak highly of the artificial intelligence within the game, but I did not advance far enough to assess this feature. Most reviewers have given Black & White great ratings (see a listing of a few other reviews below). However, I didn't enjoy playing Black & White. Movement is difficult and awkward, especially when trying to navigate mountain passes. The villagers are too needy, the creature is a pain to train and control, and there are far too many village management chores. Major interactions trigger movie sequences that cannot be interrupted, and most of the movies progress slowly or are ridiculously hokey. (The dancing and singing shipbuilders made me want to crush them and their half-built ship! But, I didn't have the power to do so.) I wanted to feel like a god, but Black & White made me feel like the lone caretaker for a village of the helpless with their giant, hungry, ill-behaved pet. No, thanks. It's back to Civilization for me.
Other Black & White Reviews