Review: Mail Beacon 1.4.2

Developer: Bains Software
Price: $10
Requirements: Mac OS 7.6
Trial: Fully-featured (30 launches)
A little over a year ago, I reviewed Mail Beacon 1.3.1. Although the new version looks very similar to its predecessor, there have been several changes aimed at increasing Mail Beacon's usefulness.
What impressed me about the previous version of Mail Beacon was that it packed a lot of features into a small program with a clean user interface. Fortunately, this has not changed; the user interface is practically unchanged in version 1.4.2.
Basic Features
The main window features two sections. The top section shows the connection status and the bottom contains a list of e-mail accounts, the number of messages in those accounts, and a checkbox to indicate whether or not the account should be checked for mail. When there are newly received messages in an account, the message count is displayed in bold.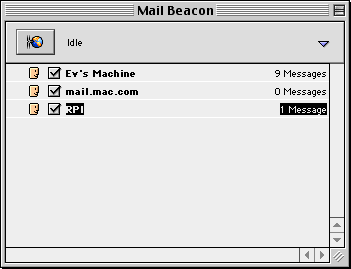 Mail Beacon's Window
Account creation is also very straightforward. The Add Account window contains four screens, which are accessible through a pop-up menu. The first two screens deal with your sending and retrieving e-mail from servers; the third screen indicates how Mail Beacon should handle checking the account; and screen four deals with viewing e-mail.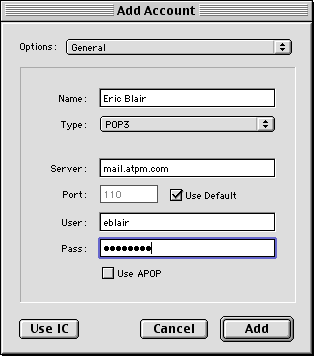 Creating a New Account
The two options for viewing e-mail, list view, and browse view, are still available. List view is similar to your traditional e-mail client in that you see a list of message subjects. When you want to read a message, you either double-click on the message or click the View Message button.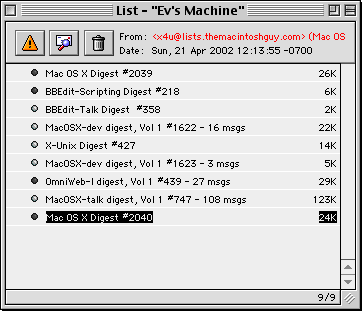 Mail Beacon's List View
Browse view shows you information about a single message at a time. You can view information about different messages by using the scroll bar at the bottom of the window.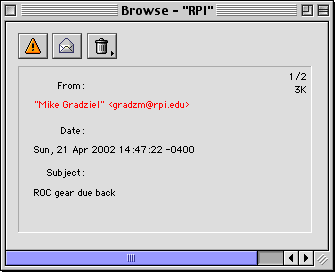 Mail Beacon's Browse View
Both views give you the ability to flag messages for deletion. When you click the disconnect option, any flagged messages are deleted. Mail Beacon now includes an option to remember flagged messages. This feature is nice if you tend to just close the mail viewer with the close box instead of the disconnect button. If you did this in previous versions of Mail Beacon, you would need to go through and reselect your previously flagged messages. Now, with Remember Flagged Messages activated, the messages will be preflagged for deletion the next time you view you e-mail.
The mail viewers now display an e-mail's From: address in red if it does not match the reply path. While this might be a useful took for aiding the detection of spam, it also affects a number of valid e-mails that I receive. It would be nice if this feature could be disabled. Oddly enough, a message I sent with a fictitious e-mail address was not flagged in red.
Mail Beacon's e-mail viewer is still very sparse. You see a subset of the header information followed by the contents of the e-mail. The coloring of quoted e-mails has been improved, though. Mail Beacon now supports four levels of coloring, as opposed to just displaying everything in gray. Unfortunately, though, you still cannot click on an e-mail address to send a message to that person.
Another area that does not appear to have changed much is the interface for composing e-mail. The message window has fields for the sender, the recipients (To:, Cc:, and Bcc: fields), and the subject, along with a space to type your message.
New to Mail Beacon is support for message formats. These are essentially templates for e-mails. Typically, you see them when somebody replies to an e-mail—they usually say something like, "On Friday, Joe wrote:". You can specify different formats for new messages, replies, and forwards.
One of the problems I have with Mail Beacon is that it lets you overwrite the sender's (your) e-mail address with anything you want. Unless somebody takes the time to look at the headers for their e-mail, there is no indication that the e-mail address is not real.
Other Features
In addition to basic e-mail tasks and the ability to access both POP3 and IMAP servers, Mail Beacon includes several additional niceties that one would not expect to find in such an inexpensive program.
Basic Filtering: Mail Beacon can check whether an e-mail or a portion of an e-mail contains certain text. If Mail Beacon finds a match while filtering, the message is flagged for deletion. Mail Beacon now supports up to seven conditions per filter.
Reminders: you can set up a list of reminders that can be displayed in a floating window.
Password Protection: Mail Beacon can prompt for a password when it is first launched.
Redirecting: similar to forwarding, but the text is sent unaltered and maintains the e-mail address of the original sender.
Printing: Mail Beacon now includes printing support, which was missing at the time of my previous review. For some reason however, when you select Print…, you do not see a print dialog; the e-mail is sent directly to the printer. This really should be fixed. If the File menu says Print…, the program should display a print dialog. If you want to print multiple copies of an e-mail, you will need to select Print… several times.
Mail Beacon also includes thirteen alert sounds to alert you to incoming mail.
Conclusion
The new version of Mail Beacon is an evolutionary improvement over the previous versions. It includes some nice new features and addresses some of the problems with the previous versions. If you want to check your e-mail and find that a full e-mail client is overkill for your needs, you should check out Mail Beacon. Although there are still some things that I think could be changed (an OS X version would be nice, although it runs fine in Classic), Mail Beacon is a strong product that does its job well.