How to Become a Network Guru
Sharing USB Printers on a Network
As the impetus behind many a network setup, using one printer for multiple Macs is a convenience of both cost and space, and isn't necessarily hard to do. With the Mac OS USB Printer Sharing control panel, your printer can grow to serve as many Macs as your house will hold.
There are some system requirements for the USB Printer Sharing control panel: you must use Mac OS 9 or higher, use TCP/IP as your network protocol (not AppleTalk), and the printer must be connected to your Mac's built-in USB port, not to a USB expansion card. For AirPort network use, you need AirPort software 1.1 or higher. You also need to install the printer software on each Mac using the shared printer, and USB Printer Sharing may not work over systems with NAT (Network Address Translation, typically used to share Internet access across a network). For additional information, see the USB Printer Sharing documentation. To verify that your printer model is compatible with USB Printer Sharing, see Apple's USB Printer Sharing page.
Note: This article addresses USB-enabled printers only. For information on non-USB models, see the Threemacs.com Share a Printer page. With new USB printers supported by the aforementioned control panel, now may be the time to go for a printer upgrade if you're having trouble sharing a non-USB printer.
Network Setup
In order to share a printer among your Macs, first connect your Macs to an existing network or create a new network for them. (If you've already done this, skip ahead to the Share your USB Printer section.)
USB-ready Mac models (iMac, G4, iBook, etc.) also include built-in support for Ethernet, and connecting two Ethernet-ready Macs is as easy as using a single crossover cable. Crossover Ethernet cables are available at most computer stores for $20 or under.

If you need to connect more than two Macs, you'll need an Ethernet hub or switch to do the job, plus one normal (not crossover) Ethernet cable for each Mac. Any hub or switch should work—just make sure it has enough ports to handle all your Macs. Most computer stores carry multiple models, and you can check Dealmac.com if you're looking for a good mail-order deal.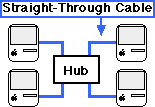 To verify that your network connection is working, open the AppleTalk control panel on each Mac and make sure it's set to Ethernet. For a more detailed version of the setup process, see the Threemacs.com New Network page.
The network connection is all you should need to share your USB printer, but there are many other things you can do with your network. See the network articles from previous ATPM issues or the Threemacs.com Web site for more info.
Share Your USB Printer
Most consumer printers produced in the last few years connect using a USB cable, which means you can use the Mac OS USB Printer Sharing software to share the printer with other Macs on the same network. Check the Control Panels folder in the Apple menu to see if you have the control panel already. If not, you can download it from the Apple Software Updates Web site or through your Mac's Software Update control panel.
To share your printer, first turn its power on, then open the USB Printer Sharing control panel.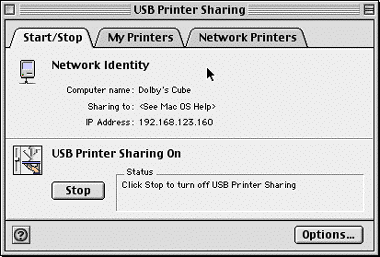 USB Printer Sharing Control Panel
Press the Start button to share the printer, then select the My Printers tab to confirm that your printer appears there. Check your printer and close the control panel.
Selecting a USB Printer
Connect to a Shared USB Printer
Any network computer that prints to your shared printer also needs the USB Printer Sharing control panel. To use another Mac's shared printer, open the control panel and expand the Local Network list to show the available printers. Pick the one you want to use, close the window, and print away. The control panel should handle the communication with the host Mac and print your documents on the remote printer.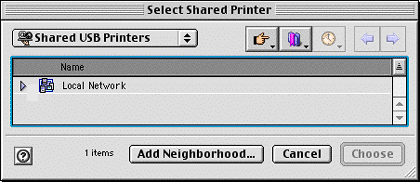 USB Printer List
Summary
The USB Printer Sharing control panel greatly eases the difficulty of sharing home printers among multiple Macs, which previously could be both problematic and expensive. And hey, it's free!