Profiles in Networking
The Audio/Video Quadras (660av, 840av)
First announced as an extension to the Centris and Quadra series in 1993, the Quadra 660av and 840av models were among the first Macs with integrated audio and video processing, a fairly novel concept for the 1993 consumer. The 660av boasted a 25 MHz CPU, but its 840av bigger brother was the fastest Mac at the time, clocking in at 40 MHz. Form factors differed, with the desktop 660av taking after the aforementioned Centris series and the tower 840av taking a page from the Quadra 800's book. Geeks and artists alike coveted the audio and video capabilities and the models' popularity continued far beyond Apple's 1994 discontinuation date. These features were forefront in my mind when I picked up a Power Mac 8500 (the next generation 840av) in 1996.
Quadra 660av and 840av models have 68040 processors, so they can use up to Mac OS 8.1. They differ in internal expansion options, which impacts their network use. The Quadra 660av has one 7" NuBus slot, one processor-direct slot (PDS), and an external AAUI connector for an Ethernet transceiver. The Quadra 840av has three full-size NuBus slots and an external AAUI connector. Both models support LocalTalk networking through the serial (modem and printer) ports.
Adding Ethernet Network Support
Many vendors produced NuBus and PDS Ethernet cards and Ethernet transceivers during the Quadra model lifetime. Though the cards are now discontinued—like the models themselves—some are still available through parts resellers. Adding a NuBus or PDS card requires opening the Quadra's case (Oh boy! High voltage!), so check the yellow pages for a local Apple Service Center if you're not sure how to proceed.
Selected List of Internet Parts Sources
When shopping, check the Networking or Communications section, or search the parts list for Ethernet. Remember that you need plain PDS or 7" NuBus (not LC-PDS or full-size NuBus) for the Quadra 640av. The 840av will use 7" or full-size NuBus, but not PDS. Both models can use AAUI Ethernet transceivers. Look for these card types in the item description, or check to see if they list your Mac as a supported model. The Quadra 660av and 840av both support 10BaseT Ethernet using an AAUI transceiver, so that's the least expensive option. Upgrading to 100BaseT requires an expansion card.
Most cards include support software, such as drivers and diagnostics. Many cards require their software to function properly, so be cautious when purchasing used cards that don't have the original software. The card manufacturer's Web site can be a saving grace, as many companies post their support software online, even for discontinued products.
Ethernet Network Setup
The cheapest networking setup uses a single Ethernet crossover cable, enabling two (and only two) Macs to talk to each other. New Mac models have auto-sensing Ethernet ports and can use regular or crossover cables for this connection, but older Macs like the Quadra 660av and 840av lack this feature and need a crossover cable specifically for this two-Mac network.
Ethernet Crossover Network
Networks with more than two Macs need an Ethernet switch or hub at the center. Connect each Mac to the switch with a piece of regular Ethernet cable.
Ethernet Switch (or Hub) Network
Network Software
Once the cables are in place, install any software that came with your Ethernet card, then restart. Also check that you have the necessary Mac OS software. For Mac OS 8, that's three Control Panels (AppleTalk, File Sharing, and Users & Groups) and one Extension (AppleShare). If any of these are missing, download the Open Transport 1.1.2 installer from the Apple Older Software Downloads page. For help sharing files between networked Macs, see the ATPM/Threemacs Mac File Sharing page.
Shared Internet Setup
If you install an Ethernet card in two of the available slots, or use an AAUI transceiver and an Ethernet card, you can share an incoming high-speed Internet connection with other networked Macs. You'll need a software router like Sustainable Softworks' IPNetRouter or VicomTech's WebDoubler to handle the exchange of Internet and network information. For more information on sharing Internet connections to your network, see the ATPM/Threemacs Sharing an Internet Connection page.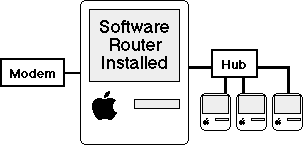 Sharing an Internet Connection to Your Network