Review: Wildform Flix

Developer: Wildform Software
Price: $99
Requirements: PowerPC-based Mac with System 8.6, 64 MB of RAM.
Trial: none
Wildform, creators of Internet media software, announces the release of Flix for Mac, the first Macintosh application that encodes video into Macromedia's FlashA format. Now Mac users can easily convert video files into the most popular media format on the Web. In making the announcement, Jonathan Blank, Wildform CEO, noted, "Flix for PC has already begun to revolutionize streaming video on the Web, and we're very pleased to now offer the software to the media savvy Mac audience."

In January, Wildform released Flix for PC, which quickly became a must-have program for Flash developers, Web designers, and Web video enthusiasts. Now Wildform has provided the same functionality for the Mac, a popular platform for media and graphics applications.

Flash is an open standard used extensively on the Internet. According to a September 2000 NPD Research study, 96.4% of all Web users can view Flash content without a download. Flix-encoded video also streams to all platforms, all browsers and through firewalls, making for a truly hassle-free experience. Until now, Flash was primarily an animation tool, rarely utilized for video because it took hours or days to create even short clips. With Flix, video production time is slashed to minutes, and users can easily insert links, create video banner ads and e-mails, and deploy customized media players.
So much for the press release. It always amazes me how every application is a must-have, at least according to their own company's marketing department. In this case, it may be no exaggeration, as I came across a recent statistic:
Over 386 million Web users can now use Macromedia Flash Player to seamlessly view content created with Macromedia Flash, the professional standard for producing high-impact, vector-based Web experiences.
Of course, this stat came from Macromedia's own Web page, which in this case doesn't make it any less valid. Ubiquity is a funny thing. If you were to ask 100 computer users (PC or Mac) if they have Flash, most would say they don't know what you're talking about; however, Flash comes with the latest downloads of both Netscape and Internet Explorer. So for once, the marketing department doesn't lie.
But is the software any good? It was actually released in July, but I wanted to give it a thorough workout. At it's simplest, Flix is a simple converter program, as advertised. It will convert all your favorite formats, including MPEG, AVI, MOV, and even MP3s to Flash. The resulting extension is .swf, to maintain compatibility with our PC-loving friends.
I had some trouble with the install, as my home Mac is ancient. It's only because of my own stubbornness, as I didn't want to start up with extensions off. After climbing this hurdle, the install went relatively quickly, and I've had no further problems with the software since.
Starting up the program produces this screen: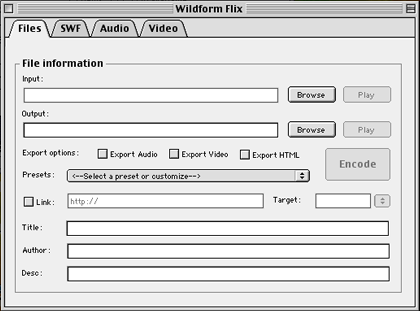 There's a pop-up menu, to determine the type and ultimately the size of the resulting flash file:
For the average user, this is all you'll ever need, but additional tabs allow tweaking of the output file, audio, and video.
This is what took me the most time with this software. Either I didn't download the help file, or it doesn't exist. Having almost no experience with Flash, learning the software is what took the most time. I did pick up some tidbits. Flix's encoding capabilities can be used to create video and audio for users connecting to the Internet at any bit rate, and Flix includes presets for 14.4K-512K streams, which are listed in the pop-up menu above. Your Flix-encoded video and audio is limited only by the maximum allowed number of frames in the SWF format, which is 16000 frames. For example, at a SWF frame rate of 8 FPS, your movie can be over 33 minutes long. The Flash player will stop playing your video after 16,000 SWF frames, and Flix will warn you if your output video will exceed 16,000 frames. You shouldn't create SWF video output that exceeds 50-60 MB of Flash player RAM usage, which is determined by adding the file size to the overhead of the Flash player itself. Flix will let you know how much RAM your video and audio will use when it is loaded into the Flash player, and it will warn you when you exceed 50 MB.
As with all PC-based video encoding, the faster your processor and the more RAM you have, the better your encoding experience will be. You'll also need plenty of hard drive space for your video files. Hard drive space is at a premium here at home, but if you have a current Mac, you should do ok. Your encoding results are also largely dependent on the quality of your source material. As I didn't have any video of my own to work with, I went to Apple's iMac Web site and grabbed a few that I liked, with varying results. The Kite boy video didn't do too well when I tried the slowest speed, but when I bumped it up to the highest speed, the software performed like a champ. Render time varied, and as I have the minimum system that they require, I got caught up on my reading while it performed. Your mileage may vary.
Conclusion
If you have a Web site that has video clips, I suggest you run right over to the Wildform Web site, and download yourself a copy of Flix. I couldn't tell the difference between the original videos and the resulting Flash files, and that's what we're going for, isn't it?