Review: iTunes 2.0.2

Developer: Apple Computer, Inc. (support)
Price: free
Requirements: Mac with built-in USB ports (officially—ATPM staffers have successfully used it on beige G3s and Wallstreets), Mac OS 9.0.4 or Mac OS X 10.1.
Recommended: Mac OS 9.2.1 or OS X 10.1.1
Overview
Apple Computer released iTunes 2 in November, in conjunction with the arrival of the new iPod portable FireWire music player. The iTunes application can perform a variety of audio-related tasks: play Internet radio stations, play MP3 files over the Internet (static and streaming), play stored MP3 files, convert among digital audio formats (MP3, AIFF, WAV), extract audio tracks from CDs, look up information about audio CDs using CDDB on the Internet, burn audio CDs in AIFF or MP3 format, organize audio files into playlists, and export audio files to an iPod.
Installation
The iTunes 2 installer for OS 9.x is in a 3.5 MB SMI file that you download from Apple's iTunes Web site. The installer gives you no options; it installs iTunes into an "iTunes" folder created in the "Applications (Mac OS 9)" folder. (Yes, both the enclosing folder and the application are named iTunes, which is not a desirable way to organize files.) When you launch iTunes, it creates another "iTunes" folder in your "Documents" folder. This folder contains your music library and another folder, "iTunes Music," that holds extracted or downloaded audio files. Do not rename the iTunes document folder, because iTunes will ignore the renamed folder and create a new one named "iTunes."
New in iTunes 2
As others have observed, iTunes 2 should probably just be called iTunes 1.5. Very little has changed except for the incorporation of Disc Burner functionality (no separate application needed), the addition of an equalizer, and support for iPod. The equalizer makes a slight but noticeable difference when playing music on my Altec Lansing dual speaker plus subwoofer sound system.
Using iTunes 2
The full-size iTunes window has four areas. The top area has playback controls; an information window; a window for entering search text; a round button that changes among Browse, Refresh, Import, and Burn depending on what is viewed or selected; and close and minimize buttons.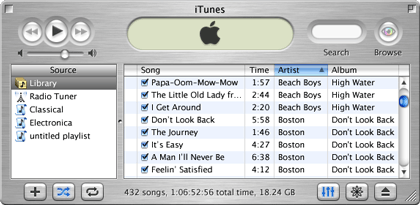 iTunes 2 Full-Sized Window
Clicking the latter reduces iTunes to a small rounded rectangle. The Source window is on the left. Sources are Library, Radio Tuner (Internet radio), accessible media (such as CDs), and your playlists. The main window lists the contents of the selected Source. If the source is Library, then the main window lists the songs in your library. You use the View Options… preferences (Command-J) to pick which information columns to display. You can rearrange columns by dragging their titles left or right. The bottom area has two sets of three buttons separated by an area that can contain summary information about your library, playlists, or CDs. The three buttons at the left are for adding a new playlist or adding a song to an existing playlist, playing songs randomly from the active library or playlist, and putting a library, playlist, or CD in repeat mode. The three buttons at the right open the equalizer window, activate or deactivate the Visualizer, and eject CDs.

Minimized iTunes Window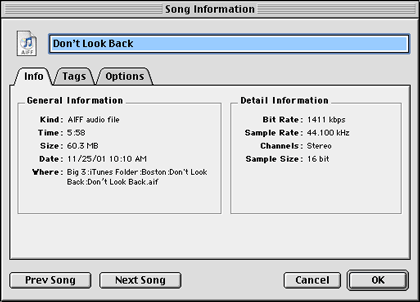 Information Window for One Song
The Library lists all MP3, AIFF, and WAV audio tracks that your iTunes application knows about. You can sort the library by any of the visible columns by clicking on the column title. You can toggle the sort order by clicking the triangle to the right of the column title. You can display information about any song by selecting it and typing Command-I.
The Radio Tuner groups Internet radio stations by category. If you click once on the Radio Tuner source, the main window switches to this list of station categories. If you double-click the Radio Tuner source, a second iTunes window opens. You click on the triangle beside each category name to see the individual stations. iTunes can display station name, bit rate, status (active or inactive), and a descriptive comment. To play a station, just double-click its row in the main window, or highlight the station and click the play button. You can display (but not edit) information on a selected station by typing Command-I.
Radio Tuner Window
Playlists are customizable lists that can contain any combination of Library songs, Internet radio stations, and removable media (such as audio CDs). Command-N (or File>New Playlist) creates a new, untitled playlist. Double-clicking a playlist opens it in a new iTunes window. You can add songs to a selected playlist by pressing the "+" button, by dragging songs or folders of songs or an audio CD onto the main window when the playlist is active, or by dragging items such as radio stations from another iTunes window. As usual, you can sort playlists by any displayed column. Unlike the Library, you can reorder your playlists by dragging rows up or down. Information related to playlist items is fully editable, even for Internet radio stations. In a playlist you can link equalizer settings to songs or to radio stations.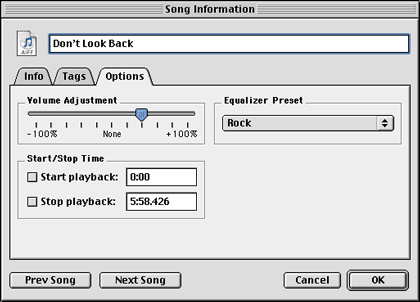 Equalizer and Other Option Settings
You can give a group of items the same info and equalizer settings by selecting them (shift-click to extend a contiguous group, command-click to add discontinuous items) and typing Command-I.
The Visualizer displays an impressive repertoire of effects in the iTunes window or on your entire screen. When music has an easily identified beat, the Visualizer's effects synchronize perfectly. Most of the Visualizer effects are interesting and attractive, although sometimes it displays a limited color palette.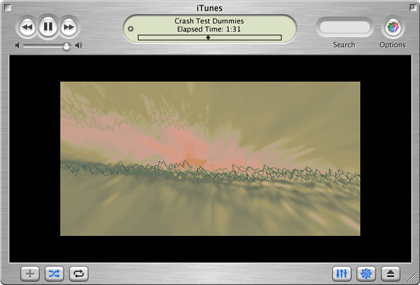 iTunes Visualizer Medium-Size Window
AppleScript & iTunes
iTunes is fully scriptable, although Script Editor cannot load the iTunes AppleScript dictionary (use the freeware editor Smile to see the dictionary). You can completely control iTunes with scripts. You can create, edit, and organize playlists. You can also play radio stations or go to URLs specified in the script. Unfortunately, Apple provides no information on scripting iTunes in its documentation (see below).
Testing iTunes in the Real World
Ripping or Extracting with iTunes: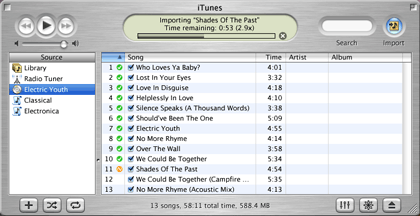 Ripping a CD with iTunes
You can set iTunes' preferences to automatically extract or encode audio CD tracks as soon as the CD loads. iTunes places the songs into the iTunes Music folder by default, but you can tell it to use a different folder. The speed of extraction depends on your processor's power and speed, and on the reading speed of your CD drive. With my system, average AIFF extraction speed was 4.4x when using the DVD/CD internal drive and nearly 13x when using the external CD-R/RW drive. I cannot explain the large difference, since the CD reading speeds differed only by 20% (20x for the DVD/CD and 24x for the CD-R/RW).
Burning CDs with iTunes
You can select one or more songs from your library or a playlist and burn them to a CD. iTunes 2 supports all Apple CD-R drives and most third-party internal and external CD burners, including those with USB and FireWire connections. I did not test this feature directly, since I prefer to use Toast 5 Titanium to burn CDs. You can drag songs from an iTunes window to the Toast window, and Toast will burn them in the track order you choose. Be warned that iTunes cannot burn a CD with absolutely no gaps between tracks. If you need continuous audio tracks, you will need to use Toast or some other software.
The Spirit of the Radio
I tested iTunes' Radio Tuner features after updating the Internet radio stations in all 25 categories assigned by iTunes. There were 358 active streams. I attempted to play 75 streams (the 1st, 3rd, and last stream within each of the 25 categories). I was unable to connect to 33 active streams. Two streams connected but played only a few seconds of music before going silent. Only 40 of 75 "active" streams yielded successful Internet radio play. In about half of the connection failures, iTunes attempted to retrieve a playlist after failing to find a live stream. None of the playlists worked. I am not sure why iTunes cannot distinguish "active" streams from inactive ones. I suspect that Internet radio stations list hours of activity that they do not fulfill. Apple needs to get reliable information about Internet radio stations. They need to use or establish a service that verifies that stations listing themselves as active truly are broadcasting. (Note: These tests were conducted on Saturday, 11/10/01 at 9:30 AM and 2:05 PM EDT.)
Is iTunes 2 a CPU Hog?
Some users report that iTunes 2 uses a much higher percentage (20-35%) of CPU time than iTunes 1.1. However, I did not see this. On my system, iTunes 2 used only 5-15% of CPU time while playing in the background (equalizer setting did not seem to affect this). However, if the iTunes Visualizer was active, iTunes used 50-90% of available CPU time. Of course, it makes little sense to run the Visualizer unless iTunes is the foreground application, so the CPU-hogging isn't much of a problem. I did test iTunes on a large monitor with about half the screen area devoted to iTunes' Visualizer (medium setting). I used the remaining screen area to display foreground applications. In this situation, iTunes used only available CPU cycles. I experienced no delays or problems while iTunes played an Internet radio station. However, the frame rate of the Visualizer fell to 4-12 frames per second, depending on the foreground tasks. I did not experience the skips or delays reported by some users.
iTunes does hog available CPU resources while encoding sound files, but it encodes fairly rapidly. I achieved good results with both fixed and variable bit rate encoding using highest quality settings (320 kbps or 64-320 kpbs). I had read claims that encoding with LAME (an open license encoder) yielded better quality MP3 files than iTunes. However, the LAME encoder I used (DropMP3 1.0.6) encoded more slowly than iTunes even though it totally monopolized the CPU, and its MP3 files did not have better sound quality.
I experienced two types of foreground interruptions with iTunes. The first type of interruption occurred shortly after inserting a CD that had not previously been catalogued by iTunes. A brief interruption (1-2 seconds) occurs when iTunes connects with the CDDB online music database. The second type of interruption occurs when iTunes is set-up to automatically eject a CD after extracting tracks. This interruption lasts 3-5 seconds.
Bugs
iTunes 2 doesn't properly handle music CD lookups when the CD previously was catalogued by a different application. iTunes fails to display the Artist or the Album information with each track. This is strange, because iTunes has that information and uses it to create and name folders when extracting files from the CD. You can work around this problem by forcing iTunes to update the information (choose Get CD Track Names from the Advanced menu).
iTunes 2.0 and 2.0.1 incorrectly handle ID3 tags for MP3 files when double-byte Unicode characters are present. This problem was fixed in iTunes 2.0.2.
iTunes provides no way to correct errors in your local CDDB file (the CD Info.cidb file in your Preferences folder). For example, the Phil Collins "No Jacket Required" album had artist and album title switched. I corrected the artist and album information for all tracks, resubmitted the corrected information to the CDDB site, and then ejected and reloaded the CD. When iTunes extracted information from the CD, it still used "Phil Collins" as the album name and "No Jacket Required" as the artist.
Note: I did find a shareware program that lets you view and edit your "CD info.cidb" file. The program is iCDc 2.1 written by Anders Wählby. I was able to correct errors in my CD database using this $10 program.
I crashed iTunes 2 by doing the following: while iTunes 2 was encoding one AIFF file and playing another, I opened Preferences and clicked on the CD Burner tab. The music stopped playing, and the ball cursor spun for a long time without identifying my CD burner. When I closed the Preferences window, iTunes didn't refresh the screen, even after closing and reopening the main window. iTunes also wouldn't quit normally, and I had to issue a force quit command.
Another bug (carried over from iTunes 1) relates to MP3 files with variable bit rate (VBR) encoding created by an application other than iTunes. When iTunes loads the VBR MP3 file, the time information is completely wrong. Apparently, iTunes looks at the size of the MP3 file and at the lowest variable encoding bit rate speed to calculate the duration of the music. For example, a 7.6 minute song was listed as 42.6 minutes long by iTunes. This problem does not occur if iTunes does the VBR MP3 encoding.
Documentation
iTunes comes with a brief Read Me text file and some Help Viewer information. Additional information is available at Apple's iTunes Web site. There is no electronic or printed user manual for iTunes. There is no information at all on scripting iTunes. Apple should develop a comprehensive iTunes manual in HTML or PDF format.
Technical Support
With iTunes, you get technical support commensurate with what iTunes costs. Since it costs nothing, that's how much support you can expect. Apple will probably provide some live telephone support if you recently purchased a Macintosh with iTunes preinstalled.
Summary
iTunes has a few bugs and omissions that Apple should rectify, and the lack of documentation is annoying. I also dislike the non-standard appearance and behavior of the iTunes window. However, I still give iTunes a "Very Nice" rating, and the latest version (2.0.2 at press time) is a significant improvement over iTunes 1.0. iTunes now lives up to Apple's "Rip. Mix. Burn." advertising campaign.