Review: Auto Charger for iPod
Developer: Dr. Bott
Price: $24.95
Requirements: iPod
This is a difficult review to write. This is a simple product that does what it's supposed to do. There's not much I can tell you about it, except that if you need a device to charge your iPod in your car, this one will work.
The Testing Environment
My normal iPod use is three or four times a week, for an hour or so at a pop. It's my exercise buddy. Every now and then I notice the indicator showing the battery charge is not reading full, so when I get home, I plug in the unit to my Mac and leave it there until the next day. As long as I have the Mac in use for a couple of hours, the iPod draws enough charge through the FireWire cable that came with it, and everyone is happy. The iPod is happy because it's full again, and I'm happy because I have my Pet Shop Boys and Ben Folds tunes back for weight lifting inspiration.
So for this test, I waited until the charge ran out completely. Bummer, too; I had just gotten started on that workout and was without Boston's "Don't Look Back" to get me through the bench press. I took the iPod out to the car, as usual, but instead of bringing it inside to charge, I plugged Dr. Bott's charger into the 12 volt adapter in my car. (New Hondas don't have cigarette lighters, but they do come with those outlets). I didn't know if the car needed to be operating, like the Mac, for the iPod to get the charge.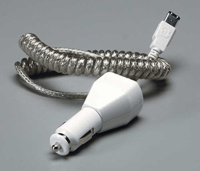 The Result
That question was answered the next day: no, my car does not have to be running for the adapter to work (yours may be different). I left the iPod plugged in from 9:30 PM to 3 PM the next day. When I unhooked it from the adapter, the indicator read full. Mission accomplished. Even though I'd made sure to stash it out of direct sunlight (and out of sight of passers by), the iPod was still very hot. A sunny day with temperatures in the mid-nineties will do that.
So, Dr. Bott's Car Adapter does what it says it will do. It's up to you to figure out if you need it badly enough to pay for it. I don't spend enough time on the road for it to make sense, but lots of people do. You can also get it along with one of Dr. Bott's iPod Connection Kits, which include iPod carry pouches, FM transmitters, and such. Careful, though—you ought to think about the risks of leaving it in the car for others to see (cover it up somehow), and about temperature issues. Perhaps the LeatherPod reviewed in this issue of ATPM would be a nice companion, if you don't go the kit route from Dr. Bott.