Review: Anonymizer Ultimate Security Suite

Developer: Anonymizer, Inc.
Price: $100 (includes F-Secure SSH Client software version 2.1, an e-mail account, and one year of Anonymizer access)
Requirements: Mac OS 8, 6 MB of application RAM
Recommended: Latest version of Open Transport compatible with your operating system.
Trial: None
Overview
The Ultimate Security Suite includes:
Anonymizer Secure Tunneling encryption service.
F-Secure SSH Client 2.1 DSA edition software.
Anonymizer e-mail account.
Anonymous newsgroup access.
Anonymous e-mail.
Anonymizer Private Surfing with full-time SSL and options such as: encrypted URLs, encrypted Web page titles, cookie blocking or encryption (with no long-term tracking), banner ad blocking, referrer hiding (Web site cannot see what site you clicked from), hiding of OS and browser information.
You can use your Anonymizer Secure Tunneling account to encrypt the Internet activity between your computer and Web servers. This prevents any servers between you and them, such as your ISP, from monitoring your activities. Anonymizer Secure Tunneling accounts allow you to encrypt your incoming and outgoing e-mail, surfing, and news posts through a method known as port forwarding. This service can be used independently of or in conjunction with Anonymizer Private Surfing.
Why Use Secure Tunneling?
Secure tunneling to a private server prevents anyone on your private or corporate network or at your Internet Service Provider (ISP) from intercepting your e-mail, newsgroup, or browser communications.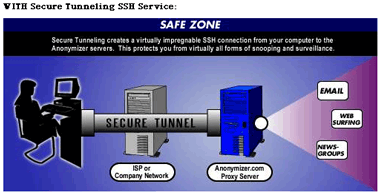 Cartoon from the Anonymizer Web site
The secure tunneling uses a direct, encrypted connection to the private server. Thus, even people with physical access to your network, telephone, broadband, or wireless communications cannot snoop on your Internet activities. Without secure tunneling, network or ISP administrators (and talented crackers) can see what Web sites you have visited, what newsgroup files you have downloaded, and what e-mail you have sent or received.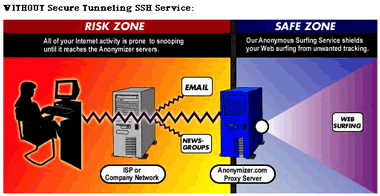 Cartoon from the Anonymizer Web site
Installation and Setup of F-Secure SSH Client
After you have selected and paid for the service, you establish a username (Note: your Anonymizer e-mail address will be "username@mail.anonymizer.com," so choose an appropriate username) and a password. Anonymizer then sends you to a page for downloading the F-Secure SSH Client software installer. The VISE-based installer allows you to select any location for the F-Secure folder. Installation takes only a few seconds.
You then launch the F-Secure SSH Client application and set it up to connect with the Anonymizer server. Instructions for this task are available online. The well-illustrated instructions give all the steps necessary to set up secure tunneling for Internet, e-mail, and newsgroup access.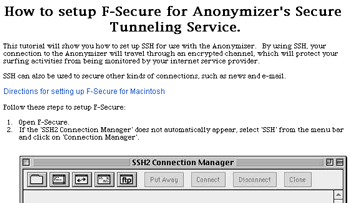 Anonymizer's F-Secure SSH Client Setup Page
After configuring F-Secure SSH Client, you should save the settings.
F-Secure SSH Client After Setup Is Done
Users who want the latest version of F-Secure SSH Client (which includes Apple Keychain support) can purchase the version 2.4 upgrade for $23 directly from F-Secure Corporation.
Using Anonymizer Ultimate Security
To establish secure Internet connections, you first launch the F-Secure SSH Client by double-clicking on the settings file you created. (You may also launch F-Secure SSH Client and open the saved settings from the File menu.) Click the Connect button in the Properties window, and then enter your password into the Password Authentication window.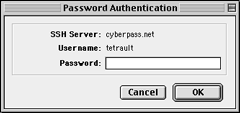 F-Secure SSH Client Password Authentication Window
You now need to set up your Web browser, e-mail client, and news reader applications to use the secure tunnel connection. Configuring the Web browser is simple if you do not have firewalls. You need to set your browser's Web proxy to "localhost" and port 80. Internet Explorer allows you to use "localhost" for accessing the F-Secure SSH tunnel.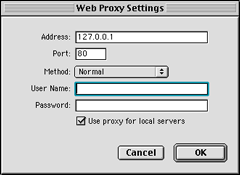 Proxy Settings for Microsoft Internet Explorer
Netscape Navigator requires that you enter the local host IP address (127.0.0.1). You can now surf the Web securely.
Proxy Settings for Netscape Navigator
Directions for configuring e-mail and news accounts are posted here. Basically, you create a new e-mail account and configure it to use Anonymizer's mail server via the F-Secure SSH Client local host. You set your POP server (incoming) and SMTP server (outgoing) to "localhost" or "127.0.0.1".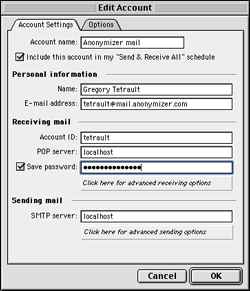 E-mail Settings for Microsoft Entourage
Your news client is easiest to configure: just set up a new account with "localhost" or "127.0.0.1" as the news server address. You will need to reload the list of available news groups.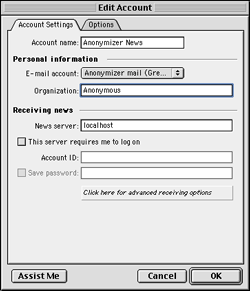 News Settings for Microsoft Entourage
At this point, you can surf the Web, get e-mail, and participate in news groups via secure tunneling. Your Web browsing, e-mails and newsgroup discussions and downloads are secure from anyone on your local network or at your Internet service provider. However, Web surfing anonymity is not yet guaranteed because the sites you connect to are in direct communication with your Macintosh computer. Anonymizer Ultimate Security Suite also provides you with fully secure Web surfing via Anonymizer Private Surfing 2.0. This feature is accessed by going to the member login site and entering your username and password.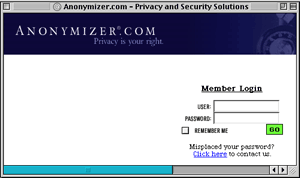 Anonymizer Private Surfing Logon Site
You then go to the Members Homepage.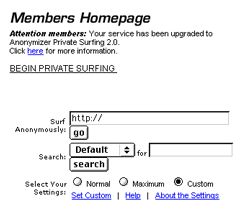 Anonymous Private Surfing Launch and Settings Page
I recommend that you read the information about private surfing settings, and customize the settings to meet your security needs.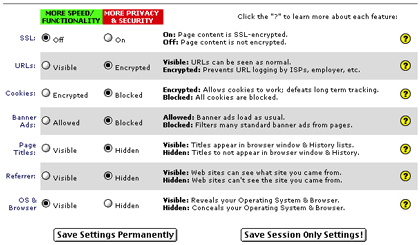 Security Options for Private Surfing
Note that Anonymizer Private Surfing does not yet support SSL (secure socket layer) encryption for Macintosh. To start surfing securely, enter any Web address into the "Surf Anonymously:" text box. I usually enter "www.google.com." The top of your Web page will now display an Anonymizer rectangle. You can use this to change the security settings, get help or information, or to manually enter a Web page URL. Most of the time you can just ignore this rectangle. When you are surfing securely, any link that you click on will also be secure, even if you open the link in a new window.

Anonymizer Private Surfing Rectangle
Problems, Bugs, and Omissions
The only technical problem I had was a slight delay in the activation of my secure tunnel. This process is performed only during the working hours posted above. A did encounter a serious non-technical problem. Perusal of newsgroups on the Anonymizer server showed that nearly all binary attachments have been stripped out of the postings. That makes all the "alt.binary…." sites on Anonymizer's news server essentially worthless. I contacted Anonymizer, Inc. via their e-mail complaint address, and I received a response the next business day. Anonymizer allows you to "port forward" to another news server, as long as that news server does not block port forwarded connections. My ISP's news server does block port forwarded connections, but numerous free and fee-based news servers are compatible.
I did not encounter any bugs in the F-Secure SSH Client software.
The Macintosh version of Anonymizer Private Surfing lacks two features: SSL encryption of Web page content (not an issue if the Web browser is using your secure tunnel) and the ability to directly use bookmarked URLs. To securely surf to a bookmarked site you must either type the URL into the Anonymizer field or open your bookmark, copy its URL, and paste it into the Anonymizer field. I developed a workaround to this problem. You can store truncated URL bookmarks (without the "http://" starting characters) in any document that supports drag and drop. You then can select and drag a bookmark URL onto the Anonymizer field at the top of your browser page.
Documentation
F-Secure SSH Client software from Anonymizer includes no manual. Setup information is available online. The 69-page PDF manual for F-Secure SSH Client is available from the F-Secure Corporation's Web site. This manual comprehensively covers the use of F-Secure SSH Client, though it does not have information specific to Anonymizer secure tunneling.
Technical Support
Anonymizer, Inc. provides excellent technical support. They offer e-mail, IRC chat, fax, and live telephone support via two toll-free numbers.
I called Anonymizer just after they opened on a Saturday. A voice messaging system indicated a 10-13 minute wait and gave me the option of leaving a call-back number. I did this, and was called back automatically when the wait time was less than 2 minutes. The support person efficiently answered my questions and activated my new secure tunnel account. I used e-mail support for general questions prior to purchasing anything at Anonymizer, and received replies within a few days.
Security and Anonymity
I contacted Anonymizer, Inc. with questions about security and anonymity. I was told that the only information available on Anonymizer customers is from their billing database. The billing information would be accessible to a law enforcement agency if it had a proper warrant and knew the username of the person being investigated. Complete privacy can be assured by paying for your Anonymizer services with cash or money orders.
Anonymizer's proxy server does not track or log any connections or transactions. Therefore, even a law enforcement agency with a search warrant would not be able to recreate a customer's Web site destinations or news group downloads. E-mail messages on the Anonymizer mail server could be accessed, but customers can configure their e-mail clients not to keep a copy of messages on the server.
Alternatives
I found no Macintosh-compatible packages equivalent to Anonymizer Ultimate Security Suite. If your security needs are not comprehensive, there are a few services that may meet your needs.
JAP, a free secure tunneling service and client, is available from Germany. It is part of the "Project Anonymity in the Internet" sponsored by the German Research Foundation and the Federal Ministry of Economics and Technology. This system will not work from behind a firewall. It provides no e-mail or newsgroup security. I did not test JAP.
There are numerous Web sites that offer anonymous Web browsing (sometimes at no charge), but these sites rarely use secure tunneling between your Macintosh and their server. There also are sites that offer anonymous or secure e-mail accounts. Information on these types of site can be obtained from the Electronic Privacy Information Center. I found no free news servers that provided anonymous access to both text and binary newsgroups. There are numerous news servers that will provide anonymous newsgroup access for monthly or annual fees. (Use the phrase "commercial news server" in Google or another search engine to find individual sites and Web sites with ratings and comparisons.) Just make sure that they will accept port-forwarded connections before subscribing.
Summary
The Anonymizer Ultimate Security Suite provides a high level of security and anonymity for a reasonable price. Customers also receive a POP e-mail account that is accessible from anywhere. (You can retrieve mail with most Web browsers from free Web sites such as accessyourmail.com.) I will use my new Anonymizer e-mail address to replace my no-longer-free mac.com address.