GUI Junkie
Customization
I've always been a GUI Junkie, even before I began using a Mac. When I was cutting my teeth on Windows 3.x, I was constantly changing my desktop, even creating my own bitmaps when those I found elsewhere bored me.
The great thing about the Macintosh is that its interface is very customizable. Don't like the standard Platinum interface? If you were lucky enough to scarf one of the extra themes from Apple (Hi-Tech, Gizmo, or Drawing Board), you can completely change the look of the menu bar, windows, icons, and the cursor. Third-party themes have popped up since then as well.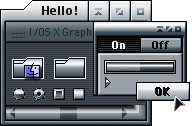 I/OS X Graphite
by Toren Valimir
The granddaddy of overall Mac customization, however, is Kaleidoscope. The invention of Greg Landweber and former Apple Interface Group member Arlo Rose, Kaleidoscope is an amazing piece of software that uses schemes to change the look of your Macintosh. An entire subculture has grown up around the creation of third-party schemes, as evidenced by those at the Scheme Archive on the Kaleidoscope site. To the right is a current favorite among Kaleidoscopies.
In addition, Mac users have long been able to change the icons on their system, and even before OS 8 we could change our desktops thanks to various shareware programs.
As a GUI Junkie, there are several Web sites you can troll for the latest goodies, but the place I begin every week is ResExcellence. Michael Coyle originally began the site as a place for users to share ResEdit hacks of the Mac interface, but it has greatly expanded since its inception. Updated every Monday, Wednesday, and Friday, you can not only get the latest ResEdit hack from ResExcellence, but updates on new icons, desktop pictures and patterns, and interface-enhancing software.
I also frequent the IconFactory. The IF guys have rewritten the book on icon design for the Macintosh, in more ways than one. They started with cutting-edge design and original concepts, then expanded into changing the way other folks assemble icons with their product IconBuilder, a Photoshop plug-in for icon creation. Now they're changing the way you can alter the individual icons on your system, with their new product iControl.
ResExcellence and IconFactory are two sites worthy of any Macintosh user who would call himself a GUI Junkie.
Aqua and Other OS X Goodies
At this year's Macworld Expo in San Francisco, Steve Jobs dazzled the computing world by demonstrating the new Macintosh interface of OS X, code-named Aqua. If you've been living in a hole and haven't seen it yet, get yourself over to the Mac OS X Web site.
This prompted a slew of themes and schemes that mimicked (at the very least, the overall look of) the Aqua interface. The best I've found are the Aqua scheme from the guys at InterfaceLift, and a theme from Ben Mackin for those of you who are scheme-less. There are also numerous OS X icon sets available; one is included with the scheme from the InterfaceLift guys. A good place to search for more OS X icons is ResExcellence, referenced above.
OS X-Style Browsing Today
One of the new ways users will be able to hunt through their Macs under OS X is with a NeXT-style browser. This was demonstrated at the Apple WorldWide Developers Conference last year, and has made an appearance at every OS X demo since. Many users were alarmed initially, as it appeared Apple was going to replace the current style of file and folder browsing with the NeXT style. Jobs & Co. have since assured Mac owners that both methods will be available under OS X.
But if you'd like to get a jump on getting use to another form of file browsing, you can pick up a piece of shareware that's been around for quite a while— Greg's Browser. Yes, Greg Landweber does more than just Kaleidoscope, and before he and Arlo Rose hooked up for that masterpiece, Browser was one of Greg's crown jewels.
As experienced Mac users can see, this NeXT-style browser is a bit different from the "double-click the hard drive icon, double-click the folder icon, double-click the file icon" process we've come to know and love.
I sat down with Greg's Browser for two weeks, using it on my G4 at work, my iBook, and my G3 at home, and the more I used it, the more I liked it. You can have multiple browser windows open, which is especially handy if you have more than one hard drive and you're constantly moving files back and forth. Shared drives even show up in Greg's Browser, so copying files over the network is a bit easier as well, since you can burrow very quickly through the various levels of a drive.
I've now traded one GUI Junkie trait for another—since I have at least two browser windows from Greg's Browser open all the time, most of my screen real estate is taken up, which makes the use of a cool desktop picture moot. But being the true junkie that I am, the pictures remain!
Greg's Browser is shareware, and at $20 is worth the experience. Get used to folder burrowing with this thing, and you'll be all set for Mac OS X later this year.
Finally, I'd like to share with you what my current desktop looks like.
As you can see, I'm a rabid Star Wars fan. The desktop picture is from MacDesktops, a wonderful source of desktop pictures of all sorts, but especially Macintosh-centric. The icons are from various sets I've collected from around the Web. Notice I have a partition already set aside for OS X, and one for LinuxPPC, should I decide to play with that OS. Finally, what theme would a Star Wars fan use but the one whose code-name was Vader? It's the Hi-Tech theme, which was only in beta and never released in a final version of the Mac OS.
I hope you've enjoyed this first installment of the GUI Junkie. Next month we'll get into more detail on customizing your Macintosh, going over the basics of icon and desktop replacement for the new users out there (and for you long-timers who may have forgotten).