Review: Photo Mechanic 3

Developer: Camera Bits
Price: $150
Requirements: PowerPC-based Mac with Mac OS 8.6 or Mac OS X 10.1, CarbonLib 1.3.1, QuickTime 3, 20 MB of application RAM, 800x600 resolution. Card reader with software that can mount a card on the desktop.
Recommended: Mac OS 9 users should give Photo Mechanic more application RAM to improve image display speed.
Trial: None
Overview
Photo Mechanic is an image-browsing and information-editing application. It is designed to import digital images and their associated information from card readers and from computer files. Photo Mechanic contains many image-related data and information fields, including all IPTC fields and Global Positioning System values. What is unique about Photo Mechanic is that it does not create separate catalog files. Instead, it adds a "cbtn" resource to each image file.
Installation
An Installer VISE file is on the CD or can be downloaded from the Camera Bits Web site. The installer lets you choose the location for the Photo Mechanic folder. When you first launch Photo Mechanic, you must enter your registration information.
Using Photo Mechanic
Photo Mechanic is designed primarily to work with card readers that allow Compact Flash Cards, Memory Sticks, Secure Digital Multimedia Cards, or SmartMedia Cards to be mounted on the desktop. Images can be imported directly from compatible cards for loading into Photo Mechanic catalogs and (optionally) storage on a hard drive. You create a catalog by selecting either Open Contact Sheet… or Ingest Disks… from the File menu. Open Contact Sheet… should be renamed Create Contact Sheet, since that is its function. You use the resulting Open dialog box to select a disk or folder containing images you wish to catalog.
Ingest Disks… lets you import all the photographs from a card reader or any drive connected via FireWire or USB. The resulting catalog window (Contact Sheet in Photo Mechanic's terminology) takes up most of the screen. Each photo is assigned a block that is approximately 210 pixels high and 180 to 200 pixels wide. You have no control over the layout of the contact sheet.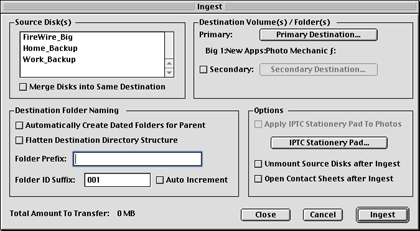 Ingest Disks Options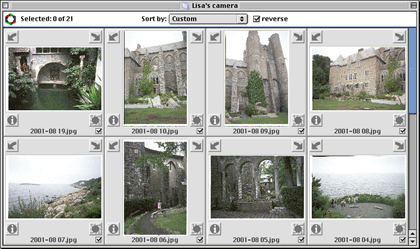 Catalog Window
Photo Mechanic supports most high-end digital cameras, meaning that it can work with RAW image files, generate low-resolution previews, and capture EXIF information.
You can add and edit text information for images individually or in batches. Photo Mechanic supports IPTC tags, GPS, and EXIF information fields. Photo Mechanic's IPTC Stationery Pad lets you create lists of choices for most of the fields so that data can be entered via pop-up menus. You can also load IPT files into the IPTC Stationery Pad. This allows workgroups to have identical labeling information. EXIF information is edited or added via a small window in the upper right corner of the image editing window.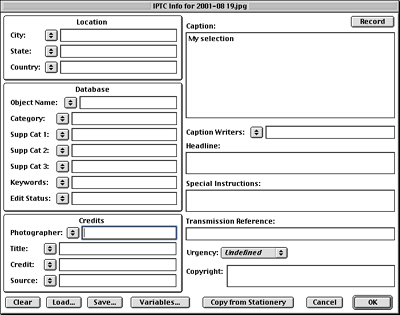 IPTC Information Editing Screen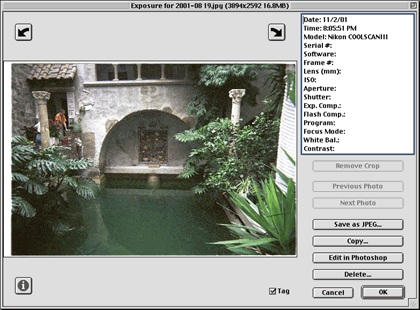 Image Editing Window with EXIF Information Fields
Photo Mechanic has only a few image manipulation tools. You can rotate the image in 90-degree increments using the rotate arrows or Rotate menu items (in the Image menu). You can also crop the image. Rotation and cropping changes are not saved unless you choose Save Photos as JPEGs… from the File menu. Photo Mechanic includes an Edit Image item in the Image menu. This opens the selected image in Adobe Photoshop or Photoshop LE for advanced editing. Double-clicking on an image or its thumbnail also opens it in Photoshop.
Photo Mechanic has tools for sequentially labeling images. This allows you to select and sort images based on whatever criterion you prefer, and then name them sequentially.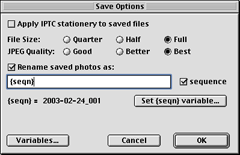 Options for saving images with sequential labels.
Photo Mechanic can play slide shows of selected images. Slide show options are limited compared with other applications. Options include playing attached sounds, showing cropped images, and selecting the delay time between images. Slide shows cannot be saved.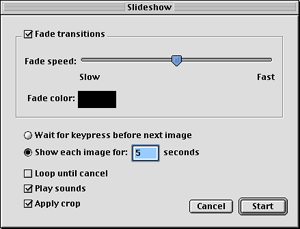 Setting-up a slide show.
Photo Mechanic can export images as HTML or XML files.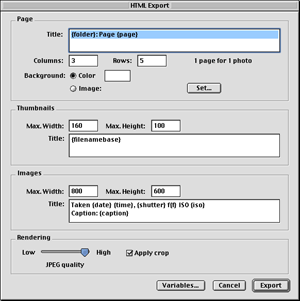 Options for exporting images as HTML pages.
Photo Mechanic creates a thumbnail image page (you select thumbnail size) and individual pages for each image (you set the image dimensions and JPEG quality). Photo Mechanic creates individual JPEG files for each thumbnail and image. Each image page gets its own HTML file containing an image placeholder, navigation controls, and text information (you choose which fields) for its respective image.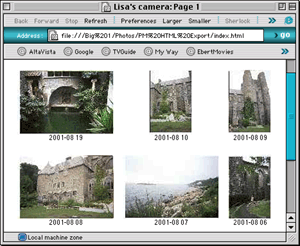 Thumbnail image HTML page.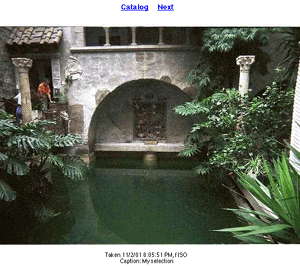 Individual image HTML page.
Photo Mechanic lets you print contact sheets. However, its layout options are limited to equal numbers of columns and rows (for example, a 4x3 layout is not allowed). You can adjust the margins and the spacing between images, and you can choose what information will appear in the headers, footers, and image captions. However, you cannot choose the font or font size of any of the text information. The heading is Geneva bold at 14 point and the remaining text is Geneva at 9 point.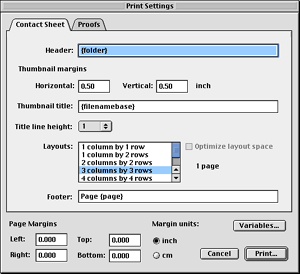 Options for printing contact sheets
Problems and Bugs
I encountered no problems or bugs while testing Photo Mechanic.
Omissions
You cannot import images directly from digital cameras.

The main window is not resizable, and you cannot modify the on-screen layout of contact sheets.

There is no way to change the image-editing application from Photoshop to something else.
Documentation
The application comes with a nine-page (8.5" x 11") PDF Read Me file and a 34-page Photo Mechanic 3.0 User's Guide. The User's Guide has bookmarks and a hyperlinked table of contents. It has no index. The User's Guide and Read Me documents, in combination, fully describe the use of Photo Mechanic. However, a revised, unified User's Guide incorporating the additions and changes of the current version would be welcome.
Technical Support
E-mail support is available. There is no online support. Telephone support may be available at the main toll number, but I did not check this. I also did not test the rapidity or accuracy of e-mail support.
Summary
Photo Mechanic performs as advertised. However, it is an expensive application with a limited feature set. I prefer iView MediaPro: it is more flexible and powerful than Photo Mechanic (it lacks only pre-built fields for GPS data) and costs $60 less.