Review: NetNewsWire 1.0.1
Developer: Ranchero Software
Price: $39.95; free (Lite version)
Requirements: Mac OS X 10.2
Trial: Fully-featured (30 days)
A few months back, Michael Tsai introduced many ATPM readers to Really Simple Syndication (RSS) and NetNewsWire Lite. The RSS format defines a specific set of rules for describing the content of a Web site. Although an RSS feed can look rather intimidating at first, an aggregator like NetNewsWire can easily parse the contents of the feed and generate a summary of the Web site.
That's all sounds nice and good, but what does it mean for the average user? After you set up your RSS subscriptions in NetNewsWire, it periodically checks for new articles, downloads them, and displays them in an easy-to-read format. As a result, you can always see the most up-to-date articles from your favorite Web sites without spending countless hours typing in URLs.
Since Michael's article first appeared, Ranchero Software has released the full version of NetNewsWire, which includes some advanced news reading features, a Weblog editor, a Notepad, and AppleScript support. This review will focus on the full version of NetNewsWire, but will also note some of the differences between the two versions.
News Reading
NetNewsWire uses a three-pane interface, similar to many e-mail applications. The left pane shows all of your subscriptions, the top right pane shows the headlines for the selected feed, and the bottom right pane shows the content associated with the headline.
NetNewsWire's three-pane interface.
The similarities don't end there; you can check for updates to your subscriptions manually or at regularly scheduled intervals.
When NetNewsWire downloads new headlines, it displays the number of unread articles in the dock and highlights any feeds with unread articles. By default, feeds with less than ten unread articles are highlighted in bold blue. Feeds with ten or more unread articles are shown as emboldened red. You can also choose to have the number of unread articles per feed shown in the Subscriptions pane.
For the times when you know you saw an article on a specific subject but can't remember where, NetNewsWire has a Find feature. It works mostly like you would expect, highlighting the next article that contains the search term. Unfortunately, the search term is not highlighted in the article itself, so you might have to skim through longer articles to find it.
Subscribing to Feeds
NetNewsWire offers several ways to subscribe to news feeds. The first is the Subscribe command, which displays a sheet that asks for the RSS URL for the new feed. If you know the full address to the RSS feed, you can enter it here. Otherwise, you can just enter the address for the Web site's home page and NetNewsWire will try to find the site's feed based on some standard naming conventions.
If you're using a Web browser and see a page you want to subscribe to in NetNewsWire, you can use the "Subscribe in NetNewsWire" item in the Services submenu. This seems to use the same RSS Discovery feature as the aforementioned Subscribe option.
A more interesting approach to subscriptions is the Sites Drawer. The Sites Drawer links to a very large number of RSS feeds, broken down into categories such as Fun, Macintosh, and Science. There are also categories for different languages. Personal Weblogs are divided up alphabetically. The bottom of the Sites Drawer contains a brief description of the selected feed.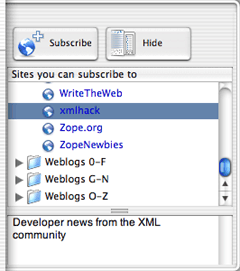 NetNewsWire's Sites Drawer.
Looking for a single site in the Sites Drawer can be a bit daunting, but it can also yield unexpected surprises. About a month or so ago, I was looking for something in the Weblogs categories when I stumbled across the Weblog of an old college friend. Prior to this, I hadn't even realized he was running a Weblog.
Weblog Editing
One of NetNewsWire's main attractions is that you can use it for editing your own Weblog. NetNewsWire supports most, if not all, of the major Weblogging packages, so there's a good chance it will work with whatever system you are using. If you use a different system, you might still be able to use NetNewsWire with your Weblog, depending on what interfaces your system supports.
You can edit as many Weblogs with NetNewsWire as you want. In the Preferences, you tell NetNewsWire where your Weblogs are located and supply any necessary information for accessing their content. You can also set some preferences for how you want your posts formatted.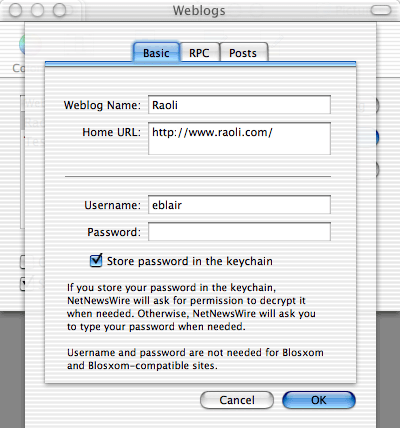 Adding a Weblog to NetNewsWire.
NetNewsWire's Weblog Editor gives you the same basic editing options for each of the supported Weblog systems. You can type the body of your entry, save it to your hard drive as a draft, preview the post, and post it to your Weblog. You can also edit previously posted entries.
Editing an Weblog entry in NetNewsWire.
Different Weblog systems support somewhat different features, so the interface of the Weblog Editor is slightly altered depending on the configuration of the selected Weblog. If you are using a system that supports titles for entries, the title field will show. For systems that support URLs associated with entries, the URL field is activated. For systems that support categories, there will be two ways to select categories.
The Weblog editor has some very basic HTML features. It has buttons for bold and italicized text and a button to create hyperlinks. You can also add custom HTML tags to a pop-up menu, and you can of course write your own HTML in the entry body instead.
Personally, I only use the Weblog editor for short, simple entries. If I'm writing something longer or something that contains HTML code or entities, I'll do my writing in BBEdit first so I can easily validate my code before posting.
One of NetNewsWire's nicer touches is the Post to Weblog option. If you see an interesting article from another RSS feed, choosing Post to Weblog will create a new entry in the Weblog Editor. This new entry contains the originally selected article and a link to the source.
I just wish I could customize this feature. When I cite another source, I like to put the citation and link at the top of the article and block quote the original text. I can certainly do this by hand, but it would be great if I could edit a Post to Weblog template and have this happen automatically. This would give me one more reason to do my editing in NetNewsWire.
Notepad
NetNewsWire's Notepad is a lightweight outliner for keeping track of whatever you want. Typically, I use it to jot down notes about topics I'd like to post on when I have more time.
The NetNewsWire Notepad.
Since you can't have multiple Notepads or do things like printing your outline, NetNewsWire will not replace a fully-featured outliner like OmniOutliner. However, it handles most of the basic outlining tasks and has one feature I believe OmniOutliner is lacking: linking.
If you drag a file to the Notepad, a Notepad entry with an icon is created. Double-clicking the icon opens the file. You can also drag entries from the Address Book to the Notepad to get a vCard for the appropriate person, or link to URLs by dragging them over from a Web browser. If you decide that an item needs a link at a later date, you can assign one from the Attachment Info inspector.
Unfortunately, the Notepad doesn't auto-detect links in entries. For instance, dragging a URL from BBEdit just inserts the text. If you want to link to the specified Web site, you must add the link by hand.
Full versus Lite
If you're interested in reading syndicated versions of your favorite Web sites in lieu of trekking all over the Internet to see if they're been updated, but don't need NetNewsWire's Weblog Editing or Notepad features, you should look into its freeware sibling, NetNewsWire Lite. It supports most of NetNewsWire's features, with the following exceptions:
No Weblog Editor;
No Notepad support;
You must be connected to the Internet to read feeds;
Headlines don't show dates, subjects, or creators;
No Find command, and;
No AppleScript support.
Conclusion
When I say that NetNewsWire has changed the way I view the Web, I'm not exaggerating. I subscribe to more than sixty Web sites right now, most of which I'd never heard of prior to using NetNewsWire. Not only that, but there's no way I could remember all of those links. Now, I just start up NetNewsWire when I boot my computer and let the information come to me.