What's Under the Hood
Got Vinyl? Converting LPs to CDs Part 1: Terminology & Hardware
If you are of the pre-CD generation, odds are that you still have a collection of vinyl albums, from 78s and 45s to LPs, lying around your home. You probably have many albums that have not made it to a CD. Wouldn't it be nice if you could transfer your valuable album collection to CDs? New music CDs cost $12 and up; you can use your Mac to record, filter, and then burn a CD for a fraction of the cost. Just bear in mind that the quality of the recording will not be the quality of a store-bought CD. However, it can sound as good as the original album and it beats searching for a copy of a CD you'll never find.
Although you can record audio onto your Mac using the microphone input, the quality of the sound will not be of CD quality. If you have ever hooked a microphone up to your Mac, think about what your voice and other sounds were like as they came out of your speakers. There is tremendous distortion and signal loss as sound passes from the input device through the microphone input.
The only way around this problem is by the use of a PCI sound card, or sound input devices that plug into your USB port. At this point, there are no devices designed to utilize the FireWire ports on your Mac. Before I get ahead of myself, let's take a moment and look at some key terms you will need to understand if you want to make a CD-quality transfer of your precious vinyl.
Sound
Sound is produced when particles (or molecules) vibrate. If you have ever looked at a woofer on a speaker, you can see this as the woofer moves in and out. Try holding your hand in front of the woofer or a sub woofer and you will feel the air pulse with the rhythm of the sound being generated.
Analog to Digital
As I just said, sound is a series of periodic vibrations. A phonograph takes these vibrations and converts them to electrical impulses. These impulses are an analog signal. Due to this transition between mediums there is always some loss or degradation in the sound quality. An analogy to this is making copies of a non-digital (i.e. VHS) home video. If you take the original and make a copy of it, you would see losses in picture and sound. Now if you take the copy and make a copy of the copy, the degradation becomes very severe. The picture becomes muddy and the sound is muted in quality. This type of degradation is due to noise that is inherent in any analog signal. No matter how well you shield the analog cables, they will still pick up random electrical noise as the signal is passed from one end to another.
When sound is converted into a digital format, it is converted into a series of numeric values by an Analog to Digital Converter, or ADC. Since there is a large amount of information found in sound, the computer takes "snapshots" or samples of the incoming signal at regular intervals. The number of samples per second is called the sample rate.
Sample Rate
The sample rate has a direct effect on the audio quality and the size of the file. The greater the sample rate, the higher the quality of the digitized sound. Since raising the sample rate increases the number of "snapshots" per second, this in turn increases the size of the resulting file. The sample rate is measured in kilohertz (kHz). Professional audio and audio CDs use 44.1 kHz. Although you could set an audio program to a sample rate higher than 44.1 kHz, when it comes to saving your project the sample rate must be re-adjusted to 44.1 kHz, or your CD will not play in regular CD players.
Bits Per Sample
The number of bits per sample is the complement to sampling. As we all know, a bit is represented by a binary code of a zero or a one. The binary coding of an audio signal produces a series of numbers called bits that are organized in a very specific way. All complex sounds contain a great deal of information at any sample interval. Audio CDs operate at 16 bits of data per sample. That adds up to a possible 65,536 values that the signal can take at that sample. Although you can sample at 24 or 32 bits, 16 bits is enough to describe even the most complex sounds.
The advantage of recording at a higher rate is that you are able to spread out the data and get a higher resolution of your recording. This in turn improves the quality of the transfer.
AIFF
AIFF stands for Audio Interchange File Format. It was developed by Apple as a standard file format for saving sound files of any type. After you make the initial transfer of your LPs into your Mac, you will save your file as an AIFF. AIFF sounds can also be played on PCs.
Gain
Gain is similar to the volume of a recording on your stereo. Whereas the changing of the volume level by your stereo is temporary, changing the gain on your recording is permanent. When you adjust the gain of an audio file, you are changing the actual volume of the file. In an ideal recording, the gain should be such that you hear a large dynamic range while keeping your signal-to-noise ratio in check. Increasing the gain will also make noise embedded in your transfer more pronounced.
Filters
Filters are special types of software designed to remove frequencies in your recording. An analogy would be the plug-ins that are so widely used in Photoshop to adjust photographs. Some of the most common filters you will need to make CD-quality disks are: Pop, Rumble, Hum, Noise, Equalization, and Normalization. Depending on the program you use, these names may vary but they will still do the same thing.
We'll discuss these terms further when we get around to editing our audio recording. Now, let's move away from the science lesson and move on to the type of hardware you will need.
Step One: The Turntable
As with any journey, we must start with that all-important first step. Having a good turntable is probably the most important factor in converting your LPs to CDs. Using a nickel-and-dime turntable will produce poor results when you digitize the sound into your Mac. I had a very good Techniques Turntable that I bought back in 1977. Sadly, the belt on it broke and I made the mistake of not replacing it for several years. When I did have it replaced, the motor had gone bad.
As I soon discovered, buying a turntable is easy; but buying the right turntable is like finding a needle in a haystack. I went to Best Buy, Circuit City, Tweeters, and Fry's. Finally, the people in a music pawn shop I went to directed me to the Guitar Center. As I soon discovered, this is where most party DJs go for their tools of the trade. As luck also had it, they were having their end-of-year clearance sale.
Jessica (one of the very helpful people at Guitar Center) was very versed on what I would need for a replacement turntable. The first thing I learned was that I needed a turntable with a built-in pre-amp. On older receivers, there used to be phonograph jacks for the right and left channels (plus a ground). Built into the receiver was a pre-amp that would boost the signal that could be used by the stereo. If you already have a setup like this, then you can move onto the next step to moving your sounds into your Mac. The only thing you might want to think about doing is replacing your needle if it is worn. A newer needle will improve the quality of the sound transmitted from the turntable.
Most home entertainment centers that are built today do not have phono jacks except on high-end units. This means that you will have to find another way to boost the signal or you will need a hearing aid to hear your albums.
As I just mentioned, one way to go is to buy a turntable with a built-in pre-amp. The advantage of this is the fact that everything is in one package. You can tell if your turntable has a built-in pre-amp by checking to see if it has a ground wire. If it does, then your turntable does not have a built-in pre-amp, and you will have to buy one separately. These units can cost anywhere from $25 to $100 and up. If you do decide to replace your turntable, then I recommend that you get a turntable with the pre-amp built in.
By doing my homework I was left with the choice between a Stanton and a Technics turntable. Although both companies make good products, I found that Stanton was the clear leader. As I have learned in the past, don't let the manufacturers' name guide you to the right product. The top of the line Technics turntable ($750) did not have half the features of the one I got from Stanton ($450).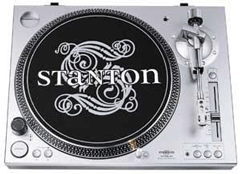 Stanton STR8-80
Try to set your price range to around $150 to $250. Check to see what type of head and needle cartridge comes with the turntable. If the cartridge head is not removable, and looks cheap, look on. Some more expensive turntables ($300 and up) even offer digital output. If you can find a good deal on a digital turntable, grab it. That is exactly what happened to me.
As I said earlier, Guitar Center was having their end-of-year clearance sale and I wound up walking away with a $450 Stanton STR8-80 turntable for $200 (currently going for $220). It has every bell and whistle I could ask for on a turntable. If you are in need of a new turntable, I highly recommend this model. With that out of the way, we are ready to look at how to import your audio onto your Mac.
Step 2: The Right Connection
Now that you have selected the turntable you are going to use, the next step is deciding the best way to connect it to your Mac. In essence, there are two ways: direct and indirect. Let's look at the direct way first.
If you have a turntable with a built-in or separate pre-amp set up, then hooking it up to your Mac is a no-brainer. All you need is a set of cables with RCA jacks to go from your turntable to a sound card or USB device. We will talk about these different devices in just a couple of paragraphs. If you got lucky and have digital output from your turntable, the same applies except you will use a digital coaxial cable.
If your turntable does not have a pre-amp, you are probably hooked up to your stereo or home entertainment center that has one for your turntable already. Under no circumstances should you use the headphone jack as an output to your Mac. Using the headphone jack will not send a pure signal to your Mac. The volume, bass, and treble controls will affect the signal coming out of the headphone jack. If, after making your recording, you wish to make changes in the bass and treble frequencies of your music, you can do that with an equalizer software filter.
In most cases, your receiver should have a set of RCA output plugs on the back. If you have a tape deck, you can use the output jacks from it as well. Then all you have to do is run a set of RCA cables from your receiver to your Mac.
Step 3: Plug Me In
If you have followed my instructions up to this point, you probably are holding onto a set of RCA or digital cords. The next step is deciding what you will do with those cables. If you own a tower Mac, then one way to go is with a PCI sound card. I must recommend that you go to a store that is best suited for such a purchase (i.e. an audio store). Once again, I found Guitar Center an ideal place to go. People who do audio work for a living go there for their needs. Thanks to their knowledgeable staff I was able to make the right purchase without breaking the bank.
I wound up buying the Audiophile 2496 PCI card by M-Audio. This card allows me to hook my turntable directly to my Mac by either RCA or digital cords. It offers data paths that are bit-for-bit accurate and supports up to 24-bit/96 kHz performance. It also has a total harmonic distortion of 0.002% and a frequency response of 22 Hz to 22 kHz. What this all means is that whatever your turntable puts out will be completely captured by this card. I must admit that I got lucky at getting this card for $125 since it has now gone up to $180 at Guitar Center.
Audiophile 2496
Unless you plan to go beyond mastering your albums to CD, do not buy a card that goes beyond your needs. If you are going to use RCA plugs, then you do not need a card that supports digital output. There are many cards available for less than $125. Just make sure you do your homework before you put your money down on any audio card. M-Audio does make cards that are designed for those who plan to use only RCA plugs as their connection.
If you own an iMac, iBook, or PowerBook, then the use of a PCI card is not an option. It is also worth bearing in mind that the microphone jack no longer comes built-into current Mac models. If you own one of the newer models without a microphone jack, your only alternative is to use USB input devices. No FireWire devices are available at present.
Griffin Technology offers a great device called the iMic ($35) that plugs right into your USB port. The device works in both OS 9 and OS X and does not need any drivers. You may need to rearrange your USB devices because the iMic tends to work best when plugged directly into your Mac. Control of the iMic is done within your Sound preferences pane. Again, no special software is needed.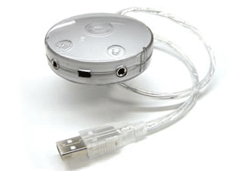 iMic
Although the iMic can sample at 24-bit, Apple's audio manager is limited to 16-bit sampling. Because the iMic stays outside your Mac, it eliminates transient noise that is produced by the power source, hard drive, CPU, and other components found in your Mac. The iMic is not perfect, but is a good entry-level way to import your LPs into your Mac.
The iMic also comes with software called Final Vinyl that is hardware-specific and is expressly made for the transfer of LPs to CD. A spokesman from Griffin Technology informed me that Final Vinyl has the ability to boost the signal from your turntable in case you lack a pre-amp.
No matter what device you go with, make sure you read what's on the box. Does it support OS X? What software comes with it? Although my Audiophile 2496 did boast OS X-native support, the CD sampler of utilities that came with it was all for OS 9. I talked to M-Audio about this, and they have created a new disk with OS X utilities.
I also recommend that, whatever device you do buy for your Mac, you should go directly to the company's site and check to see if they have a newer driver for your unit. Even as I write this article, M-Audio is in the process of writing a new driver for my sound card.
Wrap Up (for Now)
This concludes the hardware portion of transferring LPs to CD. Now you have a full month to get your equipment in order in preparation for part two of this article. Next month we'll discuss how to use your Mac as a recorder and the different types of software available. Then we'll discuss how to remove the pops, hisses, and other unwanted noises with the use of software filters; how to make a play list; and then how to transfer to CD.