The User Strikes Back
The 2003 "Stuff You Can't Live Without" Awards
I'm sure all of you use your Macintosh every day, just as I do. We have lots of software on our drives and hardware to run it, but there is always a core or base level: the stuff we can't live without. It may be a stalwart word processing program, an indispensable utility, or a time-honored and addictive game…but whatever it is, using the Mac just wouldn't be the same if it weren't around.
Please keep in mind that these awards are very subjective—they are simply my opinion on what I find valuable and rewarding in my daily life. They are truly the things I can't live without, or they are things that made me say "cool!" (and sometimes other things I can't repeat in polite company). While it's true I have access to a wide range of hardware and software, it still comprises a small fraction of what is out there. In reality, there is no way I could check out everything in every field: even professional reviewers can't make that claim. As much as I admire, for example, 3D animation tools and scientific analysis software, there is no way I'm going to know anything about them. Yet.
Another well-known outfit gives out similar awards at the beginning of each year: they're called the Macworld "Eddy" awards, and are usually announced during the San Francisco Macworld Expo. Since some of my picks coincide with theirs, I'll be using the Eddys as a guide, but also adding some of my own categories while eliminating some of theirs—even the Macworld staff missed out on some really great stuff!
A Switcher in More Ways Than One
Apple's "Switch" ad campaign continues to be one of the most successful ever waged by the company. The ads exhort Windows users to make the "switch" to the Mac platform. The irony of the ad campaign is that switching also has meaning to people who already use the Mac…but have not yet adopted OS X. People, up until recently, like me.
I'll admit it: OS X did not thrill me when it was released. Quite frankly, its Unix underpinnings and radical departure from the way the Mac OS has traditionally worked scared the bejeebers out of me. Not to mention the depression that set in when I realized virtually everything I'd learned about how a Macintosh works over the last 15 years was about to go out the window; I'd be starting over with everyone else.
It took me awhile to get over my bruised ego and natural aversion to change before I'd even tinker with OS X. And even then, I didn't think it was ready for prime-time, especially when pundits in the Mac press proclaimed it was. While it's true that I was once known as the first person to live on the "bleeding edge," time and frequent blood loss cured me of that. While open to new and exciting ideas, I became more conservative about implementing them on a permanent basis or recommending them to others. To illustrate, it took 18 months after the introduction of OS 9—when OS 9.0.4 was introduced to be specific—before I recommended OS 9 as a viable platform to others. When OS X went public my gut feeling was, based on my experience with 9, that it would take at least two years before it was ready for the big time. And guess what? I was right. The deciding factor was the release of OS X 10.2 "Jaguar" in August of 2002.
Jaguar was the big turning point for me: finally, a version of OS X that not only was fast and stable, but worth using. To me, it signaled the new operating system had finally "arrived," no matter what others had said before. More importantly, it is the version of OS X that has made me switch to it; I now spend more time in it than OS 9, and my wife lives in it all the time. (The only reason I still use 9 is that I use proprietary music software for my business that still cannot run in either OS X or Classic. Once this is resolved, which could be soon, I'll be X all the way.)
Since I have a desktop G4, I installed two additional hard drives: one for backups and another just for OS X. My systems are completely independent of each other, in case there is some kind of major catastrophe. So far, there hasn't been. And as time goes by, I find myself becoming increasingly comfortable with the system and enjoying it more as well. The eye-candy factor alone is worth it—going back to 9 now seems so "blah." Not to mention the ultra-coolness of being able to do anything you want at any time. Want to listen to iTunes while installing software? No problem! It still knocks me out that I can click out of Open and Save dialogs to look up something if I need to, or that dropping a menu no longer freezes up the system until I let go. And that's just the tip of the X coolness iceberg.
Yes, it's different. Yes, there is study and learning to do in order to really master the new OS. Yes, there are things that take getting used to. (Command-Shift-N for a new folder? Whose idea was that?) But I believe the time invested is worth it, and finally, almost everything I use or want is now (or soon will be) OS X-native. And for the few hold-outs that won't work at all…well, that's the thing about using a computer. If you stick with it long enough, you find yourself migrating away from the old and into the new.
Here's the thing to remember, however, when it comes to X: do not concentrate on what software no longer works with it, but rather on what new software there is that can do things you never thought you could do before, or do in new ways. Many of my award recipients are such items. In other words, just as with computers in general, always face forward and look ahead—don't dwell on the past. In that spirit, here's our first award:
The Most Important Software Release of 2002: Apple's Mac OS X 10.2
I'm not mentioning another obvious candidate for this award, Apple's iApps such as iPhoto, iMovie, etc., for a reason. Since they come with Jaguar when you purchase it, I kind of regard them as part of Jaguar. Increasingly, you need Jaguar just to run them.
As a side note, Apple released an OS X 10.2.4 update in mid-February, making Jaguar even leaner and meaner. Some people over at MacInTouch have reported problems with the update, but I experienced none. As with all Apple system software updates, install with caution (always make a backup first) and do some reading at sites like MacInTouch or MacFixIt before going ahead with it. And remember that OS X is still a work very much in progress, so expect frequent updates such as these and check for them often.
Get the Picture?
Two years ago, I wrote that Adobe Photoshop Elements was one of the best software titles of the year due to its value, ease of use, and powerful features. I'm happy to say the best gets better with the release of Adobe Photoshop Elements 2. In addition to making it OS X-native, Adobe threw in even more fun features while keeping the price at $89, and the upgrade price at $59.
Elements 2 has a bevy of automated routines to alleviate the drudgery of working with loads of digital photos. The "batch rename" feature is worth the price all by itself. In addition, improved Web albums, uploads to Shutterfly, and one-click picture fixing make Elements 2 a standout. Apple's recent release of iPhoto 2 takes the freeware program a bit closer to Elements' territory, but it still can't hold a candle to the power of Adobe's consumer version of Photoshop.
I use Elements 2 virtually every time I deal with photos from our Canon PowerShot 230, and I smile while using it. I also still rely on one of the best shareware programs ever released: Thorsten Lemke's wildly successful GraphicConverter. GraphicConverter 4.5.2—still $30, or $15 for an upgrade from an older version—has so many features that there is not enough room to list them all. I use GC every month in the course of editing our user group's newsletter: I use a Batch routine to convert folders full of JPEGs at 72 dpi into 240 dpi TIFFs. I rely on it to open any graphic I may encounter (which it always does), and also often use its Slide Show feature.
Macworld gave its award for "Best Consumer Graphics Software" to Photoshop Elements 2—which I agree with—but they don't consider shareware entries when judging. I, on the other hand, see no difference between commercial software and shareware, and often feel shareware titles are superior. Therefore…
The Best Graphic Programs for the Money: Adobe Photoshop Elements 2 and GraphicConverter (both work under OS 9 and X)
Say "Cheesy Poofs!"
Speaking of digital photos, the aforementioned Canon PowerShot Digital ELPH 230 is mind-boggling. My wife and I have used a Kodak DC220 for the past few years, but Daphne wanted to get something as powerful but smaller.
She's a real estate agent and needs a camera good enough to take high-quality, competent photographs of properties for use in flyers and Web advertising, but she also wants to use the camera for personal reasons. The Canon met all of her criteria and exceeded them: it has a resolution of 3.1 megapixels—a significant difference from our older Kodak at 1.5 megapixels—and fits in the palm of her hand. The camera is literally so small that she can stuff it in her purse with no problem, yet it's as fully featured as any digital camera I've seen for under $1000. Actually, way under $1000: we paid around $400 for it. Best of all, it takes a good ol' reliable Compact Flash card instead of some ridiculous new card format like the one Olympus recently foisted on an unsuspecting public.
Best Compact Digital Camera (Under $1,000): Canon PowerShot Digital ELPH 230
Serious Playtime
Last year, I had the joy of being hooked on Ambrosia's Pop-Pop, and felt it was the best game of 2002. Now I'm hooked on a new generation of games—many for OS X only—from some new, independent game makers.
Macworld gave awards to (no surprise here) Warcraft III and other games like it. In other words, "first person shooter," "slash and hack," and other kinds of action/strategy games. I, however, gravitate toward puzzle games with heavy addictive qualities. The infamous Tetris comes to mind as a classic example of this kind of game. I also enjoy action games such as Pangea's Cro-Mag Rally and OttoMatic, because they are fun (and funny), have great 3D wrap-around action, and don't involve death and mayhem. If I want that kind of thing, all I have to do is get on any Los Angeles area freeway!
Two of the best new game companies are PopCap Games and DracoSoft. Both specialize in these kind of puzzle/action games, with standouts being PopCap's Bejewelled Deluxe and Draco's Wordsmith, an amalgam of Scrabble, Boggle, and Perquackey. But my current favorite super-time-waster is Super Nisqually from the GameHouse. All these games have stellar graphics, sophisticated soundtracks, and compelling game play; there's just something about Nisqually that makes me want to play it hour after hour. I haven't had this kind of rush since Snood came out! (Will there ever be an OS X version of Snood? Please?)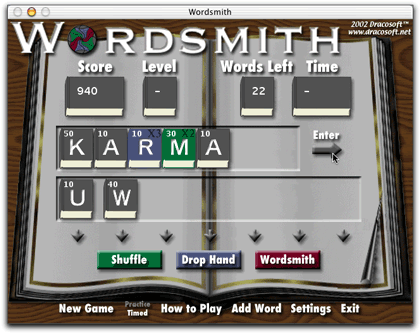 Wordsmith
Of course, the best thing about all these games are the prices: most are between $10 and $15. If you have kids who are hooked on PlayStation 2 games, and must have the latest and greatest every week or so, you can appreciate these prices. If you're an Apple .Mac member, you can find many of these games on your iDisk, some in demo form and others already paid for. Enjoy!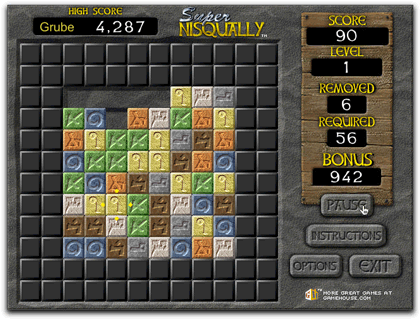 Super Nisqually
Best Obsessive Macintosh Game: Super Nisqually 1.0.3 by GameHouse (OS X-only)
Also, if you love games, here's something to look forward to: the return of Cliff Johnson to the Macintosh gaming world. After 15 years, Cliff is about to release the highly-anticipated sequel to The Fool's Errand, one of the greatest games every made for any computing platform. In its heyday, the unassuming game that ran on a Mac Plus captivated people across every segment of society. Fans of the game ranged from Stephen Sondheim to the Rand Institute, which once halted research for an entire week to solve it.
Cliff's long-awaited sequel is called "The Fool And His Money," and will be released on Halloween. You can check his progress and see screen shots by going to his amazingly bizarre Web site. If the urge comes over you, go ahead and pay for the game now by pre-ordering it: you won't be sorry. Bets are that the game will be inhabiting this spot next year.
Big CD Keep on Burnin'
If you want a second CD burner to complement a built-in unit as I did, or you need a CD burner because your Mac didn't come with one, you can't do better than Yamaha. My first burner was a Yamaha and I have stayed with them over the years, even when other companies brought out faster machines. The company will always catch up to competitors with faster machines (eventually), but what they bring to the table no one else can match—namely, a deep history in the worlds of both data and music.
Yamaha CD burners have a wealth of features not found in other drives. The current leader is the CRW-F1, available in both internal ATA, SCSI, and external FireWire models. The units can actually burn graphics and text onto the data portion of a CD—they call this their CDT@2 system—and also feature Audio Master Quality and support for CD Text. At 44x burn and read speeds, and 24x re-write speeds, they're almost the fastest ones you can buy, but they still get the job done. Trust me on this: 44x is quite satisfying when compared to Apple's anemic built-ins, especially their SuperDrives.
CRW-F1 CD-RW
Don't get me wrong, I like SuperDrives…for burning DVDs. It's just that they're kind of pokey when you use them to do anything else. I figured I'd made a sizable investment getting the fastest Mac there was (at the time) so why was I saddling myself with a burner that records at speeds that were considered fast three years ago? Also, if you make copies of CDs (from one to another), using a second burner is almost imperative unless you only do this every once in awhile.
At about $220, you can't go wrong with the Yamaha, and once again, the editors of Macworld felt the same way. (The ice-blue case with pulsating blue activity light doesn't hurt either.)
Best Storage Product: Yamaha CRW-F1 CD-RW drive
One quick word on bundled software: for a short time, Yamaha executives lost their minds and decided to bundle NeroMax burning software from NeroSoft with their CD-RWs. The German company had no idea what a Mac was—or, apparently, what English was—and simply ported over their infamously bad Windows software. I recommended at the time anyone getting a Nero CD with their Yamaha simply pitch it into the trash can and instead purchase a copy of Roxio's Toast Titanium, also a 2003 winner of a "Stuff You Can't Live Without" award. (As far as I'm concerned, it's been winning one every year since its release, so I'm leaving a detailed description of it out for this go-round.)
I'm glad to tell you that Yamaha has come to its corporate senses and started bundling Toast again. Although it's the "lite" version, everything you need is there. The store-bought version simply adds ancillary software that may not be that necessary to a lot of people.
The Sound of Innovation
I've saved the best for last: software that does not fit in any known category. These would be programs that fill a niche no one had been able to fill before, or better yet, created a whole niche all for themselves. More often than not, these programs are OS X-only, which definitely qualifies as a trend in my book. What is so exciting about these titles is how whole-heartedly their programmers have embraced OS X. A properly coded and designed X-native program is just a joy beyond words. Phil Schiller, Apple's Senior VP of Worldwide Product Marketing, may have once referred to Microsoft Office for OS X as the "poster child" for how to design the perfect X-native program, but I beg to differ with him. If you want to know how it's really done right, look no further.
Some of the most fun you can have with OS X is with audio. Felt Tip Software's Sound Studio for OS 9 and X brings full-bore audio editing to the masses, and of course Apple's own iTunes 3 keeps raising the bar for a one-stop audio shop. But there are two other audio-oriented titles which come to mind that are unique in their powers and abilities.
The first one is Rogue Amoeba's Audio Hijack. (Don't you just love some of these company names? That's what happens when you're working with just a few gonzo programmers instead of corporate committees.) Audio Hijack does exactly what the name says: it lets you swipe audio from sources previously "locked off" from such things. For example, you can capture live Internet audio streams from RealAudio, QuickTime, and more to your hard disk. And you can also capture audio directly off of commercially made DVD movies. (Yes, this is legal, as long as you're not turning it around and either selling it somehow or sharing it with the rest of the world.)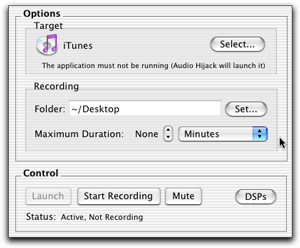 Audio Hijack
Audio Hijack does its magic by controlling the target software for you. The program tells you right on the main screen to not launch the software you want to use, but rather to tell Audio Hijack what that software is so it can launch it first. Once Audio Hijack has control over the software in question, the magic can begin. After that, it's just a simple case of clicking to start capturing the audio stream, and clicking again to stop it.
In addition, Audio Hijack gives you the ability to process the sounds you capture with many different DSP (digital signal processing) modules. Best of all, you don't have to capture anything just to use them; they work all by themselves! Right now, I'm listening to Sarah Brightman's Eden CD. It's mounted on my desktop, and iTunes is playing it…but Audio Hijack is processing the sound before it gets to my Harman-Kardon SoundSticks. (Oh yes, how about an award for them as well? I truly couldn't live without 'em.) I've turned off the iTunes equalizer in favor of the one supplied by Audio Hijack. The sound is smoother, stronger, more defined, and more satisfying. In short, I never knew my SoundSticks could sound like this!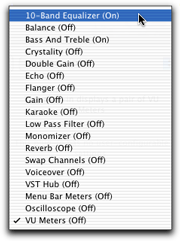 Audio Hijack DSPs
Audio Hijack also brings back the always-fun "Karaoke" feature once found in SoundJam but never ported to iTunes; it also has Timers, analysis tools, and so much more. For $16, this is one power-packed piece of software.
Best Audio Processing Software: Rogue Amoeba's Audio Hijack (OS X-only)
My second choice for invaluable audio software is Eerko Vissering's Pickup 1.4. If there was ever an example of software created to fill a gaping hole, this is it. One of the best Web sites for downloading music legally is eMusic.com. Unlike the major labels, these guys got it right: lots of good stuff to choose from, by recognizable artists and newcomers alike, at affordable prices. The site is well organized, and the MP3s you download from them sound crisp and clean.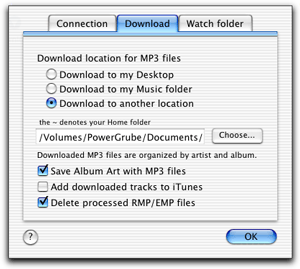 Pickup
There's only one problem: the site depends on third-party software to interface with your Web browser…and it's Windows-only.
I guess Mr. Vissering felt the way I did when I first encountered the site—severely frustrated—and decided to do something about it. Pickup is now listed on eMusic as the preferred (and only) Mac client that works with eMusic's proprietary EMP/RMP file format.
What I like so much about Pickup isn't just the fact that I can now get stuff off of eMusic, but rather the way in which it is done. When it comes to helping the user set up the software, Pickup's "Configuration Manager" is a model for everyone who writes software to emulate. In lesser hands, the job of telling Pickup how to interface with eMusic and a Web browser, as well as then setting up the browser itself to understand eMusic commands so that Pickup is automatically launched, would be a nightmare. But Pickup takes you gently by the hand and leads you, step by illustrated step, through the process. Each screen carefully explains what you need to know, then tells you exactly what to do.
All that effort for what becomes, in effect, a totally transparent product; when Pickup is working with eMusic, you never even have to see it. On top of all that, Pickup is free. Once again, shareware—or in this case freeware—comes to the rescue.
Best Software That Fills a Need No One Else Thought of: Pickup 1.4
If the Label Fits, Stick It
Another product that did what no one else could do (right, anyway) is Discus from Magic Mouse Software.
Discus is another example of software that's elegant, powerful, and affordable. At $39.95 retail, it works well, does what it's supposed to do, and beats the pants off of any other labeling software out there.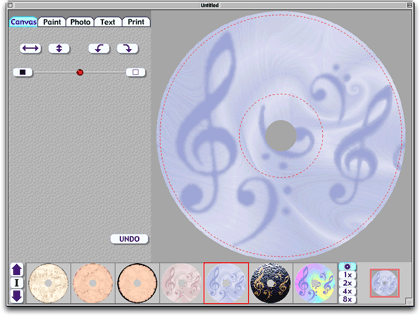 Discus Main Window
Like fax software before it, competent, well-written CD labeling software seems to have eluded the grasp of programmers up until now. One problem could be that most CD labeling software is included with popular CD labeling products, usually as an after-thought. Or maybe CD labeling software just isn't taken seriously by the people who create and sell it. All I know is not a month goes by where I don't hear complaints about crappy CD labeling software such as CD Stomper or Click 'n Design 3D not printing, crashing all the time, or just acting up. (And now, as it turns out, CD Stomper is no longer supported for the Mac.)
I used to think things were better on the PC side, but I found they have just as many complaints as we do: the stuff simply doesn't work. I was resigned to the old stand-by method of using provided templates for Illustrator and PageMaker to create labels for my CDs when something unexpected happened: I discovered Discus. It's insanely easy to use, lots of fun to play with, and prints perfectly every time.
A "lite" version of Discus has been bundled with versions of Toast CD burning software for several years now, but I never paid attention to it. I think I tried it once in 1998: I looked at its opening screen, said "that's cute," and quit the program.
In the intervening years, CD burning has gone from a "geekier than thou" activity to something all of us do several times a day. Producing eye-catching, artistic, and informative labels is no longer a luxury but a necessity. Then, a few months ago, I read that Discus was the first (and probably only) CD labeling product to go OS X-native. I decided to give it another try by downloading the demo; within 10 minutes I was so entranced I gladly paid them $39 for the full version, which arrived only two days later. The CD is crammed with thousands of patterns, templates, and graphics for all types of labels besides the one that goes on top of the CD: I can now create labels for CDs and DVDs, mini-CD's, business card CDs, index cards, folding booklets, and tray inserts…even the outer wrapper for DVD "keep cases"!
Using the product is very reminiscent of the original KidPix—Magic Mouse also makes "Flying Colors" which is a KidPix clone that is actually better than the current version of the once-great program—but it's not toy. I'd like to think of it as an object lesson for programmers: how to make something really easy to use, yet with features and flexibility galore, and still keep the program size down to a dull roar.
Basically, you create a label in 3 easy steps:
1. Click on the template you want—in this case, a CD label.
2. Select a background from hundreds available, or import your own graphic, then adjust the opacity and/or size.
3. Add further graphics on top, if desired, and then add the text. (There's also a thorough painting environment for those who are inclined to create their own graphics.) Discus automatically centers, curves, bends, and otherwise manipulates text to fit on areas of the CD label with no hassles whatsoever.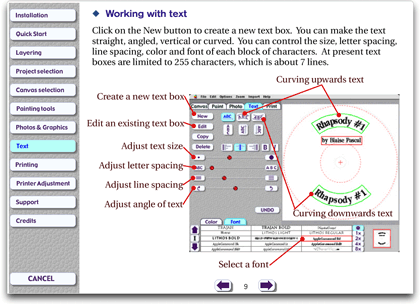 Discus Help Window
Finally, save and print! And printing is a joy as well. One of my favorite things about Discus is that it's smart enough to know that label sheets usually contain more than one label per sheet. To print your label on more than one label at a time, you simply click the checkbox on the blank label in question to turn it on or off. Turning the checkbox "on" makes your design magically appear on the 2nd (or 3rd or whatever) label. No messy drag-and-drop required, no "clone" tool that never works…just simple and easy. Not to mention cost-effective by not wasting unused labels. (In case you haven't noticed, CD labels are expensive!)
Not only does Discus contain templates for labeling products from literally dozens of manufacturers, but it also correctly prints on a large variety of laser and inkjet printers. The very first time I tried creating a CD label, I was able to print it out on my HP 990 inkjet and it fit and printed perfectly. What a relief.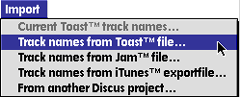 Discus Import Menu
As if that wasn't enough, Discus can easily import track name information from iTunes, Toast, Jam, or even another Discus file. This is a great convenience feature.
Best Software That "Got It Right": Magic Mouse Discus Multimedia Labeling software
Yo-ho-ho, It's a Scanning Life for Me
My last award also goes to a product that filled a need of mine—a yearning, aching, crying need—that has long gone unfulfilled.
As a longtime collector of just about anything that's round and spins, I have amassed over the years a sizeable media collection. I have literally thousands of records, as well as several thousand CDs and Laserdiscs. I also have several hundred DVDs, not to mention a couple of thousand books of every description. The task of cataloging this collection is a mammoth undertaking, and is something I've intended to do since my first Mac Plus. Here I am 15 years later, with not much to show for myself.
At one time we were contemplating hiring someone just to do the endless data entry required to create a truly comprehensive database with everything I'd want to know about each and every entry. Needless to say, that didn't happen either.
Finally, the confluence of OS X, the Internet, and an enterprising Bay-area programmer gave me the answer: ReaderWare.
I'd always suspected the UPC symbols found on all the things we buy these days could be put to good use, and I was right. The only problem has been how to identify what the UPC stands for. When you buy a CD at Tower Records, for example, the clerk scans the barcode and it's instantly matched against the store's in-house database. The Internet now provides us with the world's biggest database for the general public, and ReaderWare has put it to good use.

ReaderWare Adding a CD
To get CDs, DVDs, and books into the ReaderWare database, all you have to do is get a barcode scanner of your own and click! All the info you ever needed will magically appear on everything you scan in.
Getting a USB-based barcode scanner, just like the ones you see in stores, couldn't have been easier, thanks to the Web. I picked up a nifty Peninsula reader for about $50. Another nice thing about the USB barcode readers is that, thanks to OS X, there is no need for software drivers—you just plug it in and it works.
The process of entering books, CDs, and DVDs is stunningly simple: get a pile of whatever you want looked up and scan each item's barcode. This can be done in any text editor, or directly in ReaderWare. (Making a long list of UPC code numbers is the easier way to do this.) Once you make a list of UPC numbers, you then load them into ReaderWare and tell it to go fetch. The software lets you access dozens of Web-based informational sites, from Tower and Amazon to the Library of Congress; you can also merge the results from several sources into one record. After processing, you'll have every scrap of information possible about the CD (or book or DVD) in question automatically entered into the database, including album or cover art if any.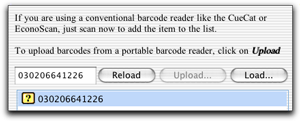 ReaderWare Barcodes
If that wasn't enough, you can even drag and drop Web pages into ReaderWare! If, for example, you're purchasing something on Amazon, you can, at the same time, drag each item's Web page into ReaderWare and all the information will be transferred into the master database. As you might expect, you can create numerous reports and perform many kinds of searches. This, truly, is what the Internet was invented for.
ReaderWare Auto-Catalog
ReaderWare costs $45 for the standard version that handles books, or $75 in a bundle that has the book, CD, and DVD/Video versions.
ReaderWare Web Acquire
Best Use of the Internet by 3rd Party Software: ReaderWare (OS X-only)