Review: ContentBarrier 1.3.3

Developer: Intego
Price: $40
Requirements: Mac OS 8.6 or Mac OS X 10.1.1, PowerPC-based Mac, 800x600 display.
Trial: Fully-featured (30 days)
Overview
ContentBarrier uses a combination of keywords and site lists to restrict access to defined categories of Web sites or Web features. ContentBarrier can be used in home, school, or corporate environments.
Installation, Setup, and Initial Use
To install, just launch the ContentBarrier Installer. It installs the ContentBarrier Control Panel and Control Strip Module. Warning: ContentBarrier installs resources into your System file. A restart is required before ContentBarrier can be used.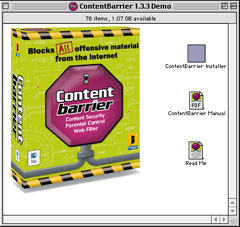 ContentBarrier files included with download.
When you launch ContentBarrier (from the Control Panels folder or the Control Strip), a new user dialog box appears.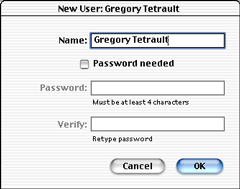 Dialog window for setting up the first user.
(If you installed the demo version, a special window appears first.) I recommend creating an account for yourself before setting up other users. If you are not using Apple's Keychain security features, then you should check the Password needed box and choose a password. Once you have set up the first user, the main ContentBarrier window appears.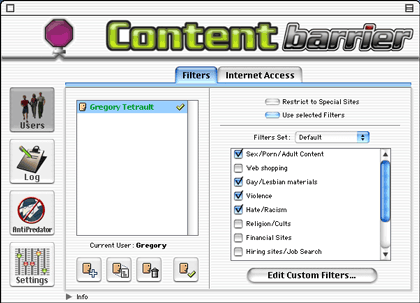 ContentBarrier main window.
ContentBarrier provides two methods for limiting Internet content: restricted sites and filtering. If you select Restrict to Special Sites, then Web browsing is limited to sites that you list. If you select Use selected Filters, then Web browsing is limited based on the pre-built filters you choose or custom filters you create. Groups of filters can be stored as Filter Sets. Pre-built filter sets include All allowed, All forbidden, Default, and Child. You can select a different filter set for each user. The list of pre-built filters is quite extensive.
You can also restrict Internet access times for each user. Click on the Internet Access tab to bring up a surfing schedule. Click and drag across the pink and red grid to select hours for each day of the week. Internet access hours appear as green rectangles.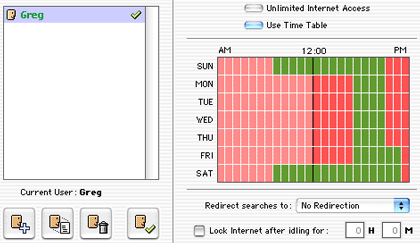 Grid for restricting hours of Internet use.
Additional options can be accessed by clicking on the Settings button. You can assign an administrative password for ContentBarrier. You also can choose options related to Web site logging. You can record what filters were activated, what sites were blocked, or all Web sites visited. You also can choose to receive hourly activity log e-mails or e-mail notifications of "predatory" activity. Clicking on the Special Sites tab allows you to enter Web sites that are always allowed or always forbidden. The Special Applications tab displays a window for listing Internet-related applications that will not be monitored by ContentBarrier, such as e-mail applications.
When you first launch an Internet application, ContentBarrier displays a login window. You choose your user name from the pop-up menu, then enter your password (if required) and click on the Login button.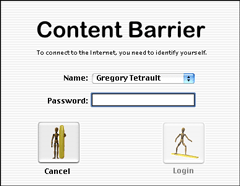 Testing Web Surfing Under ContentBarrier
I conducted a series of tests with Internet Explorer and the default ContentBarrier filter set. I entered the URL for what would certainly be a blocked site: www.hardcoresex.com. The browser window for that site appeared with child-inappropriate graphics. I was able to view the free tour and the sign-up pages. Interestingly, when I went to Google and searched for "hardcoresex," the search was blocked by ContentBarrier.
I tried going directly to other adult sexual content sites such as www.teensex.com, www.lolitasex.com, www.sexaddicted.com, and www.xxxquirer.com. The first three sites were blocked, but the fourth, a nude celebrity site, was viewable.
I performed an experiment regarding profanity. I did a Google search for "profanity dictionary." The list of hits (over 11,000) was not blocked by ContentBarrier. I clicked on the link for "Roger's Profanisaurus" and was able to view the Web site and its definition pages. I then searched for "George Carlin" (who has a comedy routine about words you cannot say on network television). The search results were blocked. A similar search on "Eddie Murphy" was not blocked, although some of the listed Web sites that contained profanity were blocked.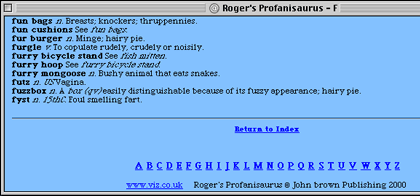 A site that defined profane terms was not blocked.
My next concern was whether ContentBarrier would block Web sites that provide useful information. I used the default filters that included Sex/Porn/Adult Content. I entered the search term "breast cancer support group" into Google. ContentBarrier did not block the search. I went to the first 10 Web sites listed and all were unblocked. I then tried an AltaVista search using the phrase "avoid* sexual* transmi* disease*" (asterisk is a wild-card character). ContentBarrier blocked the completed search page, even though the listed sites were providing health information. It also blocked truly legitimate pages related to sexually transmitted diseases.

Site for book about avoiding sexually transmitted diseases was blocked.

This site was blocked by ContentBarrier.
Attempting to Bypass ContentBarrier
ContentBarrier cannot be bypassed as easily as Kids GoGoGo. One method for bypassing ContentBarrier is to start up with its Control Panel removed or disabled. This is hard to do if Multiple User security has been properly established. A second method is to start up from a drive or disk that does not contain ContentBarrier.
The log file is not accessible for editing except within ContentBarrier. A log file does appear in the ContentBarrier preference folder (or on the root level of the hard drive), but this tiny file does not contain the list of visited or blocked Web sites. The actual log file is written into the System file.
Problems and Bugs
The only bug I encountered was when I attempted to update version 1.3.2 to 1.3.3. I received an error message.

Updating did not work on the Demo version and could not complete the update.
I am concerned about the extensive System file modifications made by ContentBarrier. Installation of ContentBarrier results in substantial modifications to the System file. ContentBarrier continually modifies the System file to write log information. ContentBarrier will not work if the System file is locked. Uninstalling ContentBarrier removes most (but not all) of the System file modifications.
Omitted Features
The most significant omission is that ContentBarrier cannot import lists of acceptable or banned Web sites. You must enter these manually, one at a time. The same is true of custom filters. However, Intego indicates that once you create a list of acceptable or banned sites and custom filters for one Macintosh, you can transfer those to other computers by using the Export Settings menu choice.
Documentation
ContentBarrier has a 79-page online user manual in Adobe Acrobat format. The manual covers all the relevant topics, but it contains no hyperlinks (not even within the table of contents), bookmarks, or index.
Technical Support
Intego offers only e-mail or Web form support. Intego took over nine days to respond to a question I sent using their Web form.
Summary
ContentBarrier is a reasonably effective solution for filtering Internet content and restricting Internet use. It works best when Multiple Users and Apple's security (Keychain Access) features are activated. It has better security and more filtering options than Kids GoGoGo, although the latter's content filtering seemed slightly better.