How to Become a Network Guru
Basic FTP File Sharing Between Macs and PCs
For people who use both Macs and PCs, using the same file on either platform is often both a need and a problem. Mac and PCs use different OSes and file systems, but that doesn't prevent them from communicating entirely. You can take advantage of the built-in TCP/IP support of both operating systems to move files from Mac to PC and vice versa using FTP (File Transfer Protocol, a common method of file transfer on the Internet). It's not quite as easy as AppleTalk between two Macs, but it's pretty close.
FTP is based on the platform-independent TCP/IP protocol, so you can send and receive files from any other platform or operating system that supports TCP/IP. This article specifically addresses Mac OS and Windows, but you could use Unix instead with a very similar setup.
Hardware Setup
Assuming each computer is Ethernet-ready, connect each computer to your Ethernet hub or switch using a standard Ethernet cable, or connect the two computers to each other using a crossover Ethernet cable. The crossover cable setup will only work for exactly two computers, since you're using a single cable.
How FTP Works
FTP is a no-frills way of viewing files and moving them around. Unlike the Web, FTP is based on text-only lists of files and directories of files that you browse and download using an FTP client. To see these files, the client connects to an FTP server, which runs on the computer that stores the files you want to share (with others or yourself).
You need two things to make FTP work: an FTP server on one of the computers and an FTP client program on the other. It's possible to set up clients and servers on both computers at once if you like, although that probably won't be necessary.
For this article, I've chosen a PC FTP server and Mac OS FTP client. There are multiple client and server choices for each platform, which you can browse on file repositories like CNet's Download.com or VersionTracker.
Mac Software Setup
Before you can set up your FTP connection, each computer needs to have an IP address. For the Mac, open the TCP/IP control panel and check the "Connect via" setting. If you already receive an IP address using DHCP (from an Internet router, for example), make note of the address and close the control panel. If there's no IP address, change "Connect via" to "Manually" and assign one. The address is four groups of numbers from 0 to 255, all connected by periods. Typically, you start home network IP addresses with 192.168 (e.g., 192.168.1.1).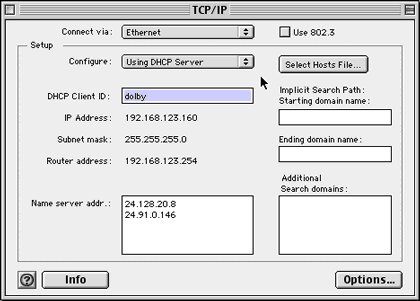 In the example, I receive an IP address via DHCP, so I make note of the address (192.168.123.160) and don't change anything.
PC Software Setup
Now you need an IP address on the PC. Choose the Start button, then open Network and Dialup Connections from the Settings menu. Open Local Area Connection, highlight Internet Protocol (TCP/IP) and choose Properties. If you already obtain an address automatically, you can close everything. If you don't already have an IP address, assign a different one manually as described above.
If you receive an IP address dynamically (using DHCP) in Windows, the actual IP address may not be obvious. To get it, select Run from the Start menu and type cmd to open an MS-DOS window. Type ipconfig to see your computer's IP address.
In this example, the IP address is 192.168.123.103.
FTP Server Setup
There are a number of free FTP servers on the market, but I choose BlackMoon FTP to run on the Windows system for this article. Once you download and install the server, create a user for yourself on the server by setting a user name and password and your default folder. I'm using my music folder in the example.
Once you have an account set up, start the server.
The server is now ready to receive FTP connections. You should be able to use the default configuration, which will communicate through port 21 (the standard FTP port).
FTP Client Setup
I use Fetch Softworks' Fetch program (previously from Dartmouth College) as my example client FTP program. Once you start Fetch, create a new connection (or new bookmark) from the File menu and enter the IP address of the computer running your FTP server. Then enter the account name and password you created on the FTP server and choose OK.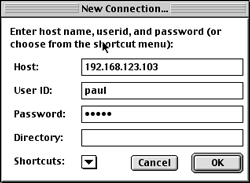 This should open the FTP connection and show you the contents of the default folder for your account.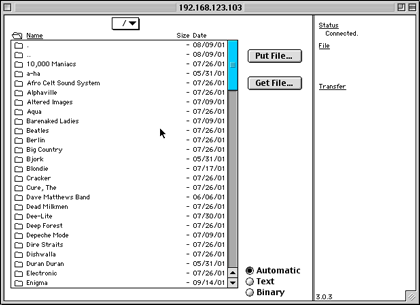 You can now navigate folders and transfer files between your Mac and PC. Get File… downloads one or more files, and Put File… uploads them.
A Note About File Formats
Just because you can transfer files from one computer to the other, it doesn't necessarily mean you can easily use them. Some files work equally well on both, especially picture formats, many music formats, and some word processing formats. Application-specific files, however, are less likely to work unless you have the same application on both computers. If you run into this problem, see if the application that created the file can export to a more generic format, like Rich Text Format for word processing or PNG or JPEG for graphics. You should then be able to find a program on the other platform that can use the file.