Review: FILTERiT 3.0

Developer: CValley, Inc.
Price: $129
Requirements: Adobe Illustrator.
I admit it, when it comes to plug-in software, I'm a complete sucker. I just love those little widgets that enhance or add additional features to my favorite programs. So just imagine my reaction when I saw that FILTERiT 3.0 was up for grabs on the ATPM mailing list. The only weird thing was that I'd never heard of FILTERiT 3.0 before (I hardly miss any plug-ins especially the ones for Photoshop or Illustrator). Nonetheless, I couldn't wait to try it.
A week or two later, it finally arrived. The package was not exactly "wow" material, but it served its purpose. Unfortunately, there was no "proper" manual except for some color printouts which had basic information about the filters' operations. I also found several documents to help me review the product—a nice gesture indeed.
FILTERiT Sampler
In one of the documents was the answer to my initial surprise—FILTERiT 3.0 was a big hit in Japan and had just recently hit the US market. CValley Inc. was behind this commendable feat. There were also reviews of FILTERiT 3.0 in Japanese, which the publisher did not expect me to read (as if I could read them even if I wanted to). To be honest, by that time, my high hopes were almost shattered; I just imagined it to be a Japanese "KPT vector effects" wannabe.
I installed the software reluctantly. Installation was a breeze (actually it was as easy as dragging a folder). I then opened Adobe Illustrator and started to try out the various effects. The speed was excellent, the integration was seamless, and the results were amazing. The fact that the interface was clean, plain, and very Illustratorish (can I get away with saying that?) was most welcome in my book.
I fell in love with this new toy. Japanese reviews or not, FILTERiT 3.0 is great to work with. Most of the 82 effects are pretty useful, and the best part is that the effects work on text that is not outlined—something that really used to bother me in Vector effects. This means you don't have to redo effects in case of any spelling changes—instead, changes are done automatically and live!

The Tools
The above diagram shows the different tools that integrate with the Illustrator native toolbar. They consist of: Wrap tool, Lens tool, Metabrush tool, Fade tool, Wave tool, Craft tool, Broom tool, Roughening tool, AlignPoints tool.
Worthy mentions here are the Wrap and Wave tools, which "envelope" illustrations in certain manners. The Metabrush tool is the same concept as Painter's Metabrush, where an element of your choice can be used for strokes. And, although I admire the level of control you get over it, there are so many options available that it can get confusing. See for yourself!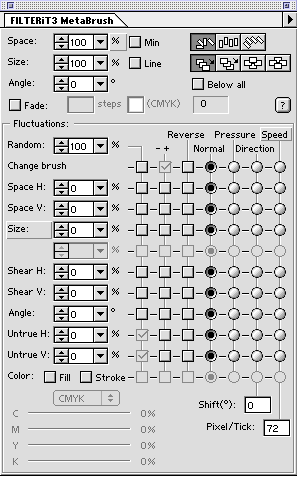 Confusing Options for the MetaBrush
Finally, the rest of the filters, which can just about simulate anything from neon to intergalactic stellar explosions, are found in the menu!
Overall, I think FILTERiT 3.0 is pretty much worth every penny. It's a joy to work with and actually comes in very handy. These are effects you will use day after day. If it were not for the nearly non-existent manual and the complexity of control of some of the filters, FILTERiT 3.0 would have taken a definite Excellent rating.