About This Particular Web Site
The Apple Collection
From desktop images to an iStore to all kinds of pro-Mac links, the Apple Collection is sure to boost your love of the Macintosh and make your PC friends wonder how anybody could ever love a computer so much.
There's a plethora of desktop pictures, all categorized with the links to the artists' Web sites. And there's an iStore, where you can find all kinds of goodies to make your world more Mac-like.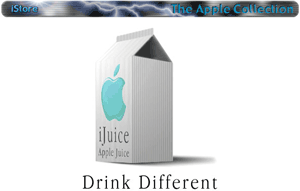 The Apple Collection
Terraserver
Part of the Microsoft Network, Terraserver is a free service that allows you to easily view satellite images on your home computer. The images are part of a US geological survey program to compile a complete photographic library of the world. Almost all of the US is available for searching. Other areas of the globe are spottier—but there are a number of areas in Europe available, as well as areas in Asia and Australia. Each area was photographed at a different time—some were taken last year, while others were taken ten years ago, so some areas may appear outdated.
Terraserver
To find a place, all you have to do is pick an area of interest and zoom in. You can zoom in as close as one square mile. While you can't zoom in close enough to see what your neighbor is doing, you can clearly identify homes, buildings, streets, etc. I was able to zoom in and locate my own home! The image shown here is of Apple Computer. The site doesn't let you zoom in on a location by address. It does, however, let you find locations by longitude/latitude or major point of interest. To find Apple, I used MapQuest to locate it. I then brought up Cupertino, California on Terraserver. From there it was a matter of comparing the map with the photo and voila!
UpsideToday (The Dotcom Graveyard)
UpsideToday is a technologies information Web site where you can keep up with the latest in Silicon Valley. One particular section, entitled "The Dotcom Graveyard" is sure to pique your interests. We've all heard about how the vast majority of dotcom companies have or will be going out of business very soon. This is a virtual graveyard for all of those sites going belly up.
Once a dotcom passes into the great beyond, it is remembered with a virtual tombstone, complete with birthdate and the day it died. Each dotcom tombstone contains a memorable blurb from a company representative.
But before you enter, please remember to take off your hats out of respect for the dead.
Internet Traffic Report
Does it seem that the Internet is moving slower and slower? The Internet Traffic Report monitors the flow of data around the world. It then displays a value between zero and 100. Higher values indicate faster and more reliable connections.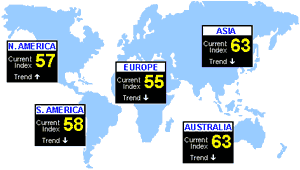 The Internet Traffic Report
There are also graphs showing various traffic indices, response times, etc. and it's updated every 15 minutes. Various servers around the world test via ping simultaneously. Each test server then compares the current response time to past responses from the same test to determine if the response was bad or good. The scores from all test servers are averaged together into a single index.
Space Imaging
For years military agencies have used satellites to keep tabs on, well, all sorts of things. Commercial agencies are now in on this business, launching their own satellites into space. Space Imaging was one of the very first companies to do this. It provides superior images of many places on the earth.
Just by browsing the site, you can see the incredible detail which these cameras capture. If you purchase an image, you'll get an even more detailed view. Prices for these images vary widely depending on the area and size of the image. But even if you're not interested in buying a photo, it's interesting to browse what's available.
eHow
If ever there was something that you didn't know how to do, but wanted to learn, check out eHow.com. Directions to many (non-classified!) tasks are laid out for you step-by-step. Learn how to cook eggs like a pro or fix a broken water pipe!
I was just curious, so I asked how to milk a cow. What I got was a step-by-step instructional and a list of things I'd need to purchase before trying to milk ol' Elsie. The introduction says: "A pail, short stool, two hands, and a very gentle milk cow are all you need to enjoy fresh milk every day. Once you start milking your cow, she will have to be milked twice a day every day until you let her dry up." Now, I don't plan to try my hand at milking a cow, but the mere fact that this was available amazes me. You can even download the instructions into your personal digital assistant, which is very convenient!
Just for kicks, I asked how to build a nuclear bomb. I received an error page, which contained some computer jargon and the following text: "Failed_Searches_Naughty." I hope the FBI doesn't pay me a visit!
ShowBizJobs
Everyone seems to be making movies these days, especially now with the new iMacs and iMovie. If you feel like joining up with one of the big name television or movie houses, check out ShowBizJobs.com. It's a great resource for finding a job in show business. You can search out job openings from clerical to studio production. Searches can be narrowed by state and type of job. All the major television and movie houses are represented here. It's a lot easier to search here than it is to visit each company's site and dig around until you find the job posting board!
ShowBizJobs.com
• • •
The Web sites mentioned here are not endorsed by ATPM, they are simply suggestions for your own browsing endeavors.