About This Particular Web Site
Font Web Sites
The Web sites mentioned here are not endorsed by ATPM, they are simply suggestions for your own browsing endeavors.
Macfonts.com
Audience: All users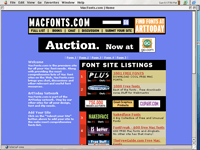 This is an excellent starting point for all things font. Macfonts.com doesn't have fonts to download, but it provides a very complete list of Web sites that will satisfy all your typographic cravings. If the word "free" is critical in your font search, then this is the place to go. Most sites listed offer free (or shareware) font downloads. There is also a selection of books that tell you anything and everything you can imagine about type styles. They are conveniently linked to Amazon.com for immediate purchase.
Adobe.com—Type Library
Web: http://www.adobe.com/type/main.html
Audience: All users
What list of font related Web sites would be complete without mentioning Adobe? Offering world class fonts through an excellent interface, Adobe is still the leader in typography. You can search its font archive by keyword, by classification, or alphabetically. You can view the complete type set of everything it offers and then purchase it, if you choose, right from the Web site. After your credit card is approved, you can download the package immediately.
Builder.com
Web: http://builder.com/Graphics/Type/ss01c.html
Audience: Beginners
I've never been a big fan of CENT's advice, but Builder.com deserves mention here. Terrific type tips are a collection of general typographic rules and suggestions for aspiring Web designers. If only more designers would follow some of these rules, there wouldn't be so many hideous Web disasters out there.
Font Garden
Web: http://www.fontgarden.com/
Audience: All users
One of the reasons I like this Web site is because of its personal feel. Font Garden is a collection of unique fonts that you'll probably not find anywhere else. They are free (or shareware) and new ones are added every couple of days. While there are no Macintosh fonts available, you can easily convert these beautiful PC fonts to work on your Mac. Speaking of conversion software...
Pyrus.com
Audience: Intermediate and Expert
If you've ever found that perfect font and downloaded it, only to find that the compressed file ends with .zip, you're not alone. At Pyrus.com you can download software that will convert that PC font into a Macintosh compatible typeface. Also on this site is FontLab 3.0, a valuable tool for creating your own typefaces.
Typearound.com
Web: http://www.typearound.com/
Audience: All users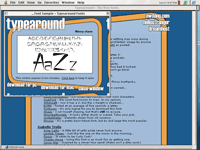 This is the techno version of the previously mentioned Font Garden. There is a good, if somewhat small, selection of fonts here. The interface is very good, allowing you to see the font before you bother downloading it in a new window. You'll appreciate this feature because a few of these fonts are real monsters!
Will-Harris.com
Web: http://www.will-harris.com/
Audience: Intermediate and Expert
Here you have access to professional tips on designing Web sites with an emphasis on typography. There's also a great section catering to people who are having trouble choosing a font. Personally, I found this site somewhat odd. The information here is truly professional, but the site itself is not attractive. It seems as though the Web designer didn't follow his own rules! I just ignored the presentation here and paid attention to the information available.
Graphion's Online Type Museum
Web: http://www.slip.net/%7Egraphion/museum.html
Audience: All users
Ever wonder how typography started? At Graphion's Online Type Museum, there is a complete history of typesetting. There are also plenty of pictures and old typesetting stories.
dsiegel.com
Web: http://www.dsiegel.com/type/type_home.html
Audience: Intermediate and Expert
Familiar with the typeface Tekton? The designer is David Siegel and this is his personal Web site. Here you can find tips and suggestions from one of the best typeface designers around. The focus of this site is Tekton and its history. There are also links to other sections of David's site, as well as one of the best collection of tips for Web designers—Web Wonk.