Software Review
Synergy 3.0

Developer: Wincent Coaliuta
Price: 10 Euro (about $13)
Requirements: Mac OS X 10.2. Universal.
Trial: Fully-featured (7 days)
I use iTunes. I use iTunes a lot! It's rare for me to be at my computer and not have music playing in the background. I started loading my music library into iTunes shortly after I bought my first PowerBook (an aluminum model) late in 2003. That was the Panther epoch and predates Dashboard and its widgets.
I like my music. I like my music at moderate volume levels or a smidge higher. Therefore, there are times when I want to quickly pause a song, especially if the phone rings or a student comes to my office door. There are also times when my mood is such that the next track just doesn't interest me, so a skip-this-track feature is necessary. A convenient tool on the menu bar for just this purpose is welcome. It's also convenient if the tool does more than just pause and restart a track in iTunes.
Soon after I bought my first Macintosh, I found a link to Wincent Coaliuta's Synergy utility. Synergy's main purpose is to put an iTunes controller on the menu bar. It also offers hot keys for controlling iTunes' functions without removing your hands from the keyboard. For keyboard specialists, this is a nice additional feature.
However, I'm getting ahead of myself. I found Synergy back in the Panther epoch (as mentioned above) when I wanted/needed iTunes control from the menu bar. Although I loaded and tested the program before I paid my registration fee, I used it only a few hours before recognizing the program's value. I am a long-time registered user of Synergy.
Installation and Use
Installation is simple. I downloaded the disk image, mounted it, and launched the installer. The installer did its thing, installing the software and a preferences pane. Configuration of Synergy is through the System Preferences application. I turned on some Synergy options and turned off others.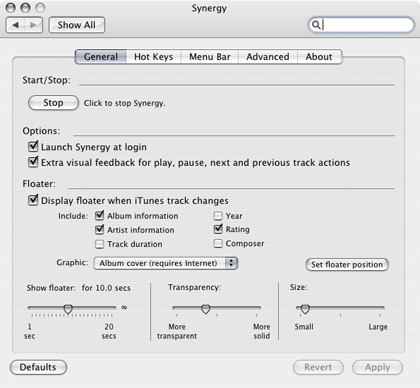 General Setup Options
I use Synergy much of the time, so I allow it to launch on login. I also like the floater to display track information whenever a new track starts. There are tweaks for floater settings.
The availability of hot keys to control iTunes from the keyboard is useful, and I used that for a while. The hot keys are user-configurable and offer the usual suite of previous/next track and play/pause. But, Synergy also offers hot keys for volume control, muting, repeat, rating adjustments, and more. There are a lot of options for hot key control.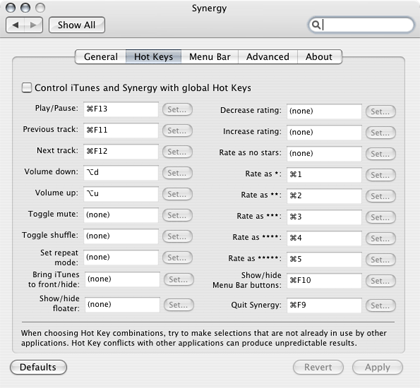 Hot-key Capabilities
I'm not a control freak, so I eventually turned off the Synergy hot keys. As I recall (it's been awhile), the default volume up/down key set interfered with the hot keys for one of my common applications, and I didn't use the feature often enough to hunt for a mnemonically-appropriate combination that wasn't used by another application. I simply turned off the hot keys feature. That capability was appreciated.
The menu bar appearance of Synergy is also configurable. The type of "widget" is user-selectable, as is what is presented to the user. What Synergy calls the "global menu" (a pull-down from the menu bar) is also configurable.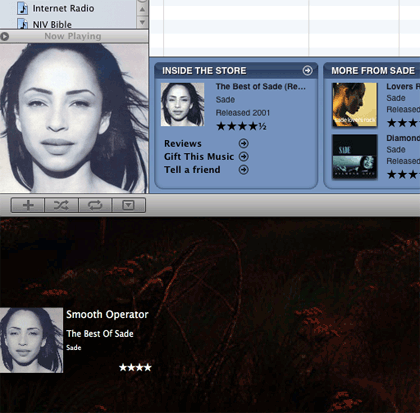 Configuring the Floater
The floater is cool. It appears at the beginning of each new song (if activated). Given a Net connection or if the cover art is stored in the music file (MP3 and AAC file share this capability), Synergy will display it, along with user-selected track information, at a location on the screen of your choice. I have my floater set to display the cover art, track title, and artist, and my "star" rating for the track in the lower-left portion of my screen for about ten seconds.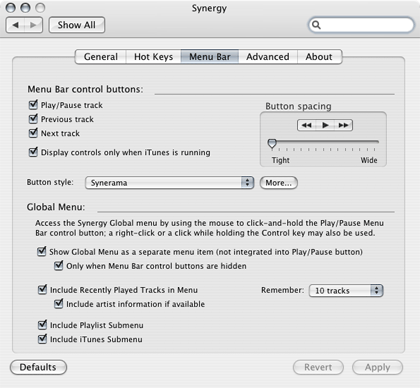 The Floater on the Desktop
I like the floater. Cover art is cached, so once you work through your library, cover art is available even if it isn't present in the music file.
Conclusions
I've been using Synergy for nearly three years on three different Macs (a PowerBook, a dual-G5 desktop, and now a MacBook Pro) and through numerous versions of iTunes. Coaliuta actively develops the software, and a number of updates were issued over the last three years. I have had no stability issues with the software—it simply works as advertised and fills an important function for me.
When updates are released, they are packaged in an installer that finds the installation and patches it simply and professionally. Synergy gets high marks here.
I use iTunes a lot. Until I bought my current keyboard and mouse combination (a Logitech 530—a review for another time) and until the advent of Dashboard, I had no option for controlling iTunes without the application being in the foreground (I never used iTunes' Dock menu). If you're into a menu bar solution for controlling iTunes, Synergy fulfills that role well, at least for me. I'll give it a Very Nice rating.