Software Review
Fission 1.1

Developer: Rogue Amoeba
Price: $32
Requirements: Mac OS X 10.4. Universal.
Trial: Feature-limited (saved files degraded with a series of audio fades).
With a rather long history of excellent audio-related products, it's rather surprising that Rogue Amoeba has only just recently produced a standard audio editor. ProTools is just far beyond my needs (and budget), and while Audacity is free, its lack of intuitiveness made me groan every time I launched it, not to mention its frequent crashes.
But at last, the company I consider to be expert at audio-related software priced for the masses has released Fission. Like most version 1.x software I've reviewed, Fission has some maturing to do, but that isn't to say it can't get the basic job done.
Fission's user interface is very clean and simple. Its metaphor of the entire audio clip at the top expanding to a zoomed section in the main editing region might take a second to get used to—but only a second. Click to enlarge.
The most useful feature for me is Fission's ability to edit and save MP3 files without re-encoding them. As part of various projects in which I am involved, I often encounter audio recordings in MP3 format either because the recorder saved directly to MP3 or because uncompressed source files are no longer available. I'm now finally able to "trim the fat" from recordings that started too early and/or ended too late, and not end up with an MP3 that is lower quality than the original.
Be cautious, however, of trimming MP3 files too closely to content that isn't essentially silent. I tried to trim right at the beginning of a word and this resulted in a brief audible defect. This occurred only on MP3s—not AACs, WAVs, or AIFFs. I wouldn't be at all surprised if this is simply an issue of the MP3 codec and that any lossless MP3 editor would have the same problem. But, of course, if Rogue Amoeba were able to address it, so much the better!
As I said, Fission does have some maturing to do, but nearly all of it lies within additional features and user interface improvements. Before I touch on those, I first want to describe what I perceived as a significant bug and is the sole reason I chose a Good rating over Very Nice. During my testing, Fission hung three times, requiring a force quit. In all three instances, the hang occurred when I clicked a portion of a recording that I had split into clips (note the dark blue tabs above the main editing area in the image above). It didn't happen every time I clicked a tab to select a clip but, when it did happen, it was always just when a tab had been clicked.
So, by now you may possibly have concluded that the function of these clips is to break up a long recording into multiple files. When you save an edited file, if it is split into clips, you'll get a file for each clip in whatever file format you chose. This is perfect for recording a series of songs in one swoop, then saving each individual song. Fission even includes a Smart Split function that locates breaks both by duration and by sensitivity to silence. It can be adjusted on the fly, showing you an instant preview of how many breaks the settings will produce and where they will be located.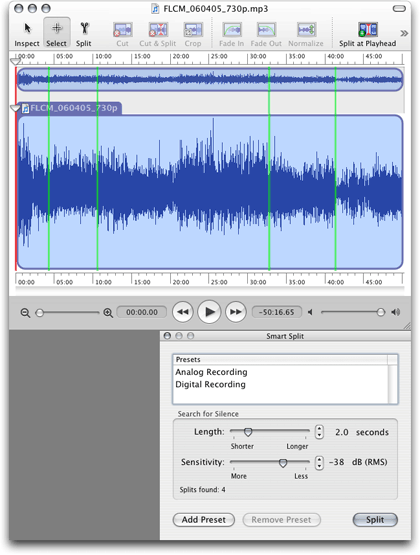 The Smart Split's live preview is probably the most perfect element of Fission's user interface. Click to enlarge.
All that's left is to mention that Fission includes a normalize command, fade in and out controls, and access to primary ID3 tags (plus lyrics and album art), and that's the long and short of what Fission is all about.
Conclusion
So once again, there's the long and the short of it—with a wish list on top! To me, the price is right, but if it's too steep for you, give Audacity a try and let us know how you think it compares to Fission (translation: I don't anticipate any remarks favoring Audacity to Fission).
One final remark: a perfect companion to Fission is Rogue Amoeba's Audio Hijack or Audio Hijack Pro (a product comparison page is available). Wes Meltzer is working on a review of Audio Hijack Pro, which will appear soon in an upcoming issue of ATPM.