Developer: Artman21
Price: $10; $7 (upgrade from OpenMenu 1.0)
Requirements: Mac OS X 10.3.9. Universal.
Trial: Fully-featured (20 days)
Many people make occasional (or even extensive) use of the Mac OS X contextual menu. After all, it's just a Control key (or two-button mouse right-click) away. Search Mac Help for "Using shortcut menus" for an intro if the concept is brand-new to you.
The contextual menu shows only actions for what you click, such as Cut and Paste for text or "Open with" a different application for a file. For my part, it's nice to block ad graphics on a Mozilla page, run AppleWorks document word counts, or make a new file archive, all with single mouse clicks.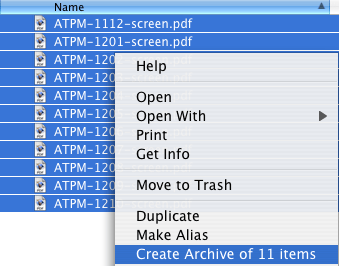 Am I the only one archiving a year's worth of ATPM?
Even if you don't use the contextual menu now, it's worth looking into. Its strength is its brevity, with only relevant actions visible. If you don't rely on keyboard shortcuts for Cut and Paste, for example, they're also in the contextual menu.
OpenMenu X challenges this concept a bit, expanding on the contextual menu capabilities. You can add items to the menu itself, much like a permanent shortcut. It puts the Recent Items menu close at hand, as well as the list of Services. You can positively overwhelm yourself with choices, which is where the decision comes in. Do you want lots of options in the contextual menu? If so, which ones do you really want to have?
Installation
It's no problem adding OpenMenu X to your system. Download and expand the package to see its preference pane. Open that to install it. I had to log out and log in again to finish the install.
Functionality and Usability
Once you finish installation, open a contextual menu anywhere to see the new features. Typically, the OpenMenu X options appear below the standard contextual items.
OpenMenu X's default contextual menu from the Finder.
OpenMenu X prompts two important Mac OS questions. Is it a new or better way to do things? Also, is it more or less usable than what we already have? Great features fall flat when they just get in the way.
In every application menu, Mac OS offers something called Services. They tie functions from other programs to what you're currently working on, which can be handy. As a writer, I often want commentary from others (especially if that commentary is, "Wow, what excellent writing."). For example, OpenMenu X can tell Mail to open a new message with some selected text from AppleWorks.
Sending text from AppleWorks to Mail.
The selected text appears in a new Mail message.
You can search for your text with Google, summarize it with the Summary tool, and other handy things. This is just a glimpse into Services, though. Have you ever used them before? Not many people do.
The OpenMenu X preference pane contains a bevy of customizations. It's more than you need at first, though you'll probably choose to add things as time goes on.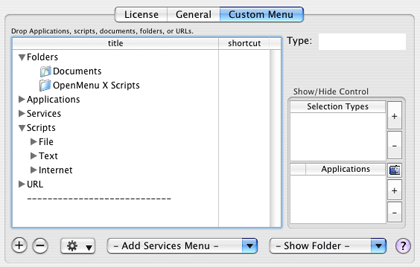 OpenMenu X's preference pane.
Most are turned on by default. This creates a very "full" contextual menu, so I pared things down. Out went active applications, since I can Command-Tab to them as needed. Ditto the Folders submenu, with its way-too-many options. Gone the "Open Settings" item. I don't do much scripting, so that left as well.
In the end, only the Recent Items and Services sub-menus proved uniquely useful, so they stayed. With the excellent DragThing already in place, opening applications from the contextual menu seemed unnecessary. However, that doesn't diminish Services, which I do find handy (and contextual). Definitely try it out, should you install OpenMenu X.
Summary
OpenMenu X proves handy for people who like a customized, personal environment. You can make anything—program, document, or URL—available at the touch of your mouse. If you script the Finder to help with repetitive tasks, this can further reduce menu-based busy work. However, it best fits a niche market of skilled users. Less frequent users probably find it effort enough just browsing the Internet and sending mail.
The contextual menu itself best fits people used to "discovering" what functions lie within familiar programs. In that sense, OpenMenu X extends this to include scripting abilities and other customizable "show me now" functions. This pushes much of the program's utility to you, the user.
If you often spend time thinking how you use the computer and what you'd like to do faster, OpenMenu X can get you there—customize the menus and enjoy. If you're less circumspect about your computer use, however, it's somewhat less useful, since the normally svelte contextual menu becomes much bulkier. Fortunately, you can cut it down to a desired size through the bevy of options.

Copyright © 2006 Matthew Glidden, mglidden@atpm.com. Reviewing in ATPM is open to anyone. If you're interested, write to us at reviews@atpm.com.