Review: MacReporter 1.1.1
Developer: Inferiis
Price: $12
Requirements: Mac OS X 10.1
Trial: Feature limited (only fetches half the news)
Give Me My Mac News and Coffee, Now!
7:00 AM—Either the alarm goes off or my 9-month-old son does.
7:10 AM—After changing a very wet diaper and handing my son off to his mom I hit the power button on my G4.
7:12 AM—My Mac has booted and I am sitting in front of the monitor, bowl of cereal and cup of coffee in hand(s), ready and waiting to hit the Net.
7:14 AM—MacReporter has gathered Mac news from all my favorite Mac related Web sites and displays the "new" news for me right there in my Dock.
7:15 AM—I've got my coffee, cereal, my G4, and all the latest Mac headlines ready and waiting for me. Life is good.
That's my early morning ritual. It's a good one and fits me well, but it wouldn't be possible with out MacReporter, a nifty little piece of shareware from Inferiis Software that gathers Mac-related news from all over the Internet and delivers it to your desktop. I don't know how I ever lived without it.
MacReporter uses site-specific plug-ins, much like Apple's Sherlock, to survey Web sites and fetch news. Just tell MacReporter which sites you want news from and lickety-split it fetches it for you.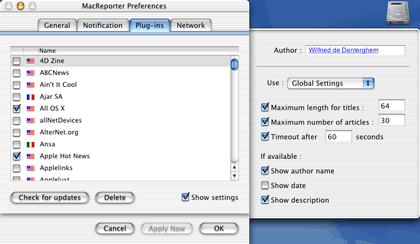 MacReporter's Plug-in Preference Tab
Currently there are 184 service plug-ins available, pretty much covering the mainstream Mac news outlets as well as many non-computer related sites like ABC News and Popular Science. On the off chance your favorite Mac (or non-Mac) site isn't covered, just e-mail Wilfried de Denterghem, MacReporter's creator, and he might write the necessary plug-in (registered users only).
Once MacReporter has found your news just click and hold on its Dock icon and a menu will appear listing your chosen sites with a brief description of each site's news stories (usually the headline).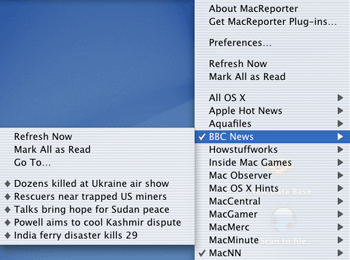 Clicking on MacReporter's Dockling
Select a story and it will open in your default Web browser. Sweet! A number displayed on the Dock icon also tells you how many new stories MacReporter has found since it last checked, but which haven't been read yet.
The latest version (1.1.1) added a slick "auto-update" feature that automatically checks for and downloads new plug-ins. I just updated and MacReporter found six more sites to add to my plug-ins. According to MacReporter's documentation broken plug-ins from earlier versions have also been fixed (I could never get news from Aquafiles).
One of the nicest things about MacReporter is that you can tweak it so your news is delivered exactly how you want it. For example, you can tell MacReporter how often you want it to check for new stories. You can also specify how MacReporter notifies you of new headlines. About the only thing MacReporter can't do is make your coffee for you.
OK so now your hooked. Hold on, you haven't heard the best part. Inferiis is only charging $12 for this gem. You can download a demo version and try MacReporter out for a week. When the trial period is up, you can register it. Registering is well worth it and gives you:
The automatic net-update feature
Full content (unregistered copies only fetch half the news)
The right to request new plug-ins
Free technical support and upgrades
After using it for the last six months I can honestly tell you I would gladly pay more for MacReporter. It truly is one of those "must have" Mac titles.