Review: Burst 1.0.1

Developer: Dracosoft
Price: $9.99
Requirements: Mac OS 8.6 with CarbonLib 1.1 or Mac OS X
Recommended: CarbonLib 1.6
Trial: Time-limited (60 minutes of game play)
Burst is a cute little game that lets you pop balloons without having to blow them up first. The version number lets you know that it's a new game, so don't expect it to be perfect. For its price, I'd say it's a decent value. Burst reminds me a lot of Pogo.com's Sweet Tooth, or GameHouse's Bounce. The upside to buying a game like Burst is that you don't need to use up Internet connection time (the way you do with Pogo or GameHouse), and you can tailor the settings.
The game is available as a download (size is 1.4 MB, so it took only ten seconds with a cable connection). You can play it free for 60 minutes, and then you'll need to pay $9.99 to register it.
The idea is to get three balloons of the same type in a row, and then they'll pop and go away. Others will fill their spots, and after you've scored enough points, you'll advance a level. You click on a balloon, and then on a balloon adjacent to it, so they can switch places. If this results in a match of three, they'll pop and float away. If it doesn't make a match, the balloons will return to their original places. You can't switch them unless it results in a match.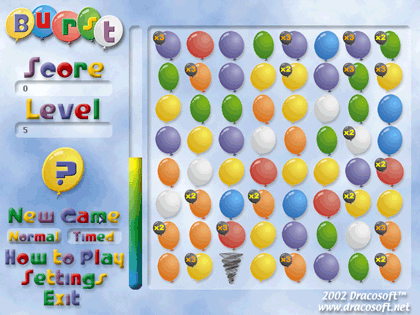 Opening Screen
Burst also has plenty of bonus goodies to make things interesting: the best one is Lightning, which zaps an entire row of balloons and makes an impressive thunderclap sound as well. There's a Burst balloon, which changes those around it to matching colors and pops them; a Flying Saucer, which wipes out several balloons; a Tornado, which randomly changes balloon colors; a Help button, which can be used three times per round; and bonus points (numbers on the balloons).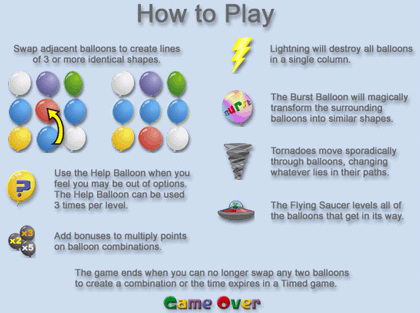 Burst Instructions
I started at level one without the timer and played until level 12 or thereabouts. But I was very bored. Without a clock, there was no reason to have to think fast. So I changed the settings to start at level 5, and turned on the timer. Now, we were cookin'! That adjustability makes this game appropriate for all ages and game-playing ability.
For future versions, I'd like to see a few other features. Command-Q ought to quit the game from any screen. We can still have the Exit line available to click, but there's nothing wrong with hot keys, either. For timed games, a Pause function between levels would be nice. Game play is also a little sluggish in that you can't click on one balloon and then immediately click on the next one. Takes a little while to get the timing down.
Strengths
Great for kids, or for those who like their games fairly simple and slow.
Cheap.
Appropriate sound effects.
Presentation is cute. There's no other word for it.
Weaknesses
Needs a little tinkering with speed of response, adding a Command-Q function, maybe a Pause feature. Nothing serious.
Conclusion
Dracosoft released version 1.0.1 a few weeks after its launch of 1.0.0. They've made some useful tweaks, but the features I want will take a little longer to put together.
If I had a kid age ten or under who liked spatial thinking or colors, I'd buy Burst. If I wanted to avoid staying online to play a puzzle game for long stretches of time, I'd buy Burst. Since neither of those applies to me, I won't be buying it. But not because it's not a good product.