The Candy Apple
A Down-Home Awards Show
Welcome to The Candy Apple, my attempt to keep things light around here. We'll miss our longtime columnist Tom Iovino's Apple Cider column, but we look forward to hearing his occasional Random Squeezings now and then.
Last month, the Academy Awards were handed out for films released last year. The award show ran too long, as always, but it was worth the wait. For my first venture at an ATPM column, I thought it might be fun to choose some of my own awards. Since I didn't hire an accounting firm to count the votes, feel free to presume that some tampering went on.
In case it matters, I'm using a G3 Yosemite (Blue & White tower) with Mac OS 9.1, 350 MHz, and 704 MB RAM. But I really want a new machine, so if anybody has an extra iBook or new iMac with those kinkable, dancing monitors, I'm available!
The Awards
Game I Must Play Every Night Before Going To Bed
We have a tie. Two pieces of software received this award: Snood and Beat the Dragon. Both of these games have been around for quite a while, and there are plenty of fresh challenges every year, but these are the ones I find myself returning to after the new wears off the others. Burning Monkey Puzzle Lab and Alchemist are great for when I need a shiny thing to look at, and Scrabble is one of my favorites, except that I resent having to load the CD to play it.
But for a daily fix that I can't do without, it's good old Klondike-based solitaire à la Beat the Dragon, and the tried-and-true angles-and-luck exhilaration of Snood.
Software That Gets Used The Most
Outlook Express 5 for Mac. I know, it's a Microsoft product. It is evil and ought to be destroyed. But it seems to work. This particular piece of software never crashes my system. It gets the most use over anything else because I work at night, and do much of my communicating via e-mail. I can send notes at 3 in the morning, and dayside weenies can read them when the sun comes up. I'll be asleep and unworried about making sure I get up in time to call them.
Coolest Apple Peripheral
iPod. No competition.
Best New Investment
HP Deskjet 920C printer. It's an inkjet printer, but the stuff looks nearly as good as a laser printer. For my purposes, it's surely close enough, and a billion times better than the older model inkjet that came with my computer, just two short years ago.
Software I Often Forget I Have
Norton AntiVirus. Runs every day, sometimes when I wish it wouldn't, but that's my own fault for setting up the preferences goofy.

IconDropper. I've individualized many icons just for fun, and others to help me keep order.

Kaleidoscope. Change is good. Changing the way things look is fun, now and then. This program makes it easy.
Best Animated Movie
The best movie I have saved on the hard drive is still that Aliensong thing that came out in 1999. I read later that the guy who made this short got a job at Pixar, so for once, the universe properly rewarded someone.
Best Live-Action Movie
The best non-animated movie on my hard drive is an ad for a concert/comedy show last year. It opens with nice piano music, and a shot of a woman ooching (yes, ooching) on the top of a piano, like those lounge singers sometimes do. She's wearing a red dress and has very nice legs, but we only see her from the waist down. The announcer talks about a show coming to town that has one of the biggest names in entertainment. The legs are slinky. The shoes are red. The gown is sequined. After several seconds of this tease, straight out of The Fabulous Baker Boys, the camera pans up to the lady's face. Surprise! It's my hero, Bea Arthur! She says, "What, you were expecting Michelle Pfeiffer?"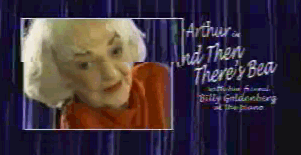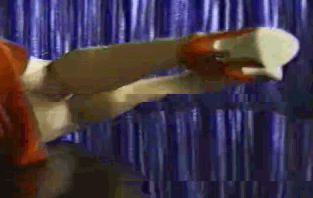 Still makes me snicker. I'm bummed to report that the Web site which hosted this clip is no longer up. It was a promotional site for Bea's US tour last year that ended with her triumphant return to Broadway. After a nearly 40-year absence from the New York stage, she opened in February to strong reviews and an extended run. I got to see the show in Ft. Lauderdale in August. At one point she did hop up onto the top of the piano, but I have to say that she didn't really ooch.
So there you have this year's awards. We have no statuettes to hand out, so we don't have to worry about them getting lost or stolen. Our award show never runs over the time limit. The host isn't famous—but at least I didn't do a medley praising my nominees! Hmmmm…maybe I'll sing at next year's awards….