My Apple Wedge
…Hoelle des Nordens von Roubaix, Tour de France, Tour de France…
Does anyone know that song by the German group Kraftwerk? I remember when it came out in 1983. Wow.
Bonjour! My Wedge of the Apple this month is a report about integrating digital photography into everyday (computing) life. I am back from our honeymoon trip to Germany and France where my wife and I visited Paris and the Tour de France, as tourists and spectators respectively. I was able to take some nice pictures in Germany and France with my new digital camera.
The toughest bicycle race in the world
Powershot
After a few months of online and in-store research I broke down and bought a digital camera for our trip to Europe. The camera I ended up buying was the Canon Powershot S20. After reading about the camera's high power requirements I also decided to buy Canon's accessory kit with AC adapter. I use rechargeable batteries wherever possible, so this was a natural decision. To top it all off, I bought a CompactFlash II-compatible 1 GB IBM Microdrive to take along in addition to my trusty Canon EOS SLR standby. More on that below.
My choice of digital camera was based on my selection criteria:
High image resolution
Small overall size
Some zoom capability
Built-in flash
Macintosh compatibility
In addition, I used a process of elimination to help me find the perfect camera. I generally do not favor cameras that:
Have extended objective lenses, as those make the camera more bulky. (I already own a pocket-sized Olympus Stylus with a retracting objective lens.)
Use proprietary and/or uncommon storage media formats jacking up the price of high-capacity storage media.
Have only low-capacity storage media available.
Are power-hungry and/or use proprietary battery formats.
Are made by manufacturers with little or no prior experience in camera manufacturing.
The Powershot S20 is the smallest 3.3 megapixel (MP) camera with zoom lens and built-in flash currently on the market. That, and the fact that Canon has looked out for Mac users in their software offerings in contrast to other camera manufacturers, convinced me to choose this model over all others.
Canon Powershot S20
The rechargeable battery that comes as part of the accessory kit does not last as long as the Lithium battery supplied with the camera, but Nickel Metal-Hydride rechargeable technology has improved to where it is viable even in high-power situations like digital photography. Another feature I like about the Canon is that the accessory kit includes a battery adapter with a combination battery charger/AC adapter. Simply pop the battery adapter into the battery compartment and plug the wire attached to it into an outlet, and voila, no batteries needed! Just make sure you buy international plug adapters for when you travel abroad and want to plug in wherever you end up.
Microdrive
IBM's Microdrive comes in several sizes. Following my technology mantra, in aiming to buy the most advanced technology and/or largest capacity available at a reasonable price to stay current for at least a couple of months, I bought the largest capacity drive of 1 GB. Used in a CompactFlash II-compatible camera it works just like a regular CompactFlash memory card. I have not done any speed comparisons, but I would imagine a slight speed hit with the Microdrive, based on the fact that the Microdrive has moving parts whereas a solid-state memory card does not. Using a PCMCIA-CFII adapter in the PCMCIA slot of my Epson 875DC printer I can mount the Microdrive as a regular drive on the Mac desktop. If you think about it, it's quite amazing how far miniaturization has come: high-capacity, portable memory storage, capable of storing an entire encyclopedia in a space smaller than a matchbox.
IBM Microdrive: Revolutionary new high capacity, high performance storage devices.
My test bed for this article was a PowerPC-based Starmax3200/G3-300 with 160 MB of RAM and a Quantum Viking 2.3 GB SCA SCSI hard drive, running Mac OS 8.6 under a screen resolution of 640x480 upped to 800x600 at millions of colors by an ATI Nexus 128 Rage Pro, and an OrangeMicro FireWire/USB PCI combo card to which I hooked my Epson Photo Stylus 875DC.
Canon Utilities
Let me start this section with a little compatibility warning. In case you are wondering about Mac OS X compatibility, you will have to wait a while, as you can see from this quote from Canon: "At this time the current versions of Canon Digital Camera Solutions Software are not supported for use with Mac OS X in native or classic mode. We are working on updating our software to be compatible." Maybe by press time you'll be able to download a compatible version. At least I can dream, can't I?
Canon dubs their software package Canon Utilities. It consists of a Digital Camera Plug-In, the ImageBrowser, and PhotoStitch, an application for creating immersive QuickTime panoramas. For those interested, ATPM has a review of the Canon Photo software.
Installation went smoothly and required a restart for control panels and extensions to take effect.
Getting Started
Setting up the camera ready to shoot was a snap. I received the Microdrive before the camera so didn't even bother to take any pictures using the 16 MB CompactFlash card that came with the Powershot. Using the Microdrive is no different from using a CompactFlash memory card except that you want to handle it very carefully since it would cost you a bundle to replace it.
Edie, the cutest dog in the world.
One of my first test pictures was of our beagle. She goes by the name Edie and, according to my wife, is the cutest dog in the world. I used it as a litmus test to gauge how comfortable I would be with the camera and what the picture quality would be like without much preparation. You guessed it—it passed.
ImageBrowser camera window
Looking at pictures on the computer using ImageBrowser is a snap. If you have Canon's Utilities installed, it will launch automatically when you turn the camera dial to PC-connection, thanks to USB. The window displaying the images stored in the camera is the camera window.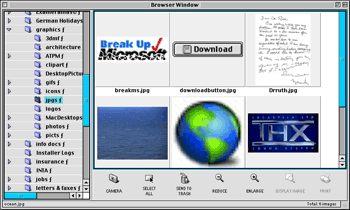 ImageBrowser images window
Your collection of images can be found in ImageBrowser's images window. It displays whatever images it finds in the directory currently selected in the directory window on the left side of the Browser window. Working with the directories is very intuitive and almost Finder-like thanks to drag and drop capability and more.
Remember when the only game in town was a serial connection between your digital camera and computer? Well thanks to USB, a 2 MB file transfer only takes a few seconds. Luckily, downloading and uploading operations can run in the background, so your computer is not tied up while your pictures are transferred—in fact, I'm downloading a panoramic shot of fifteen images from the camera to my computer in the background as I type this into my word processing application.
Slide Show Anyone?
Remember the slide show your parents made you watch of some pictures they took when you weren't even born yet? The one you tried to get out of by claiming you had soccer practice? At least now you can put an electronic spin on it with the slideshow function built into the camera. This feature can also be used when the camera is connected to your computer so your monitor becomes your picture album.
I configured three different slide shows with the best shots of our travels through Germany, our pictures from Paris, and our adventure at Alpe d'Huez. An adjustable timer makes this a fun function, very useful for showing my mom what we had experienced on our trip before we had to head home for Arizona again. Of course, permanent pictures are in the making.
Oh No, I Have Tunnel Vision!
ImageBrowser Tunnelview
One feature I can't see myself using all that often is ImageBrowser's Tunnelview. This arranges images chronologically with older images outside and newer ones inside concentric circles or a spiral. I found this rather confusing and not very useful, but that's just me. Maybe we just have to wait a few more years, but I don't think it's one of those features where you'll ask yourself "How did I ever do without this?"
Adobe PhotoDeluxe
If you like manipulating your images a lot, there's not much to do in that area using the Canon Utilities lest you upgrade to the professional version. You can, however, use Adobe PhotoDeluxe included on the Canon Utilities CD. If you prefer to stick to Canon software and don't need to all the extra features of Photoshop and don't want to spend a pretty penny, you can still get Canon Photo (reviewed in ATPM 6.02) from the eMail Shopping Network for the price of shipping.
Printing
When I wanted to print the images, I decided not to use the printing capabilities built into Canon Utilities. Its layout, editing, and image manipulation functions are just not good enough or even present to make them worthwhile using. Instead, I used the trusty GraphicConverter, for basic image manipulation, and printing software included in an Epson greeting card package. I bought Epson greeting cards because I've had good results with Epson-branded papers on my Epson Photo printer.
Using Epson's Glossy Photo Greeting Cards and Epson's Film Factory Lite I used a picture a gendarm at Alpe d'Huez took of my wife and me to put on the Thank-You cards I sent to everyone who attended our party in Germany. I had used this combination before in a different situation and the results are a hit.
Your printer software is the better bet for sure when you want to print out regular 4x6 prints on photographic paper. Epson's line of photo printers with a photo paper roll let you print out your pictures on a roll of 4-inch paper which you have to cut once you're done printing. This worked fine for me; the initial feeding of the roll is a little tricky, but by no means anything that would drive you to tearing your hair out in frustration.
PhotoStitch

Let Canon do the panoramic image stitching for you.
Now comes the fun part of digital photography: creating panoramic images. I had produced some panoramic images and even object movies in the past, but I did it all by hand, including color correction, contrast and brightness manipulation, etc. Luckily, Canon's Photostitch utility does the job without your having to stitch your images together manually. The result is acceptable although it looks more out of focus than the original images, but at least you don't have to worry about brightness, contrast, color, image edges, and overlap, or the like.

Image Browser Panorama
Panoramas are indicated in ImageBrowser by green (or blue, when you hover over them with your mouse) spirals on the top and bottom edge of the images shot in panoramic mode. As they are recognized by the program they are automatically downloaded as a sequence to be manipulated as a whole.
Once you agree to automatic stitching, the images are transferred from your camera to the ImageBrowser:

Then the images are imported or loaded into Photostitch to be merged into a panorama.
Now you are ready to arrange your images according to the shooting mode you used when taking the panoramic images. Make sure your images don't overlap; otherwise your wraparound panoramas won't come out right and you'll see a view of more than 360 degrees!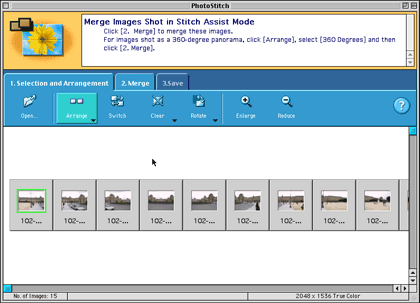 Arrange your images to obtain the best merging results
Photostitch requires a minimum image size of 200x200 pixels. For a series of small images it takes about 3 seconds per image to merge on my machine.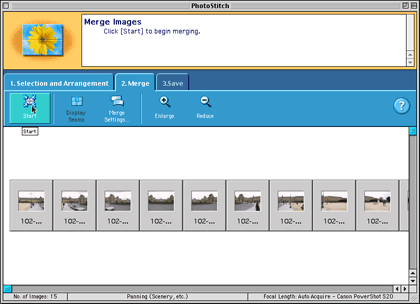 Automatic merging of images to create panoramas.
The actual merging takes about as long as transferring images from the camera to the computer, and the merging software does a decent job of combining adjacent images. Don't be fooled into thinking that this is all you can get. Professional stitching software can perform better adjustments while maintaining almost the same sharpness as the original images.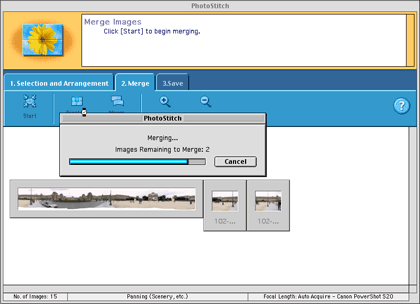 The last step is to save the merged image. This is when you should consider adjusting the final outcome of your panorama. I would suggest reducing it to a manageable size, especially if you merged high-resolution images at 2 MB a pop and are trying to send the resulting 20 MB panorama via e-mail to all your friends—they may stop talking to you if you cause their mailbox to exceed its quota…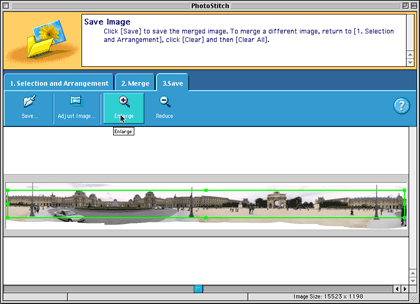 For your convenience there are five panoramic image formats. Pick your favorite—personally, I prefer Quicktime VR because it seems to convey the most immersive point of view, but pick one and see for yourself, that's the fun of it all! When you're all done you'll have a panoramic movie which may or may not convey the beautiful view of the place which you had the chance to visit.
Saving the stitched panorama as a Quicktime VR movie.
Download the movie. If you have Quicktime version 4 and higher, click and drag left or right for a panoramic view of the Louvre and the Jardin de Caroussel.
You're on TV!
The last feature I'd like to mention before signing off is the camera's video capability. You can watch the slideshows you configured on the camera on your TV or even record it onto video cassette to send to grandma. It can also be used as a Web camera, by propping it up on your monitor and selecting it as the input source in your favorite Webcam program. I'll be using the camera's video out port at our welcome back barbecue with our friends this Sunday to show them the pictures they have been hearing about.
Remember when I mentioned that I brought along my trusty SLR camera on our trip, just in case? Well I didn't use it even once! The convenience of having digitized images outweighed the disadvantages of non-interchangeable lenses, inferior flash capability, no filtering capability, and better manual exposure control. On this trip, at least. Don't get me wrong; I'm not ready to put my SLR up on eBay just yet. It still is my camera of choice in more specialized situations, when I want to, for example, take multi-exposure pictures, second-curtain sync flash pictures, fast-synchronized sports pictures, etc. Nevertheless, digital photography is ready to take over my everyday picture taking.
Using any video input ports and video software you can show how small that Microdrive really is.
Lance Armstrong winning Alpe d'Huez at the Tour de France.
On a final note, Lance Armstrong is destined to win the Tour de France. We were fortunate enough to witness his historical victory at Alpe d'Huez in the French Alps; it was one of the most exciting experiences as sport spectators for both my wife and me.
That's it for now; talk to you again next month. Cheerio!