Review: Movie Magic ScreenWriter 2000 v. 4.0.1

Developer: Screenplay Systems (product page)
Price: $229 (street)
Requirements: 68030-based Mac, System 7.1 or later
Trial: Feature-limited (watermarks printing)
I write movies. I write reviews. So, it was only natural that I write a review of software used to write movies. Okay, screenplays. Also, TV shows and movies of the week. Each has its own individual format, and MMS (like the others before it) handles each unique format flawlessly. Recently in these pages, I reviewed similar software. The trap when getting a piece of software like this is to compare it to others, as the box would suggest. It has always amazed me how the product I'm thinking of purchasing seems to beat the one that I currently have, and MMS makes no exception here on its impressively printed box art. The problem I have with that is that some of the claims aren't true, or could at least be more up-to-date. So, instead of attempting to compare this to a product I reviewed a little over a year ago, I'll simply talk about it itself and provide a conclusion at the end.
Installation, as always with a Mac product, is easy. I only mention it here because for some reason the copy protection has confined me to needing the CD mounted every time I run it from home. However, I was able to register the software from my office computer. This is a bit clunky for me, but you can remove the CD immediately after startup and still be able to run the software. An inconvenience, to be sure. I haven't called tech support on this one yet, but I will be sure to do so and keep you updated in my column.
Starting a New Script
Simplicity in itself. Choose File:New, or Command-N, and it asks what type of template you need from the 11 provided. Personally, I need only three: movie, TV (long form), and sitcom. All scripts have the same elements in common: Slugline, Action, Character Name, Dialog, Parenthetical, and Transitions. I won't get into accepted industry use of the latter two, as many debates have arisen on the newsgroup misc.writing.screenplays. However, this program provides them should the need arise. There are several different ways to create the various elements. (For me, that meant a toolbar on the right side of the screen that causes unnecessary clutter—that's right, I want all my clutter to be necessary.) Various elements allow for easy transition from one to the next—after a Slugline, it falls into Action; from Character, it goes into Dialog. You can also Tab from one to the next, as well as Shift-Tab to go backwards.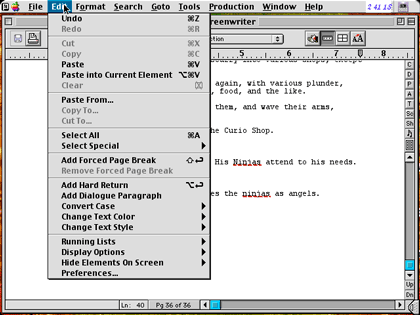 Edit Menu
After musing and creating for awhile, you'll end up with something like this:
And then the fun begins. A character list is created automatically, allowing for easy retrieval when inputting to the character element. There's also a scene list, which I found both useful and tedious. I was able to import a current screenplay that I was working on; however, it didn't break up the sluglines on import the way I would've liked. Sluglines hold the general form LOCATION—DESCRIPTION—TIME OF DAY, and MMS allows for individual creation of each, and therefore provides three separate lists. But, the time of day was appended to each slug that I imported, so, if I wasn't careful, I ended up with something like: INT. OFFICE—DAY—DAY. Another inconvenience. I hope it's fixed in further updates.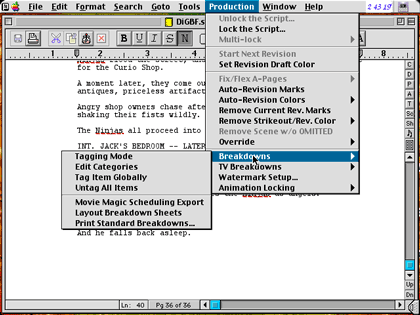 Advanced Features
The sluglines also provide for the installed scene index cards, which allow for easy editing and moving of scenes.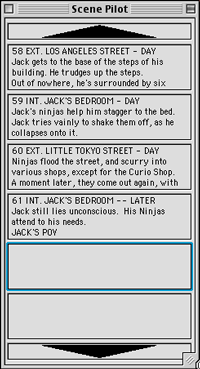 Scene Cards
Another feature that I really like is the change character name capability.

Character Name Change
A simple dialog box, and suddenly, Jack becomes John. Okay, it's a little more complicated than that, since it wouldn't change the description of the character, but the name would be replaced everywhere.
Yeah, But Should I Buy It?
Well, yes and no. MMS allows for easy creating of screenplays for the first-time writer, and if you don't own any other screenplay software, it's a valid first choice. Although, I feel most of the extra features provided will needlessly confuse someone that has never written a screenplay before, as they are mostly provided for scripts that are in production. For someone that's thinking of changing from screenplay creation software that he currently owns, I wouldn't recommend it. Unless, of course, you're put on a production that requires it.