Review: CD Stomper Pro 3.2.6
CD Labeling System

Manufactured by: Stomp, Inc. Costa Mesa, CA
Requirements: 68040 processor, CD-ROM drive, Mac OS 7.6.1, 16 MB RAM, color printer for best output.
Street Price: $35
With the continually decreasing prices of CD-R and CD-RW internal and external drives, more people are taking the plunge into recording their own CDs. Whether it is for creating custom audio CDs, archiving valuable data, or backing up on a regular basis, CD recorders are becoming a necessary part of many Mac users' daily lives. After purchasing a CD recorder—or "burner," as they are often called—users are finding it easy to amass a collection of the shiny silver discs. Since all of the blank or recorded discs look the same, the problem then is to be able to identify your CDs to facilitate cataloging.
The CD Stomper Pro is a complete CD labeling hardware and software system. It consists of a Stomper label applicator, CD Stomper software for Mac and PCs, and an assortment of blank, printable self-adhesive labels for CDs, jewel case inserts, and labels for Zip, floppy, or Jaz discs. The software includes an application that is installed on your hard drive to access the graphics available on the Stomper CD, which is required to be in the CD-ROM drive during use. Since the CD Stomper Pro consists of two parts—hardware and software—I will divide this review into two sections.
Hardware
First, the hardware. The CD Stomper label applicator is a device to apply the round CD labels that you create to the non-data side of a CD. Simply by placing the label (adhesive side up) onto the Stomper rubber pad and lowering the CD (label side down) the CD is "stomped" and the label applied. It is harder to describe than it is to do; I found success with my first try, and every one thereafter. My hardware rating for the Stomper applicator is excellent; it could not be easier or more fun.
Software
The CD Stomper 3.2.6 software is where I encountered my problems. Obviously created for PCs, and then ported to Mac, the software package is about as non-Mac as you are likely to encounter. Launching the program changes your screen resolution to 256 colors if you have it set higher; and, aggravatingly, does not change it back to its former setting when you quit the program. Each time you launch CD Stomper Pro, it asks you to choose a language preference—English, German, French, Spanish, and Italian. Unfortunately, since the program has no Preferences setting in the File menu, you must make this choice every time you launch the program. After you select your language you are presented with the Stomper workspace. The workspace controls are fairly intuitive and complete. A quick experimental tour should teach you what each of the buttons does, and their purpose is displayed in a Help Box below the workspace window as you drag the cursor over them. Now you are ready to create a CD label.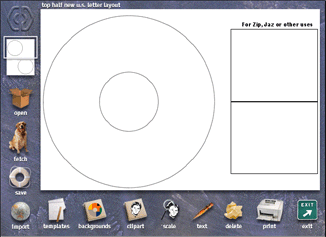 The CD Stomper Pro Workspace
Once again, lacking a Preferences file, you must select your "template" pattern—to properly align your created label with the label paper chosen—every time you start a project. Once you have selected a template you can begin creating a label. This is the fun part. With over 1200 different backgrounds and clip art to choose from, you will be able to create just about any type of label background that you wish. After selecting a background you can add text blocks anywhere within the printable area to identify your masterpiece. In case you can't find exactly what you want in the provided graphics, there is a provision to import custom PICT files to use instead. These imported PICT files (no other image formats are supported at this time) can be scaled, rotated or cropped. Unfortunately, in my case this feature did not work properly. When I tried to import a PICT from my hard drive the program would inexplicably switch templates to "Original U.S. Letter Label" when the provided paper sheets were in the "New U.S. Letter Label" format. This presented me with a catch-22 situation. If I imported a PICT, it changed templates on me. If I then switched templates, my PICT was deleted, since it thought I was starting over. So I am limited to using the provided Backgrounds and Clip Art, which are actually more than adequate for my purpose. I have recorded some custom audio CDs and simply need to label them with titles and artists. The provided artwork and text capabilities fulfill my needs. Someone requiring more versatile labeling options might find the CD Stomper Pro too annoying to put up with.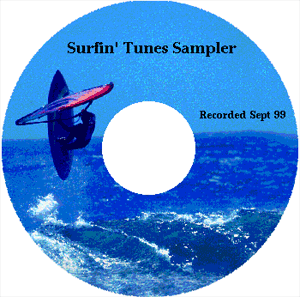 A Sample CD Label
It might seem that I find the CD Stomper program unbearable, but actually I enjoy using it. Once you get past its obvious deficiencies, and learn its limitations, it is fun to use. The labels print very well and I don't have any difficulty removing them from their backing or applying them to my CDs. I just wish that Stomp, Inc. would get its Mac act together and provide a true Macintosh program to be used with its excellent label applicator. During the on-line registration process comments are solicited, and I voiced my three main concerns when I registered. I was surprised to receive a prompt answer from Stomp, which, although sounding quite formulaic, said:
Valued Customer: We are looking into the issues you have reported, but it all may become a moot point when the next CD Stomper new/upgrade software becomes available (March 2000), no charge to current users. Best regards, CD Stomper Technical Support.
So I will wait and see. But because of the poor software, I have to give a rating of only "Good" to the complete package. It would have been much better had they only let a few Mac users try it out before shipping it. Since the software is up to Version 3.2.6, I can't imagine what Versions 1 or 2 were like. I'm just glad I didn't have to find out. But if you are looking for a solution to your CD labeling problems, you might want to try CD Stomper Pro, complete with caveats, and wait for the upgraded software package. If they address my three main concerns I'll be a very happy user.