Art Department
Backgrounds
This month, I was going to make a section about software interchange formats talking about what each digital format means and how to get the best results while swapping files between applications and platforms. However, due to the overwhelming demand for another Background how-to section , I could not but submit. I must thank all our dear readers for their enthusiasm, for it is the very reason we go on with ATPM. I think that my colleagues agree, right guys? [Right. -Ed.]
I am going to show you how to achieve a Rocky background. As I said last month, although I am using Adobe Photoshop, you can achieve the same results using any pixel based program with minor adjustments. Just follow the principles.
1) Open a new document in Adobe Photoshop. Size does not matter much. (Found: File>New)
2) Make sure you have basic colours for Background and Foreground colours.
Tip: you can achieve this easily by pressing the letter D on the keyboard.
3) Do a clouds effect. (Found: Filters>Render>Clouds)
4) Repeat the Clouds filter till you get the desired pattern. (You can also press Command-F to repeat the filter)
5) Now play around with the brightness and contrast controls until you achieve hard edges as illustrated below. (Found: Image>Adjust>Brightness & Contrast)
6) By now you should have a weird spotted image that looks like a 101 damalian. Don't worry; just proceed with an Emboss filter. Make sure here you keep the Emboss setting low and the offset setting a bit higher. This is to provide a hard edged rock, just like in real life. (Found: Filter>Stylize>Emboss)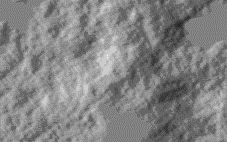 7) We are nearly there now. All we need to complete the illusion is a bit of graininess. To achieve this run the Add Noise filter. Just choose a setting that you find appropriate. (Found: Filter>Noise>Add noise)
8) As a final step, we need to colour our background. Just choose variations and colour according to your needs. (Found: Image>Adjust>Variations)
And presto the Rock Background is ready! Hope you enjoyed creating it as much as I did.