Review: Three by Five
Product Information
Published By: BCSoftware
Retail Price: $99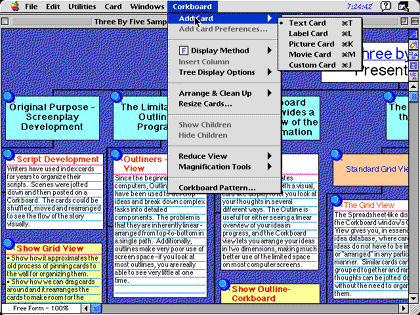 Need your thoughts organized? For any reason? Three by Five, by BCSoftware, provides you with computerized 3x5 cards, as the name implies. So, as with all software, the first thing I did was open the box. I know, I need a new joke here. But, I'm going to keep using this one until you all like it.
Surprisingly, I was greeted with only one installation disk. Installation was quick and smooth, as always. The reason I was surprised? This program does so much, no one should be without it!
For those readers with long memories, this software used to be Corkboard, when BCSoftware was MacToolkit. It was so named because as you create, edit, shuffle, and arrange your cards, they get "pinned" to a virtual corkboard (you can change the pattern if you don't like the default brown cork).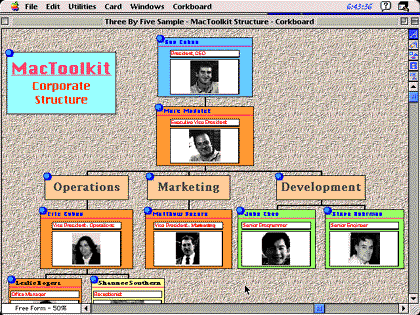 The first time you start up the program, you're greeted with a category window and one stack of cards, ready to go. At this point, nothing is on them. Double-clicking gives you a blank corkboard upon which to tack your cards. There are four types of cards: text, label, picture, and movie. Plus, you can create your own card types, yielding virtually limitless possibilities. New cards are generated by key command or by clicking an icon button on the right hand column of the upper window.
A Text Card has a bold heading and a short description beneath, in plain text.
A Label Card has a bold heading with no description area.
A Picture Card has a header and you can import any image saved in PICT format.
A Movie Card is similar to the Picture card, except you import QuickTime movies. I wasn't able to test this one, because I don't have any movies to import (ironic, isn't it?).
Included with 3x5 are some Templates for Custom Cards, such as the record template, and the Rolodex template. Plus, you can create your own.
3x5 allows you to do all sorts of wonderful things to individual cards after you've created them. You can change the color, font, size or style of text and you can customize the background color of related cards to group them visually.
If you get tired of the corkboard view, you can display your cards in outline format. This is especially useful for preparing presentations, speeches, etc. 3x5 allows you to define relationships between the cards you create in outline mode. Use this feature to create an Org. Chart with pictures!
As with any piece of good software, 3x5 stands on its own. However, when I used 3x5 as a complement to Final Draft (reviewed in 3.03), it really began to shine. For those who are just tuning in, Final Draft is a screenplay formatting application. 3x5 allows you to import your script's sluglines and put them in text cards. Conversely, you can create Text Cards in 3x5 and export them to Final Draft. I think I've found a new way to write a screenplay. You can easily move cards around. You don't like this scene here? Move it so it follows the car chase in Act II. There's also a flash card feature which shuffles your cards. Just for fun, I shuffled the cards for my current screenplay. Suffice it to say, the movie was radically different.
In conclusion, with or without Final Draft, 3x5 is a valuable tool to help you get your thoughts (or life) organized. Some of you may be wondering why I haven't mentioned how well the manual is written. I didn't need it to write this review, so I really don't know! A true example of plug and play software, in the finest MacIntosh tradition!