Software Review
VirtueDesktops 0.53

Computationally, I grew up in the Microsoft DOS environment way back in the early 1980s. I learned to work with the command line; that mode works for me. I changed jobs in 1993 and decided to leave the DOS world. The multi-tasking application I used, Quarterdeck's Desqview, was in trouble and trying to cope with the changes in the personal computer world. Microsoft's Windows was coming on strong and end-users were abandoning the command-line DOS for Windows. I had already begun my migration from DOS because I found myself installing DOS ports of Unix tools on my system. After tinkering briefly with Windows 3.1, I abandoned DOS/Windows and installed my first Linux distribution.
Of course, the Intel 80486 platform I used didn't have the horsepower to run X-Windows effectively, so I remained in text-mode, using the multiple consoles available under Linux to do the same thing I'd done with Desqview all those years. After a couple of years, I finally traded up to the Pentium-class systems and could run X-Windows. While my work was still mostly done in the command shell, I used a few graphical programs to do things such as e-mail and Web browsing.
Enter the Unix "pager." The pager is a small graphical program running under X-Windows that allows the user access to n virtual desktops. The number of virtual desktops, n, is configurable by the end-user. After some experimentation, the number for me was nine. It allowed me to have associated tools open and running together on a desktop in a fashion that made sense. (Well, it made sense to me.)
Several years passed and I continued to work with Linux. But, with more work-related travel, I found myself with a Windows notebook computer for travel, and I was back to running Windows again—and Linux! Arrgh! Fast forward to 2003, and I decided to give a PowerBook a try. I began the search for a single computer to do all of my work.
Given the Unixy nature of OS X, I decided to find a pager application similar to what I used under Linux. I found CodeTek's VirtualDesktop Pro, tried it, and bought it. I expect to review this application in the future when CodeTek releases an Intel-compatible version. When I bought my MacBook Pro, the CodeTek application would not run, so I was forced to seek an alternative.
I found and settled on VirtueDesktops. It runs on Intel-based Macs. In fact, it runs very well.
Installation was simple. I downloaded the archive, expanded it, and copied the program to my Applications directory. A quick double-click and we were up and running. I used the Preferences window to choose the number of virtual desktops I wanted to use, saved the results, and restarted the application. I also set the application to load on login, so I don't have to start the program manually every time I use my Mac.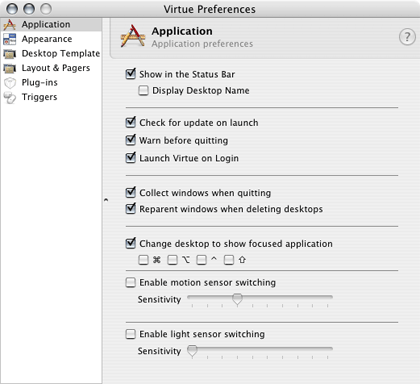 Use
Mark Tennent mentioned VirtueDesktops in last month's MacMuser, but decided he didn't like the multiple-desktop paradigm. After a few days of frustration, Mark decided this paradigm is not for him. That's perfectly OK—they call these personal computers for a reason.
For me, though, this is my preferred operating environment. I currently run six virtual desktops. My browser lives in one (and sometimes a repository such as Yojimbo or Mori), Mail and iCal (and sometimes Address Book) live on another, TeXShop and a Finder window or two live on another, and iTunes lives in yet another. That leaves me a spare if I need another tool or toolset.
The Pager
Moving between applications is as simple as using the standard Command-Tab key combination. The system changes desktops seamlessly. This is just as expected and is unaffected by the presence of VirtueDesktops.
An alternative means of moving between groups of applications (the way I use virtual desktops) is the Shift-Tab key combination. This key-combination invokes the pager so the user can select which virtual desktop to use. I have mine configured to a 3×2 layout.
Impressions
I've been using the application for several months now without a single problem. It's a simple program, still undergoing active development, but it is stable on my system. It implements the Unixy virtual desktop system I want in a simple, elegant fashion. I'm able to work in my preferred mode and keep my windows relatively clean. This is comfortable for an old Unix geek like me.
Conclusions
Unlike CodeTek's product, VirtueDesktops runs on Intel-based Macs, an absolute requirement for me, now that I've upgraded hardware. The program is stable, has sufficient features, and was easy to learn to use. If you, like me, like a number of virtual desktops because of the way you work or organize your work, then you'll like using this program.