Software Review
RouteBuddy 1.1.1

Developer: RouteBuddy
Price: $100 for application; $40-70 for various maps.
Requirements: Mac OS X 10.3.9. Universal.
Trial: Fully-featured (watermark and maximum of 30 objects).
As best I can tell, RouteBuddy is the first (and only, at this moment) mapping application for Mac OS X that allows you to connect a supported USB-enabled GPS device and interact with a live map display. Mac users have waited a long time for a single application that accomplishes this function with no extra software or hacks.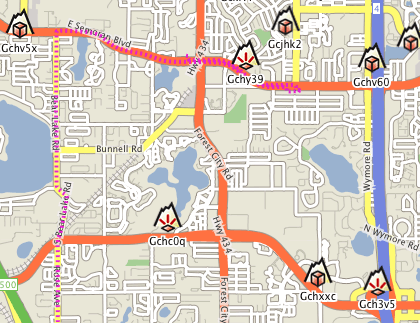 Unfortunately, RouteBuddy is not one of those rare "perfect-out-of-the-gate" version 1.x products. While I applaud that Mac users finally have this kind of tool, the application still feels as though it's a beta—unfinished. I wavered between a Good and Okay rating, but sided for Good only because RouteBuddy does accomplish its core functions very well. The quality of map and point of interest data is excellent, using data from Tele Atlas, which is also used by Google Maps and Google Earth. The live tracking is responsive and accurate. Also, the recent version 1.1.1 update will make Geocachers happy thanks to the addition of .LOC and .GPX waypoint support.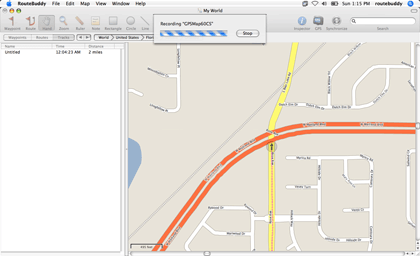 Recording a live track. Be sure you set your desired zoom level before recording, because you can't change it until recording is done.
Performance
Topping the "bad" list is the application's sluggishness. I might feel differently if I were on a brand-new Intel-based Mac, but a 1 GHz PowerBook G4 with a GB of memory ought to have enough oomph for RouteBuddy. I even tried running in a fresh user account to make sure none of the items I normally run were bogging things down, and moving around a map still felt like I was wading through molasses. If I clicked and dragged the map to slide it in a direction, I'd only go a few dozen pixels before I saw the blue "Loading" region and had to sometimes wait 10–20 seconds or more for that portion of the map to load and be displayed. Google Maps downloads this data from the Internet before it can display it to a visitor, but it manages to do it quickly. Shouldn't accessing it from a map data file on a hard drive be even faster?
Routes
Creating a route is an exercise in patience. The time RouteBuddy takes to calculate which roads to follow after marking a route is no faster than map loading time. Even Garmin's MapSource on my very old and slow Pentium II calculates routes faster.
The quality of the route can leave something to be desired, too. Sample routes that I created often took me through completely out-of-the-way roads. In one case, it even had me leaving a highway to go through residential streets and return to the same highway not far from where it veered off!
The worst part about route creation is the inability to use the zoom tool and hand slider while defining the route. If you switch to one of those tools, you'll completely lose your route setup, forcing you to start over. Yes, you can zoom with the Command–Scroll Wheel feature using a mouse, but if you aren't using a mouse and have an older PowerBook that predates the trackpad scroll feature, you're out of luck.
Regardless of whether you have a mouse, the only way to scroll the map around while in the middle of defining a route is with the window scroll bars, clicking the arrows or the scroll area to move one bit at a time. Beware of dragging the scroll widgets. The scroll bar area represents the entire map. A few pixels worth of scroll bar drag and, whooooosh, you may find yourself going from Orlando to some nowhere spot in the middle of Texas!
Here's the best way I found to fine-tune a route: first, define standalone waypoints in advance that will be points you want to pass as part of your route, including the beginning and ending points, then zoom out and create a general estimate of your route just with temporary starting and ending points. Don't even worry about being accurate with them. Next, double-click the route and use the panel that appears to add and rearrange your previously created waypoints, including correct start and end points. Feel free to delete the rough start and end points afterward.
Remembering Window Locations a Bit Too Well
Those who use a second monitor attached to a laptop must be wary about leaving a map window in the second monitor. I took my laptop to the car and discovered, after booting it up and launching RouteBuddy, that my default map window was not visible. Apparently, RouteBuddy saved its position on the second display and was still trying to put it there, even though the display wasn't attached. This is not a Mac OS bug. I repeatedly leave my Safari browser window on my secondary display at home, and it dutifully resets to the primary laptop display when I boot up while out on the road.
The iTunes-esque bread crumb buttons were often useless. All of my RouteBuddy testing was done in the western and northwestern regions of metro Orlando, in Orange and Seminole Counties. The buttons, as seen above, almost always indicated I was in central Volusia County.
Document Corruption
Also on the bug list is a condition I encountered that no longer allowed me to save a map document file. I suppose it somehow became corrupted. The only way I could close it (or even quit RouteBuddy) was to not save that map window. I don't, however, think this was RouteBuddy's fault. I discovered today that my Garmin's USB jack has recently become damaged and will no longer make a reliable connection. My repeated attempts to keep the USB cable attached probably confused RouteBuddy. Several times, this problem of mine caused RouteBuddy to crash—possibly corrupting my document file. Fortunately, I was able to keep a connection long enough to record a sample track, seen in the first figure, above.
No Address Data
If you're using a route as a guide to drive somewhere, you'd better have a navigator in the car who can focus on the computer and tell you when a turn is approaching. I found no function for turn-by-turn directions—something that should be added. Mac OS X has a built-in speech synthesizer—why not use it to announce upcoming turns? The reason might be that there doesn't seem to be any street and address data in the maps. This probably explains why, as stated earlier, a route I created needlessly took me off of a highway. Considering the price tag of the maps, I definitely think this data should be included. Users should be able to type in a street address to have the map hone on that area.
Tool Bloat?
I'd love for someone to tell me the purpose of the Rectangle, Circle, and Line tools because I'm at a loss. They can't be labeled, and they don't seem to interact with any other part of RouteBuddy that I can see. The Note tool might be a bit more valuable, but you have to click on the note to read it. In addition to the regular note, it should have a title field that appears beneath the icon, just like regular waypoints.
Paltry Toolbar Item Availability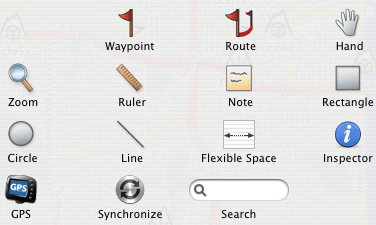 In the case of RouteBuddy's toolbar, more would definitely mean better.
First of all, at least two (or more) standard OS X toolbar items are not available—Space (as opposed to Flexible Space) and Separator. A toolbar Customize button is also missing, which I believe is normally always available. Since RouteBuddy has printing functions, it stands to reason the Print button should also be present. On second thought, maybe it shouldn't. Two attempts in a row to use the standard "Preview" function in the Print window (I don't own a printer at home) resulted in RouteBuddy freezing, requiring a Force Quit.
Besides these OS-standard toolbar buttons, there are numerous RouteBuddy functions that I'd love to have available in the toolbar, such as recording a track; accessing the Device, Inspector, and Navigator windows; zooming in, out, and to fit; the point of interest locator; and the various "Go To" items.
Scorecard
I had high hopes for RouteBuddy. I'll admit that my hopes were perhaps too high and that I'm being too harsh in this review. But I can't help but be harsh when I found myself wishing I had an old PC laptop so I could use Garmin's Windows-only MapSource application while on the road instead of RouteBuddy. I'll also admit that even though MapSource is the only application that can sync maps into my Garmin GPSMAP 60CS, and I feel that it outperforms RouteBuddy, MapSource pales in comparison to Microsoft Streets and Trips. That's right, your conclusion is correct. I really am suggesting that Streets and Trips is substantially better (and cheaper) than RouteBuddy. But that is moot since Streets and Trips, like MapSource, is only available for Windows.
We Mac users like to think that Mac software is superior, right? OK, that's not a universal truth, but we still like to think it. With that mentality, RouteBuddy should be looking at the best equivalent product on the Windows platform and aspiring to be even better. RouteBuddy may never be able to approach the selling price that Streets and Trips users enjoy (Microsoft could quite justifiably charge more for it), but I see no reason it couldn't reach and surpass the user experience.