Software Review
Path Finder 4.0.2
Developer: Cocoatech
Price: $35; $18 (upgrade)
Requirements: Mac OS X 10.4. Not Universal.
Trial: Fully-featured (21 days)
I guess if you're born and grow up high in the mountains, you don't know the air's thin up there. Or if a city is your home, perhaps you're not aware of the pollution. Or if the country's what you know and love, you probably aren't aware of the farm smells and agricultural chemicals. We don't notice what's always there.
Until you go somewhere else, that is, and say: "How can you breathe this air? It's so heavy / polluted / smelly!" You don't think about the air around you, because it's just the way life is.
We Mac users have the same experience. Have you ever really thought about the Finder? I didn't—it was just there. It was only when I started reading about Path Finder, and people whose opinions I respected seemed to mention it quite often—that I thought there could be more to my Mac's fundamental operations than the Finder offered. So I tried it out some 18 months ago. I was skeptical at first, but after a day or two I had been won over. Now I wonder how anyone can use their Mac without it.
The recently released version 4 was eagerly and long-awaited, but the rewards are enormous.
Preferences By the Score
Path Finder is intended to replace the Finder. It allows you to find and manage your files—all of them. It does just what the Finder does, and then adds hundreds of features to make your life easier.
The heart of Path Finder is the browser. It combines the good old fashioned Finder window with the modern talents of a fine Web browser, including, in version 4, tabs.
Where the Finder gives you a scant dozen or so options in the Preferences, Path Finder can almost overwhelm the new user with choices. But it's the choices that give you the power. If all you ever do is a bit of e-mail and Web browsing then Apple's Finder will suit you well and you won't see the point in Path Finder.
If you've ever wanted to move files, preview documents, expand downloaded compressed files, get info, view invisible files, dash off a quick Terminal command, work out exactly where your document is stored, and open it with the application of your choice, then the almost infinitely customizable Path Finder is a fantastic choice for you.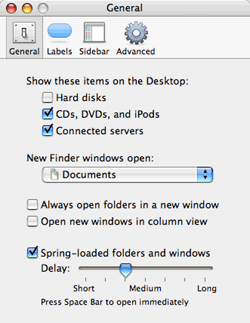 The Finder's paltry preferences.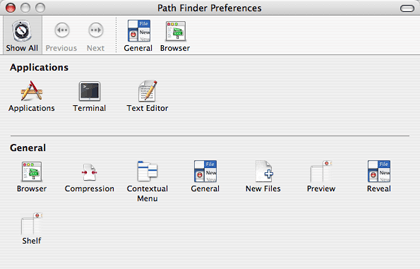 Path Finder offers preferences for everything.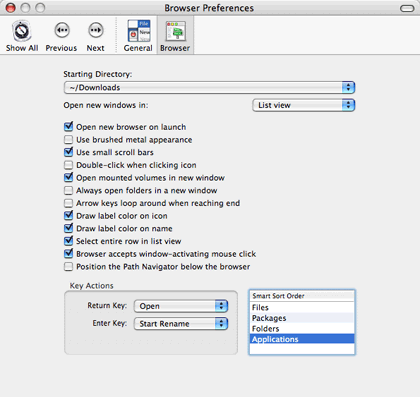 Path Finder's Browser preferences.
Path Finder Gives You Wings
The basic Path Finder browser shows a list of files all right, but in three corners of the window are tiny buttons that add extra functions. In Path Finder 4 you can customize these. I like to set my browser to show the Processes drawer, a list of all running applications; the Selection Path drawer, a list of all containing folders for any selected item; the Folder History—one click takes me back to any folder I visited recently; the Info pane; and the scrollable Preview pane.
At the left I like to keep the Drop Stack, the Volumes list, and the Shelf—the Shelf duplicates the functions of the Finder's Sidebar. Now if I click on a CSS file, for example, Path Finder instantly shows me a Preview in the Preview pane, together with detailed file information.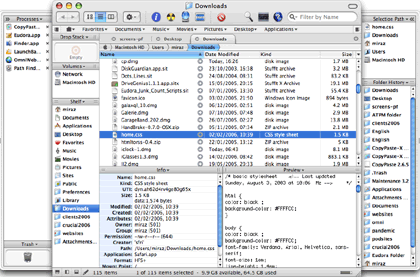 Capture all the information in one glance.
The instant preview has become one of my favorite features, especially for pictures, where the size is also shown. As a Web designer this is invaluable to me. If I need a larger preview I can enlarge the preview pane, but I prefer to open the separate Path Finder Preview window that I can enlarge to fill my screen if I wish. The Info portion of the window gives me endless details, even down to the serial number of my camera.
Drop It
Possibly the single most important feature for me is the Drop Stack. It's a temporary, smart holding bay for folders and files. Sometimes I need to gather odds and ends from all over my computer into one or more folders. With the Finder I could open windows for the destination folders and roam around in another window locating files then dropping them onto the other windows.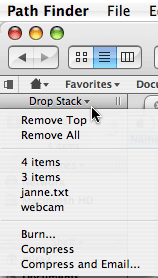 The Drop Stack holds files temporarily.
In Path Finder I simply drag files and folders to the Drop Stack. It keeps a tally as I go, and at any time I can see a list of all the dropped files. When I reach a destination folder I can drag out any files I choose. Until I do that, the file hasn't actually moved anywhere. Other possibilities include removing items from the Stack, burning them to a CD/DVD, and compressing and e-mailing them. Unfortunately the e-mailing option uses Apple Mail, even though Eudora is set as my default mailer.
There's another handy feature of Path Finder—its built-in ability to compress and decompress files. It uses the StuffIt engine, so you don't need to separately install StuffIt Deluxe. This feature alone will repay your investment if you download or need to send compressed files.
One thing that constantly catches me out is that the Drop Stack "belongs" to the browser window. If I open another window it has an empty Stack, even if the Stack in the first window was loaded. That's probably logical, but I expect the Drop Stack to be independent of windows.
Tabbed Browsing
One of the most valuable features of any modern Web browser is tabbed browsing—you have one single window but view different Web pages in different tabs. Web browsers such as Safari let you Command-click a link to open it in a new tab, drag a link direct to the tab bar to open it in a tab, and so on. As someone who spends a lot of time around Web pages, these actions are second nature to me.
So although the new tabbed interface in Path Finder is an excellent enhancement, there are disappointments in its implementation. I can Control-click to open a folder into a new tab, but I can't just drag a folder to the tab bar, nor can I use a modifier such as Command-click, which in fact opens a folder into a new window, even though I'd prefer a new tab. I imagine, since tabs are a new feature, that these enhancements will come later. It's such a pleasure to have tabs that these criticisms are minor.
Another "pause for thought" is that you create a new browser window from the File menu, but create a new Tab from the View menu. I'd expect both to be on the same menu.
Developer Response
The day after Path Finder 4 was available I blogged about a couple of things I'd noticed: a JavaScript in a Web page caused the browser to resize when I clicked on it, and the default HTML file you can create from the File menu wasn't as I thought it should be. One of the developers, Neil, left a comment and the next minor update included a fix for the HTML file.
The JavaScript bug (I thought it was a feature actually) hadn't been spotted in beta testing, and Neil was going to check it out.
Although impatient fans had moaned at length because of delays in getting version 4 out, I find it remarkable that one of the developers should leave a comment on my blog within hours of the product's release and fix a minor complaint for the next update. The moaning of the fans and the delays in production tell me that this software is very much loved and that the developers have high standards. I didn't whine aloud about the delays, but I was definitely checking twice a day there for a while in case the new version had appeared.
More, More, More
I could write about Path Finder's features for weeks. The couple of favorites I've mentioned are just that: a couple of favorites. There are hundreds, perhaps thousands, of features—after 18 months I'm still discovering new ways Path Finder can help me work.
There's no such thing as perfect software. Yes, Path Finder has crashed once or twice, yes tabs are great but could be even better, but in this review I've had to rack my brains to pick out just my top one or two features to highlight and to dredge up some criticisms. Call me a fan.
Path Finder is a great investment for anyone who wants to have a couple of clues about the files they work with. It's not for everyone: if you're stumped by how to Trash a document or can't remember how to save your letter into a specific folder, then Apple's Finder will suit you nicely.
If you know how to work your Mac and want to make it work harder for you, then you should be downloading Path Finder's 21-day free demo even as you read this.