Software Review
Chessmaster 9000

Developer: Feral Interactive
Price: $40
Requirements: Mac OS X 10.2, 700MHz CPU, 256 MB RAM, 1.3 GB disk space. Not Universal.
Recommended: 1 GHz CPU, 512 MB RAM.
Trial: None
As the saying goes, chess takes a moment to learn but a lifetime to master. There is no ultimate strategy to beat all others. White goes first, but has no guaranteed advantage. And so on.
Chess players probably already know about the Mac OS X Chess program in the Applications folder. It's a nice distraction for people who know the game. However, you "learn" from it only by wandering pieces around the board and losing a lot. Frustrating and not efficiently instructive.
Chessmaster 9000, on the other hand, is a complete package of tutorials and playing exercises. It includes teaching formats for players just learning the game. There's a library of past games, including hundreds of the most important games played by masters and grandmasters. It provides just about any game you want to play, either against the computer (in various play levels and styles) or over the Internet.
Installation
After I first installed Chessmaster, it would crash repeatedly on opening. Unfortunately, the version on my disc isn't completely compatible with Mac OS X 10.4, so it needs the latest patch from Feral Interactive. As of writing date, that's version 1.0.2. After installation, starting the game worked fine.
Learning the Game
The word "tutorial" doesn't capture how much education they've packed into Chessmaster's Classroom. There are many hours' worth of instruction that cover all levels of play from first moves to advanced concepts, all narrated and demonstrated.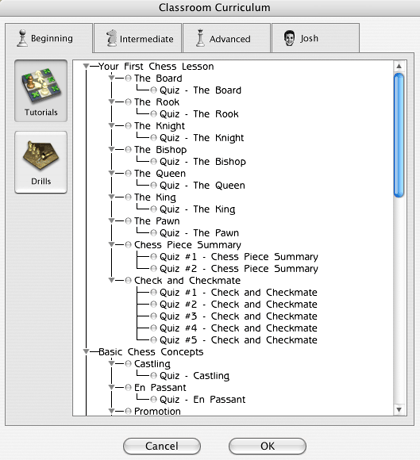 A list of starting lessons and exercises.
Most lessons come in the form of situational play with exercises, but there's also an engrossing series of games narrated by Josh Waitzkin, the former child master and real-life inspiration for the movie "Searching for Bobby Fischer." Waitzkin steps through a whole variety of his past games, covering attack, defense, and the psychology of play.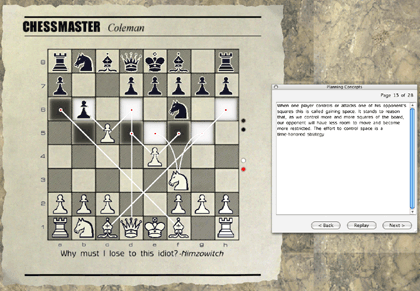 Instruction on attack strategy.
While the tutorial is exhaustive in scope, simply running through every example won't make you an expert. You still need to play games—many games—in order to understand how to recognize what the tutorials explain.
The History and Strategy of Chess
Chessmaster's Library contains hundreds of classic games dating back to the 17th century and an extensive commentary on opening play. Since openings are an important part of learning the game, you should familiarize yourself with typical positions three and four moves into the game. The Classroom also covers openings in detail.
While learning opening play is more practical, watching the playback of classic games is quite interesting. We didn't have video cameras in the past, but chess' game notation does the job for us. You can pause the game at any point to watch the flow or study a position.
If you're a glutton for chess games, the Database contains a history of thousands of past games from all levels and locations. For example, there are 528 games played by legend Garry Kasparov alone. Search the database by name, rating, event, and so on, then study the game progression at your own speed.
How About a Nice Game of Chess?
The Game Room is the strategy practice area. There are dozens of board and piece designs. Game parameters include opponent style, piece arrangement, and length of game.
The Game Room is informal. It allows "take backs" and offers strategic advice through Chessmaster's mentor. Head to the Tournament area when you're ready for the real, no-cheating game.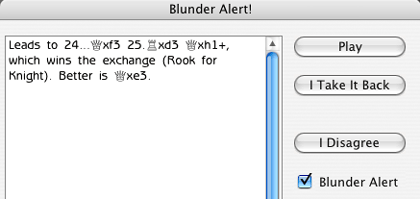 Using the mentor to avoid mistakes.
When you play chess with friends and family, there's no tournament clock ticking away. However, Chessmaster requires a timer when you play against it. Otherwise, being a computer, it could sit there and consider each move forever, looking for the "best" option.
Fortunately, the Game Room doesn't force you to resign if time runs out. In a Tournament game, however, you have to use a timer—and you lose if it runs out. Winning and losing in the tournament (or a rated game) changes your chess rating, which reflects how you've done against other rated players.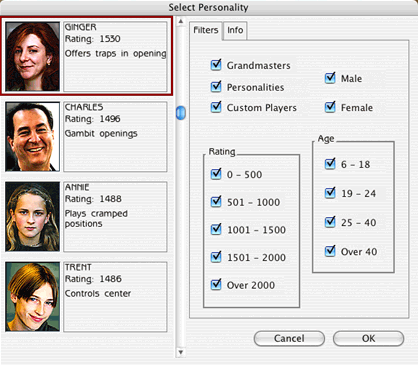 A selection of rated players to challenge.
Chess For Young Players
The Kids' Room is a combination of the Classroom and Game Room. Kids can learn the game, play computer players (including Waitzkin himself at different ages), and print out certificates as they progress.
While the room is geared to young players, I actually spent a lot of time playing here. There's another group of games narrated by Waitzkin and the game controls are close at hand.
The colorful pieces of the kids' room board.
Playing Against Human Opponents
Chessmaster supports both LAN (local area network) and Internet play. Internet play goes through GameRanger, which is a free download.
To find other Chessmaster players, create a (free) Game­Ranger account and enter the Game­Ranger lobby. The lobby lists all available games by name. Pick an existing Chessmaster game, or host your own and wait for another player to join.
Summary
The comprehensive tutorial and annotated games are excellent features that pique one's interest, especially for new players. Advanced players will enjoy the vast range of opponent levels and incredible database of past games for study.
Like cards and other classic games, there's no end to Chessmaster, so you can get value from the game for years to come. Actually winning games may come slowly, but the complete package of Chessmaster 9000 is well planned and executed, with no problems other than patching before you install.