Review: Swap 1.2

Developer: Phelios
Price: $20
Requirements: Mac OS X, 128 MB of RAM
Trial: Fully-featured (limited to less than ten minutes per session)
When I first played Swap, I thought it was exactly like Bejeweled only with a pastel-colored interface and pastel-colored shapes. There are three of these pastel themes to choose from: For Her (pink), For Him (blue) or, for those not willing to play the gender game, Classic (yellow).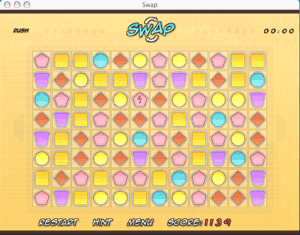 The yellow Classic background using the Shapes option.
Swap is played exactly like Bejeweled. Switch (or "swap") two adjacent pieces to align three or more of the same color in a vertical or horizontal row. When you do this, these pieces disappear from the board and you earn points. Choose from a variety of Bubble Sets: circles, hearts and shapes (all in pastel colors), or hearts in darker shades.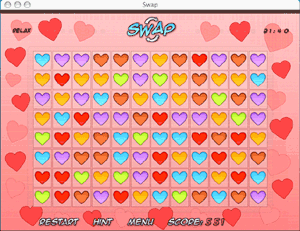 The For Her background using the darker Hearts.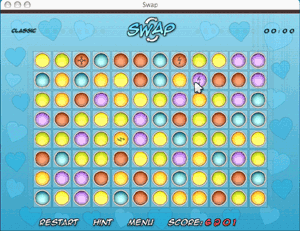 The For Him background with Circles.
Swap has a few extra features that Bejeweled does not. For instance, a bomb clears a 3x3 area (nine colors), a horizontal lightning bolt clears a line across the entire board and a vertical bolt clears a complete line vertically. A cross shape (two intersecting lightning bolts) clears two lines (horizontal and vertical). All of these bonus blocks earn you more points.
Unlike Bejeweled (where you play a Timed game or just a Simple, untimed game) there are four different types of games to choose from. Try Rush if you want a quick game, where you play for one minute in order to beat the high score. The Classic game gives you five minutes to beat the high score. If you have a little time on your hands, try Million, where you win when you reach one million points; I got 1,064,300 points in 8 minutes and 38 seconds. If timers make you anxious, try Relax. There's no timer; you play just for fun. And, of course, there are three levels of play for each type of game: Easy, Normal, and Hard.
The sound effects in Swap are fun (the swapping of pieces sounds like glasses tinkling), but the bombs and lightning bolts sound just like—well—bombs and lightning bolts. These can start to irritate after a while, so you might want to turn the volume to minimum. I'm so used to playing games with music on anyway, that I don't really miss the clinks and crashes.
My one gripe with this game is the High Scores screen. When this appeared after I'd won a game, the cursor seemed to stick when I tried to type in my name. My score never appeared on the High Scores board.
If you're not worried about saving your top score for posterity, then you'll enjoy Swap. It's a fun game with certainly more play options than Bejeweled, and for the pastel freaks among us it looks great!