Review: Sambucus X 2.3.1

Developer: Logiciels Malus Softwares
Price: $20
Requirements: Mac OS 8 or Mac OS X.
Trial: Fully-featured (30 days)
Running a small business and keeping track of time for billing is always an interesting endeavor. On the most basic level, this is possible with general-use calendar programs such as iCal, but the specific demands of business timekeeping aren't addressed by such software. Different tasks in a project are typically billed at different rates, and this tracking must be done separately and manually when using general calendar software.
Sambucus solves these problems by offering a specialized hierarchical system for project time management. This system starts with Projects, which are subdivided into Tasks, which can then have multiple individual timekeeping "Time Stamp" records.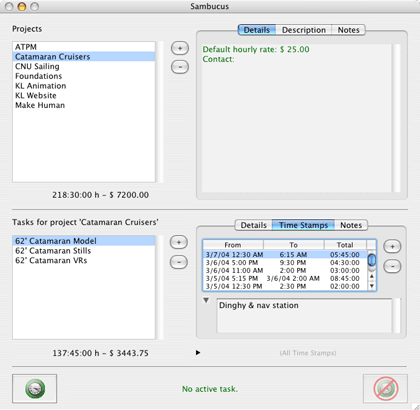 The Sambucus main window is well organized and easy to use for timekeeping and project management.
Projects, Tasks, and Time Stamps are well organized and modified from the main Sambucus administration window. New records are easily added or deleted by using buttons within this window, and Details, Description, and Notes can also be easily edited. Once a project with Tasks is created, Sambucus offers a simple and effective method for adding Time Stamps with "Start Time Stamp" and "Stop Time Stamp" buttons. These work like a traditional time clock, punching your time card in for the start of a task and punching out again when complete. This Time Stamp feature makes exact timekeeping extremely easy.
The first step is to set up projects for each client as well as in-house work, which is easily accomplished. A nice feature is the ability to set different default billing rates for each project or to choose a flat rate, very appropriate for actual small business billing needs.
Another nice feature in project management is the ability to add contact information for each individual project, but unfortunately this feature lacks data sharing with Address Book. This lack of information sharing means any contact information already in Address Book must be reentered into Sambucus and that two separate record systems must be maintained—definitely not the best method for keeping accurate contact information. However, once contact data is entered, Sambucus can conveniently copy contact information from one project to another.
Once a Project is created, different tasks are easy to add. Each Task can use the Project's default hourly billing rate, a custom billing rate, a flat fee, or have no billing enabled. This is very useful for small businesses that do multiple types of work in a project, and it accommodates different billing methods. For example, a Web design project might include coding, graphic design, and animation—all of which should be billed at different rates.
Individual timekeeping (Time Stamp) records are added to each task. As with Projects and Tasks, each of these time records can also have descriptions and notes. Adding or editing a Time Stamp is relatively straightforward, with start time/date, end time/date, optional duration settings, an option to set a flat fee, and a description field.
Each Project, Task, or Time Stamp has tax options with the ability to add and modify different taxes and rates for billing. The usefulness of this feature can only be fully understood by those who are responsible for local, state, and federal tax accounting and record keeping. Automatically setting these options for a project also ensures that appropriate taxes won't be omitted from an invoice.
Unfortunately, the Time Stamp details and editing window has a few quirks. Tabbing between input fields for month, day, and year doesn't work as with other Mac software. Instead of the individual number in the date, the entire date is selected, which makes repeated data entry cumbersome. Entering past dates is also somewhat annoying, because the software assumes that any date entered must be for the current or future year. For example, entering "12/15" for a past record must be entered as "12/15/03" otherwise the date is automatically set to 2004. Additionally, dates must be separated with slashes—not dashes—or the software won't understand the input properly.
On the positive side, a nice feature for the date selection is a pop-up calendar, which allows the user to scroll through months and days, a visual method of selecting the date in question. As great as this method is, it isn't well suited for transferring multiple records into the software with more rapid keyed data entry.
The time settings also do not quite work as expected, although tabbing does work to change between hours, minutes, seconds, and AM/PM.
Another unfortunate omission is the ability to "Select All" in any data fields. This means deleting descriptions or contact information must be done by manually using the mouse to select the information before deleting or replacing text.
There was one more disappointment: Sambucus doesn't import iCal calendars. This meant that no matter how organized work and timekeeping records were in iCal, they still had to be transferred into Sambucus by hand.
Sambucus excels at the billing side of project timekeeping. A running total of the logged time and billing within each Task is displayed on the bottom of the Sambucus window. Another excellent feature is the ability to print reports. Once a type of report is chosen, the details displayed can be selected to include any or all records necessary. The reports can be saved in text format to import into other software for formatting and a more professional look for invoices. Printing invoices directly from Sambucus isn't recommended because the reports are all created with the unpleasant monospaced Courier typeface, with no formatting options.
Overall Sambucus has an excellent interface that is straightforward and simple to use with controls over different billing rates and options. Once Projects and tasks are setup, the Time Stamp feature makes exact timekeeping extremely easy. The generated reports are excellent for use with other software, but are not suitable for professional billing when printed directly from the application. Sambucus is a useful program at a great price, but the data entry quirks need resolution, and data sharing with Address Book should be added. The software's downsides are not insurmountable but do detract from the overall ease-of-use and polish.