Review: World War 2 Online Blitzkrieg

Developer: Cornered Rat Software
Price: $34.99; online service costs $12.99/month with one-month free trial and additional free months for recruiting new players.
Requirements: 800 MHz G4, 512 MB of RAM, 64 MB VRAM, 1 GB free hard disk space, Mac OS X, joystick.
Trial: One month free online, "boot camp" map for unlimited offline practice.
About This Simulation
WW2 Online Blitzkrieg is played online with hundreds of others across the world. Considering its emphasis on detail, it is in more respects a simulation than a game, meaning WW2OL is arguably the first "Massively Multiplayer Combined Arms Cooperative Operation Real Time Simulation" ever.
What separates this war game from all others is its combined arms. It utilizes infantry, tanks, aeroplanes, and ships, and offers the ability to share the operation of a vehicle with another player in a constantly changing strategic environment. This is the most audacious attempt to date at recreating this period of history, and for the most part it has succeeded.
This simulation is set during the 1940 German "Blitzkrieg" across a richly detailed Northern Europe, as French and British forces do their best to stem the tide of the overwhelming German assault. It takes place in a half-scale virtual model of northern Europe. There are huge cities and small villages, connected by roads, rivers, and railroads. The nature of the map offers the option of simply travelling across Europe in an aeroplane or truck, but this will take time. Just to fly to the German border from Dover in England takes an hour and a half in real time!
The object of the game is relatively simple: stop the enemy from capturing territory. The ways of achieving this goal are varied and ever changing. You initially "spawn" in your choice of vehicle or as infantry at your location of choice, do your duty, and if you survive you "spawn out" and receive promotion points. There are dozens of vehicle types and a handful of infantry types available, and you can choose either to join your teammates or to join other groups.
The Germans usually win, upon which point the map is reset, but there is every possibility the Germans could be stalled past the typical two-month game cycle.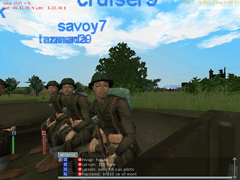 A truckload of allies arrives in town, ready for action.
The box contains the game CD, a simple 52-page user manual, and a useful but dated map of Northern Europe. The CD contains additional images and music not found in the downloadable version. The box states some hefty requirements as mentioned above, noting a lack of support for dual-CPU machine configurations, but my experience has shown that it can run quite well on a lesser machine. Cities, aircraft, and heavy action with large groups of players require powerful machines, but if you avoid those you can still have fun using lower end machines.
I have been playing this simulation on my 500 MHz PowerBook G3, with 640 MB RAM and a paltry 8 MB of VRAM. While the game is for the most part playable, a reasonable minimum specification for adequate game play would be a 600 MHz G4 with 512 MB of RAM and 16 MB of VRAM with L3 cache.
It is important to note the L3 requirement, because the G4 iMac, eMac, and new 12" PowerBook which lack this L3 cache perform surprisingly poorly running this game! To use the tanks, big guns, and airplanes, it goes without saying that the game will require a joystick, and a good one at that. Fortunately, quality joysticks retail for as low as $25.
When using the game's bundled configuration utility, it is best to start with minimum settings and increase over time, starting with the resolution and observing frame rate changes (if the FPS rate is not shown, press the Num Lock key). Higher settings make the environment look better, but may reduce performance. The bottom left '?' button, when clicked, displays detailed descriptions of each of the settings.
There have been a dozen updates to this game since the first Mac version came out (and dozens more on the PC side), but this is the first time I can honestly say it's a Really Good ThingTM. There is an amazing and constant effort to improve the game, with user polls conducted and suggestion requests accepted. Since I started playing, the developers have added new effects, new terrain, a dozen more towns, one armored car, three tanks, and five new airplanes, pushing the total number of vehicles into three figures. The improvements in version 1.8.4 are substantial. There may already be additional vehicles by the time you read this!
Looking at town from river bridge.
Joining the Squad
With this in mind, it is best to download and use the full game installer from the site (about 99 MB) instead of installing from the CD, which carries version 1.6.8. By default, files install to the "PlayNet" folder within the Applications folder, although this can be changed.
A plug-in for your Web browser is also installed, meaning you should quit your Web browser before installing. As ATPM went to press, this plug-in is incompatible with Apple's Safari browser, and I have only tested it with Internet Explorer.
To create an account, go to the Web site's Account/Getting Started area, enter the CD Key found on the case along with some personal and billing information, and take your time to choose a user name and password you're happy with. You can change your user name at a later stage, but it will cost a little extra. Once you have signed in, you can then choose a squad to join.
Teammates help you play the game, coordinate the missions, and give a sense of familiarity and welcome. The option to play elsewhere or on the opposite side is still there, but once familiarized with the game, joining up will offer great camaraderie. There is a feature in the "radio" window to instantly chat with specific squad members or an individual. Being a member also gives you posting access to the Forum; Support-Mac is very helpful with questions. There is already a vibrant community of players.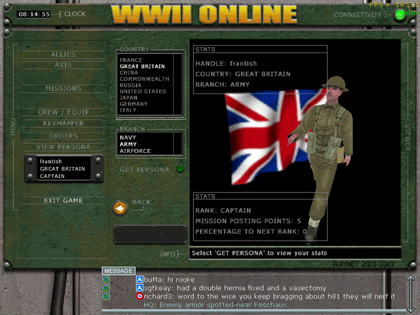 As you gain experience, you gain rank and privileges!
War Games
This game is possibly unique, in that it is launched from a Web browser. On the Web site, choose a side (Allies or Axis), read the news and orders for the day, and then click the Join button. This activates the PlayNet plug-in, which quits your browser and launches the game. Once loaded, you are shown a map of recent activity. Use the map to zoom in on an area or view a list of active missions or attacks that you can join. The entry screen also lets you modify the key map, and view your progress to becoming a general.
Once a mission and vehicle are picked, hit Launch and the game drops you onto the map. Most of the time you will spawn in a relatively quiet area and move to the front line by land, air, or sea; but sometimes you may spawn in the midst of heavy action! Just as in the real war, information is scant, and your on-screen display offers basic health meters, a direction indicator, and a short-range map.
The environment is detailed enough to look impressive. There are day and night cycles, but the transitions happen about four times faster than normal. The game follows the laws of physics, from gravity right down to weapons recoil and the swaying motions of vehicles. You can have accidents; if a truck you are riding hits a bump or a tree, people will be thrown out and injured!
Because there are so many vehicles in the game, there are configuration settings for each class and individual vehicle, as well as settings for up to four different joysticks attached to the same computer, or for four players using the same joystick.
The spawn-in locations are either in the field called "FB," or in a city, called "AB." What is available depends on how active the location is and on your rank (most units are available at Corporal level). From then on it's drive, fly, boat, or just plain walk to the action. Of course, you can hitch a ride or be towed by a truck by getting close and jumping on board. While hundreds can be online, there is a limit of 64 for each FB or AB.
The availability of equipment is a deciding factor in most battles. Scoring is based on two factors in defensive missions: how much longer than 10 minutes they last and whether you survive, and (in an attack mission) claiming a kill. This is much easier said then done, as most of the time you are unsuccessful.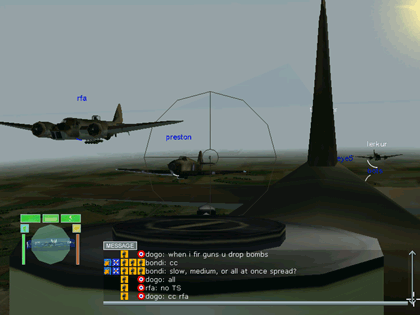 RAF out in force, Hurricanes and Blenhimes.
Of all the online games I have played this is the most reliable, even over a 56K modem. Lag, when it happens, has almost no impact on ground operations, at most causing movement jerkiness or a rare delay in updates on flags. I was able to test it simultaneously by operating a tank, using two accounts over a high bandwidth connection. There was a consistent 1/4-1/3 second feedback lag between the two, which is very good. Considering that the servers need to keep track of hundreds of objects, including bullets, test for collisions, and then inform each player's computer of movement, hits, or other events, one can begin to come to terms with the quality of this simulation.
A successful hit does take about one second to register on your screen. In that time, a signal of a hit is sent to the server, which passes that information to the opponents' computers. They acknowledge the hit and report damage sustained; this information is passed back to the server, and notice is finally sent back to the shooting players computer, all in the space of that one second. A slow computer with a low frame rate suffers more misses than lag.
Teamwork
The hallmark of this game is cooperation. Two players can share a single vehicle, where one is usually a driver or pilot and the other is a gunner or bomber. Not only can a large gun be operated by two people, but to move it across great distances one needs the assistance of a third player to operate a truck.
In a tank, the driver will select the tank available and request an additional crew member who takes the turret position. It makes for easier spotting of enemies, which is vital for victory, but communication between driver and gunner is tricky. It is easier to be a tail gunner to an aircraft's busy pilot.
The implementation of this feature is refined, functional, and one of the best aspects of this game. A cross-platform communications software called TEAMSPEAK is being used to great effect to help coordinate vehicle operation as well as squad organization.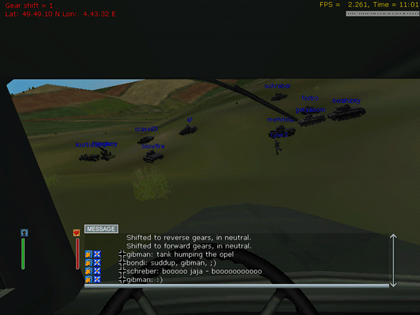 German forces moving out.
Details, Details, Details
The key to a great game or movie is in the details. Once, I spawned into a fighter; while grounded, engine off, I fired its guns to observe the light effects and sound. To my amazement, I started moving backwards! I had not expected the developers to model the recoil on fighter aircraft as they did so well on tanks and guns, but they obviously have, to great effect.
These are not cookie cutter objects in different skins; every vehicle is beautifully modeled and behaves differently, as does the recoil of each weapon. So too are the vulnerabilities of each vehicle. Each vehicle contains fuel, ammunition, oil, power, controls, and of course the crew, so a penetrating round may only damage one or two systems, if indeed it hits anything.
With tanks, a shell may penetrate and ricochet off something inside before hitting a vital item. You can swim across rivers, but make sure you are well rested or you will risk drowning. Running takes away from your stamina, but lying down quickly recovers your breath. Damage is variable, from being stunned, to sustaining light wounds, to being mortally wounded, to dying instantly. Did I mention how beautiful the details are?
An 88mm cannon fires at night.
Bugs and Lags
Sadly, no game is perfect. Yet.
A pitfall of the game bemoaned by many is being locked inside a vehicle. There is no means of escape, even if it means losing the vehicle forever. There is every chance a vehicle is rendered immobile but its occupants survive. Yet they can't get out, and they can't spawn out of the environment, either.
Occasionally damage is ineffectual, or not properly recorded. An aircraft can on rare occasions take a huge number of direct hits and still fly home, if smoking profusely. Tanks have survived a large number of hits and attacks by sappers. The lag time between computers can also make what is a sure-fire hit to you a complete miss. Another source of gripes is damaged targets spawning out early, where the target leaves before being completely destroyed, robbing the victor of full credit for the kill.
The one aspect of the game I did find wanting are the buildings. Large buildings in cities resemble giant boxes on a Hollywood stage set. This is an unavoidable shortcoming in my opinion, as rendering more detailed buildings means more demands on the computer and server. Regardless, there is for each building a ground level and external stairs to the top. There are a few small buildings and churches with internal stairs, but the window frames are annoyingly thick. I saw one building with no upstairs windows.
The bunkers and fortifications in the game are oddly inaccurate. These bunkers are key positions in the game that must be captured; however as a strong defensive building they are anything but that. They are often positioned next to other buildings, trees, or walls that obstruct any defensive fire, and have large openings that offer a direct line of incoming fire. The system is not 100% efficient; objects and walls do not stop all shells or explosions so it is possible to be hit inside a bunker. Overall, bunkers seem to be a hindrance and many players question their purpose.
This game suffers from occasional freezes and application crashes that occur more frequently on modem connections. On a broadband connection, a crash or freeze may on average occur with every 15th spawn-in, but I am usually finished playing before that happens.
I have read some reports of poor performance even with new, high-end Macs. There are a few map bugs, mainly bases that cannot be captured and trees invisible from one side. Lag is generally unnoticeable—unless you are flying, when that short pause may seem to last forever—but other then that it runs very smoothly, considering the hundreds of players online at once.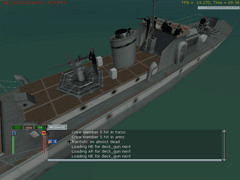 Going on a river cruise in a small Fairmile patrol boat.
Play Tips
Be patient! If you rush into combat you won't last long. Learn how to operate as many individual vehicles as possible before you rush off to battle. Learn to work in teams, as you cannot capture a town alone. The more familiar you are with your vehicles and maps, the more successful you are. Truck runs and defense missions are the best route to more promotion points, but remember to despawn at base after a run. You must play the game for more than ten minutes and survive to receive those points.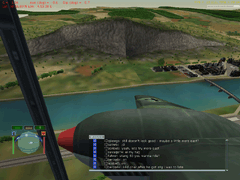 The cliffs of Dinant.
Last Call
World War 2 Online Blitzkrieg must not be seen as an arcade-style game such as Quake, Medal of Honor, or Unreal. It is a serious combat simulation that can be enjoyed if treated as such, and gives a good historical perspective of what it was like 63 years ago. This game is most recommended for WW2 hobbyists, serious gamers, and those who like simulation games, but it may still be attractive to arcade gamers.
The camaraderie you will find between players is very noticeable, with players trading humorous war stories or boasts. Perhaps some will be perfectly happy just to drive to a hill top, admire the virtual countryside, and listen to the digital birds.