Reviews: Shareware Roundup
Financial Help
You've probably spent quite a bit of money this past holiday season. If not, then more power to you. But whether you spent lots of green stuff or not, it doesn't hurt to be financially organized. So, with a new year ahead, I thought it appropriate to check out three financial shareware programs.
Moneydance 3.2

Developer: The Appgen Software Companies
Price: $30
Requirements: Mac OS X
Trial: Feature-limited (100 transactions)
Moneydance is a nice little shareware program that's very intuitive and straightforward. It's easy to use and has just about everything for keeping track of your accounts. You can also use it with Quicken.
When you start, you'll get a homepage that looks like this: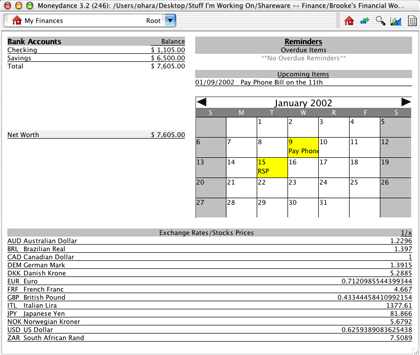 As you can see, I've got some reminders set to help me remember to pay my phone bill and to make my monthly contribution to my RSP. The homepage also lets me see my Net Worth (I'm not using my real numbers!).
To get started in Moneydance, select your currency (I chose Canadian dollars) from the Tools menu and select Edit Currencies/Exchange Rates. You can then set up your new accounts from the Account menu by selecting New. (I made mine a Bank account and then made two kinds—a Checking and a Savings.)
Here's an example of my Checking account (I'm still using fake numbers!).

Note: The transaction shown in yellow has not been completed yet. It's my rent for the first of January!
Extras (found under the Tools menu) include: a Calculator, a Loan Calculator which calculates how much money (principal and interest) you have to pay per month over a certain number of years, an Address Book, a Chart of Accounts that shows all of your accounts broken down into sections (for example, the total amount you spent in Education or Vacation), as well as Reminders where you can set up daily, weekly, monthly, or yearly reminders. And there's a Budget Manager to help you budget—just what everyone needs.
From a selection of icons in the upper right hand corner of the homepage, you can generate graphs (Expenses, Income, Income and Expenses, and Account Balance); download information from the Net, for example, the latest exchange rates; or generate reports such as Net Worth, Account Balances, Cash Flow, Transactions, Budget, and Missing Checks.
The Help Contents has a very good index and there's even Additional Help where there's an 800 number listed just in case you've still got questions that the Help Contents didn't answer.
Overall, Moneydance is a very good program. I found it very easy to navigate with a simple, yet attractive interface. There's lots more to explore in Moneydance and I think you'll find it worth exploring.
Hold-Up 1.5

Developer: Pierre-Olivier Latour and Didier Larue
Price: $20 (Basic); $30 (Pro)
Requirements: PowerPC-based Mac with Mac OS 8.5, 800x600 display
Trial: Feature-limited (2 accounts, 5 filters, and 30 transactions per account)
According to the Read Me file, Hold-Up is "nice looking, very easy to use and very powerful too thanks to its innovating features." And I would have to agree.
Although the version I've reviewed here is a demo (which means it is not fully functional but the time is unlimited), there's enough to play around with, so you'll know whether you'll want to invest in the complete version or not. There are two versions: Basic and Pro, so you can see which one would best suit your needs. Note: There are differences among the Basic, Pro, and Demo versions of Hold-up. These differences are outlined clearly in a chart in the Read Me document.
To begin, use the demo Hold-Up (normally you'd choose New Account from the File menu but you can't for the demo version) and double-click on one of the accounts set up for you in the demo version. Select Information from the Account menu on the title bar and insert general information about your account (the name of your account, the currency you are using and any notes that you want to make), owner information (your name and address, etc.), the name of your bank, and the names of two contacts from your bank.
You can then delete the information used in the demo and insert your own info. Choose New Transaction from the Account menu to start your transactions. As you can see here, I have a starting balance of $5,000 and then started to add my expenses (books, rent, and telephone) and my income (pay check).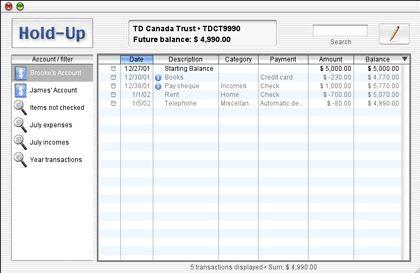 The two transactions with the blue circle and the "i" in the middle indicate a note that I made when I created the transaction.
Hold-Up has a PDF manual that gives the basics on how to use the program, although by the look of the interface, you'll find it's pretty intuitive. The interface is simply one window with two lists and one button, so you can see everything in one glance. I'd have to say Hold-Up is a good program. Its simple interface will give even the financially challenged hope. This program is definitely worth a look.
Where Did All My Money Go? 2.3.9

Developer: Bert Torfs
Price: $25
Requirements: Mac OS X
Trial: Feature-limited (only 100 transactions)
Belgian Bert Torfs has developed what looks like a nice little financial program, but it's not for the faint of financial smarts! Although there are a lot of positive reviews on Version Tracker, I was very frustrated trying to figure out just how this shareware program worked. It's not an intuitive or user friendly program. I was clicking all over the place trying to figure it out, but to no avail. Finally, I had to resort to the manual. (Just as an aside, I usually try to work with shareware programs without reading the manual at first, simply to see if they're user friendly!) Add to this the fact that I had to download the manual. Now, if there's one thing that frustrates me, it's having to go hunting for the manual separately from the downloaded program. Okay, so I've got a few issues…
So I now have the manual up and running in a PDF and I spent about 45 minutes to an hour just trying to get through the 33-page tutorial. First, I had to set up the expenses and then the accounts. It took a lot to figure this out simply because the names of the files in the manual did not match the names in the actual program. For example, in the manual it says to set up the accounts by going to the Setup menu and choosing Accounts. I clicked on the Setup menu and chose Account Owner instead of Account hierarchy (There was no Accounts!). Maybe I was tired (and I'm willing to give WDAMMG the benefit of the doubt) but I found it hard to get the correct option because of the mismatched information: Account Owner vs. Account hierarchy vs. Account. It's not clear and definitely not user friendly!
Also the interface is quite forboding. Just to look at it is intimidating.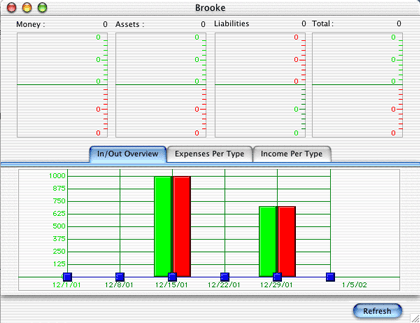 Compared with the aforementioned programs, WDAMMG is not easy to figure out. Or else I am just really bad with finances. I just find that a shareware program is really not worth exploring if you can't get the gist of it within an hour. Personally, I feel I spent way too much time trying to figure this program out with and without the manual! However, I'll give my clever readers the benefit of the doubt. If any of you are financial wizards then you might "get" how this program works intuitively without having to go through the 33-page tutorial! Hope you have better luck than I did.