Review: Sensiva

Developer: Sensiva
Price: free
Requirements: Mac OS 8.1 or higher.
The Joy of Stylus
Good Lord, how I would love a Palm. I would really, really love a Palm. I can see myself becoming one of those people who is so addicted to their Palm that their normal handwriting has become all loopy from too much Graffiti. I don't really need all my information at my fingertips or any of the other reasons why normal people would use a Palm; I just like the whole idea of being able to squiggle away with a pen and have my computer understand what's going on. Christmas is coming, and when Santa comes to visit the local department store I'm going to sit on his knee and ask him nicely to pop a Palm down the chimney. Failing that (since I'm probably not on his list of good girls), I'll just keep using Sensiva.
Doodle Away from the Comfort of your Own Mousepad
Sensiva is a great little application, freely downloadable from its Web site, that lets you execute commands by drawing symbols with the pointing device of your choosing, be it trackpad, mouse, or graphics tablet. If you already use a program like QuicKeys to execute multiple commands with a single keystroke, then you'll find that this works in a very similar way. Sensiva isn't restricted to keystrokes; it can type a string of text for you, run an AppleScript, launch any application, or go directly to a Web site.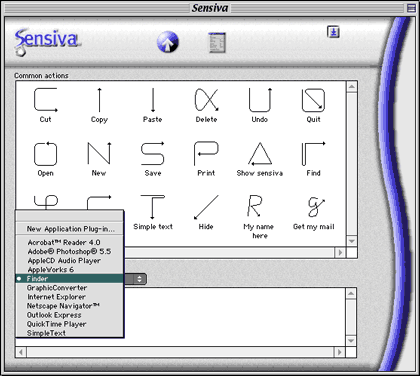 Sensiva's Application Interface
Sensiva comes in two parts: an application and an extension. You use the application to see the commands that are available to you and to create and edit symbols and commands to suit your needs. The extension runs Sensiva itself, so you can quit the application once you're finished editing commands and still carry on using your commands.
Sensiva will let you use universal commands such as Undo and Copy, and you can also have application-specific commands like 'Empty Trash' in the Finder and 'Zoom in' in Photoshop.
Scribble scribble scribble—ooh, I launched Sherlock!
You draw a command by holding down one of the modifier keys (either Option, Shift, Control, or Command—you can only choose one) and drag the mouse in the shape of the command's associated symbol. A trail follows your pointer, and if you've successfully drawn the command a blue S appears in the corner of your screen. Easy as that. Unfortunately, this creates problems because you cannot properly shift-, command-, or control-click anymore.
This squiggle logs me on to the Internet, launches Outlook Express, and grabs all my e-mail. Since I've made it a universal command, it'll work in whatever application I happen to be using at the time.
Here I've made a stylized curly A symbol. I first assigned it to Internet Explorer as a URL shortcut to http://www.atpm.com. Next, I assigned it to my e-mail program as a shortcut to make a new message and address it to the staff mailing list. Finally, I assigned it to AppleWorks and BBEdit as a text shortcut, to save myself a few keystrokes when I type "About This Particular Macintosh."
At first I was drawing my little 'A's and 'G's, and it'd work maybe one time in five. But, like using Graffiti on the Palm, you have to practice the commands to make sure you're getting them right. Once you get the hang of things, you'll find that it becomes second nature to draw a squiggle with your mouse to empty the Trash, type your name and address, or launch Sherlock.
I've been using Sensiva with a mouse, but it also provides support for Wacom graphics tablets—so if you already prefer using your stylus instead of a mouse, you'll probably find this interface to be a breeze.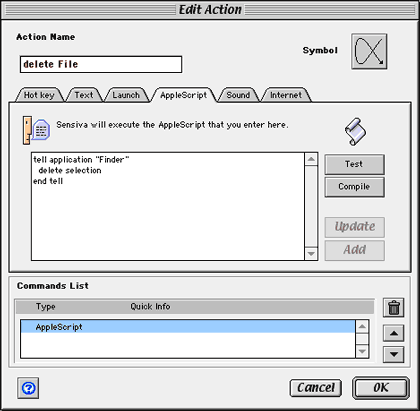 Editing a Command
Is it any Good?
For an application that originated on the PC, the Sensiva application itself is a very well-behaved. It even pays attention to the Appearance Manager, using your preferred accent color as it draws a trail behind your mouse. Its support for AppleScript is definitely a big bonus; it even lets you write and test the script right there in the Sensiva application, if you're just whipping up a quickie.
The supporting documentation, on the other hand, is pretty poor. The tutorial consists of a two-sentence explanation of what it does, and the HTML files provided as "help" make the odd dubious reference to right mouse buttons, leading you to wonder exactly how much time the Sensiva folks spent on them. There doesn't seem to be anything in the help or on the Web site to help you with troubleshooting. Since this is early days for the Mac version of Sensiva (this is its first 'full' release) I expect this to improve.
It's also unfortunate that Sensiva does not yet properly support Macs with multiple displays. Again, this is something I would assume will be addressed in a later version.
Is it Useful?
A lot of shortcut and macro programs exist to make life on your Mac just a little bit easier, but Sensiva is the only one I've seen that doesn't require you to learn big strings of keystrokes or leave menus and floating windows everywhere. It's been theorized that people are better at remembering symbols and pictures than strings of text and numbers, and if this is the case then Sensiva is ahead of the pack in terms of an easy and intuitive interface.
If you're looking for a good, transparent, and unique answer to your macro needs, then this is probably for you. And, since I doubt there'll be a Palm under the tree this year, this bundle of squiggly fun is definitely for me.