Review: Monsoon iM-700 ice Flat Panel Speakers
Developer: Monsoon
Web: http://www.monsoonaudio.com/index_models_mmedia.htm
Price: $169.00 (see best deals below)
Requirements: Analog sound output (which all Macs to date have).
Trial: None
I have a soft spot for flat panel speakers; I fell in love with them when I reviewed the Benwin BW2000 speakers over a year ago. It's not too hard to see why. Their generally sleek design and efficient use of space complement the new lineup of Macs nicely. Besides Benwin and a few smaller players, Monsoon Multimedia has been a central force in this market. With the iM-700, they've released a set of speakers marketed especially to the Macintosh crowd. What this means is that they have translucent highlights (i.e., ice color) but are otherwise identical to the MM-700, except that the ice costs you an extra $20. Ice or not, the 700 series flat panel speakers make a wonderful addition to your computer.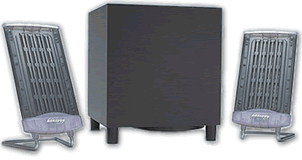 Why Flat?
The key appeal of flat panel speakers is, well, their flatness. Monsoon achieves this by using "planar magnetic technology," a fancy way of saying that a series of powerful neodymium magnets moves a conductive polymer diaphragm inside the core of the speaker, producing sound with a high fidelity. For those without a physics degree, this means that there's a very thin plastic "sheet" that moves inside the speaker, roughly similar to the membrane of a traditional speaker but without the cone.
Now, to clarify an important point, I mean high fidelity by my definition. There certainly are audiophiles out there (those guys who pay $10,000 for their sound system) that would laugh at me using the expression "high fidelity" in connection with these speakers. But my point of comparison is not the most expensive speakers out there, but rather the sound of built-in Mac speakers, the Benwin BW-2000, and regular computer speakers in general. The MM-700 sounds much better than all of those, especially the built-in Mac speakers. I don't count the speakers of the G4 Cube because they are external (and not separately available for purchase), but the Monsoons also win this comparison. The Benwin flat panels are a step up from the built-in speakers, both price-wise and quality-wise. But they sound crappy compared to the Monsoon 700s. Some of the nicer regular speakers rival the Monsoon in sound quality, but it's a close race. The Monsoon satellites' planar technology creates more focused dispersion patterns of sound, reducing reflections from your desktop or display that can make the sound "muddy," something that really helps sound clarity and spatial richness in a desktop environment.
The big subwoofer really lets you shake up the place. It may not be powerful enough to cause a minor earthquake, but it does pack enough of a punch for most uses (but don't expect it to fill a dance hall with sound). The overall system is well designed with a supplied remote volume "puck" that you can place on your desktop to adjust volume or mute the speakers. All other controls—power on/off, bass volume, and the standard sound in and speaker out ports—are on the back of the subwoofer.
iM-700 and MM-700 Technical Specifications

| | |
| --- | --- |
| Satellites | 4" X 8" dipole radiating planar magnetic transducer |
| 44 W total system power | 22 W subwoofer; 2 x 11 W satellites |
| Crossover | Active, 3rd order at 250Hz |
| Woofer drive unit | 5.25-inch cone, Xmax = +4mm (per DUMAX measurement) |
| Woofer cabinet | 6.9 liters, tuned to 65 Hz; 10"H x 9"W x 9"D |
| System frequency response | 50 Hz to 20 kHz in workstation environment |
| System time response | Less than .25 ms dispersion to -20 dB |
| Maximum SPL at .5 meters | 99dB RMS using EIA 426B noise |
Flat Versus Regular
There isn't a convincing reason to choose flat panel speakers over the more regular cubic/cone design or vice versa. It mostly boils down to a matter of taste. I personally think flat panels are much prettier. They use less space, fit better on the desktop, and can be hung from the wall (although the iM/MM-700s are not directly wall-mountable). There's also the coolness and high-tech factor. I don't see any reason not to recommend flat panel speakers. Their sound quality is on par with comparable regular speakers in the same price class, if not better. If you don't like the way they look with your system, don't get them.
If you decide you want a sleek flat-panel speaker system, the next question is which one. The Benwin speakers I reviewed before are a good value for the money. There are more expensive Benwin speakers for more demanding users. But if you want a really nice system and are prepared to pay for it, the Monsoon speakers are one of the best alternatives. If the 700 series is too powerful or too weak for you, Monsoon also offers the MM-500 and MM-1000, respectively, to address your concerns. I found the iM/MM-700 to be the best value for the money and to look best overall (OK, so looks do matter a lot to me). Personally, I don't think the little icing on the iM version is worth the extra $20, although it looks very nice next to a snow iMac.
The Verdict
Choosing speakers is a bit like choosing a car: there's no clear best choice. It depends on what kind of car you want, what color you like, and how much you want to pay. But of all the flat panels I have seen and tried, the Monsoon iM-700 is simply the coolest pair at an attractive price.
Pluses: Good sound, powerful bass, cool design, handy remote control.
Minuses: Maybe a bit pricey, but can be found at discounts (see below). Should be wall-mountable.
Best Deal: The lowest price I have seen is $99.99 for the MM-700 at Computers4sure.