Beyond the Barline
My Summer at Camp—Part 2
I'm usually not one to blow my own horn (unless someone cuts me off), but I was very happy with the responses I received from my fellow MetaCampers (and other Metasynth enthusiasts) to last month's column. Here are some quotes:
"Your MetaCamp article (pt. 1) totally rocks! How'd you find the time to listen, take notes, create, review… awesome." —Todd Barton, Director of MetaCamp
"Very nice article. I think it also provides a nice tour of the MS environment. Can't wait to see part II." —Edward Spiegel, U & I Software
"Just finished reading your ATPM article. I must say, well done." —Glen Bledsoe, Founder of the Metasynthia Project
"Great article and fine examples." —Hilary Rhodes, Metasynth enthusiast
"Excellent article! And all the time you sat next to me in the lab I thought you were spaced out working on your own project. You must have four ears (or two brains)…I've passed it on to many people." —Andy Leffler, Metasynth enthusiast
So not only have I introduced our regular readers to Metasynth, I've also brought a number of Metasynth enthusiasts (all of whom are Mac users) to ATPM. It's a great feeling to know your writing has accomplished so much. Anyway, enough self-induced ego boosting. On to Part Two.
Composing in Metasynth: a Step by Step Example
An overview of Metasynth compositions, which can be found at the Metasynth Music Gallery, the Metasynthia Project (Volume Two should be available about the time this issue is released), the MetaStation at mp3.com, and the newly launched Single Preset Composition Page, shows the breadth of sonic possibilities available to artists working in Metasynth. The composition I will discuss here, The Blue Hole, demonstrates many of the characteristics of my electronic music in general. It is based on digital samples, the material is limited (in this case, two samples), and the emphasis is on texture and spatialization. It is quite short, though (only three and a half minutes), relative to my other compositions (which average about eight minutes), and I composed it using the Image Synth, which is generally where one starts in learning Metasynth.
As with most of my electronic compositions, I began with a sample: something short (reflecting my preference for limited material) and rich in spectral possibilities. Since I had brought no material with me, I scanned through the Metasynth Input Samples folder, and found a wonderful sample entitled Guitar Reverb.

Sample Editor
Samples are opened directly into the sample editor (see above) where they can be accessed directly by the Image Synth, the Filter Window, and the Effects Window. Last month, I demonstrated how the Image Synth can access a synthesized waveform (a sine wave, for example), or an instrument (such as a drum kit). In this composition, I apply many of the same techniques I discussed in Part One to the "Guitar Reverb" sample:
I created several variations of each of these, saving each one to a preset file with an associated sound file (this is an important step, as you will see shortly). I also created another group of sounds using the displacement map, which is one of my favorite additions to Metasynth.
The Displacement Map
Last month, I demonstrated how to use the displacement map to create a new stereo filter. In this composition, I applied it to a straight horizontal line (i.e., the sample reproduced at pitch) that I had already color filtered to create a panning pattern. The true origin of the resulting sound baffled many listeners.
The rhythmic nature of this sound provided a natural bridge between the slow clusters and the definite rhythmic patterns. By this point, I thought I had enough material to begin a composition, and I began experimenting with sound collages in Metatrack.
Metatrack
As you can see, Metatrack complements Metasynth greatly. Preset Files are displayed in the upper left-hand corner, and (if you took the time to compile each image as you created it) these are automatically linked to the corresponding sound files. Admittedly, Metatrack has its limits, especially when compared to dedicated multitrack digital audio programs like Pro Tools, but its direct visual correspondence to, and seamless integration with Metasynth makes it a handy extension.
The above example is from the last section of The Blue Hole. However, I wasn't there quite yet. In fact, I spent a great deal of time combining the different sound files I had created without a satisfactory result. Something was missing, and more experimentation was required before I could figure out what that something was.
Fortunately, I was paying some attention to the presentations in between struggling with my own work. One part in particular that caught my interest was Edward Spiegel's demonstration on building custom scales from spectral analyses. Following along, I loaded the "Guitar Reverb" sample back into the Sample Editor. Then I selected Instant Spectrum from the Morph menu and saved an analysis to disk. Next, I opened the Custom Scale window (from the Custom Scale option in the Image Synth) and imported the spectral analysis by Option-clicking on the Open icon. The resulting scale had 227 frequencies within a single octave, far more than I needed, so I reduced the scale to 32 steps and saved it.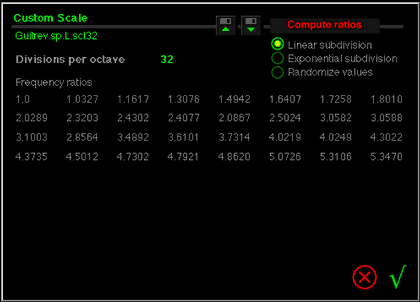 The Custom Scale Window
The next step was to find a sample to resynthesize using my custom scale. We had been working a lot with the "Welcome to Metasynth" sample, and it seemed like an appropriate choice, as this composition will welcome many ATPM readers to Metasynth. I am also fond of using vocal samples. I feel that their intimate connection to human activity helps counter the artificial nature of electronic music.
The result retains the recognizable quality of speech, yet also embodies the resonance of the "Guitar Reverb" sample.
One of the greatest advantages to analysis/resynthesis is the ability to change frequency and duration independent of each other. I freely admit that time stretching is the most identifiable technique in my electronic music. Some have criticized me for this, but don't all composers have certain identifiable techniques, such as fugue, or ostinato, or a favoring of particular orchestral colors, that make their work readily recognizable as their own? As long as these techniques are creatively employed, they can yield a lifetime's worth of unique compositions.
So I created a time-stretched version, added it to my presets, and returned to Metatrack. Now I had a recognizable sound, related to my other material yet also contrasted against it. This sound became my "ground" (a reoccurring pattern similar to those found in Baroque passacaglias and chaconnes), giving me a frame across which I placed my other sounds. Soon, the composition was done, and I was able to share with everyone "what I did during my summer at camp."
Briefly to a Different Subject
This month marks my one-year anniversary on the staff of ATPM. When I submitted my first segment to Daniel Chvatik in September of 1999, I had no idea that I would become a Contributing Editor and a regular columnist, or how quickly the gang here would grow on me. Thanks to everyone for a really great first year.
Next Month: My Summer at Camp—Part Three.