Review: icWord 1.0

Developer: Panergy
Price: $20 (shareware)
Requirements: Mac OS 8.6 or later.
Ever wonder how to read Microsoft Word documents if you don't have Microsoft Word? Well, icWord is here to help.
At only 4 MB, icWord is a file-reading program that allows you to open Microsoft Word documents from either the Mac or Windows platform without Microsoft Word. Word documents from the Internet, a disk, or e-mail open up in WYSIWYG format. According to the program's documentation, icWord opens Word 2000, Word 98 for the Macintosh, Word 97, Word 7, Word 6, and Word 2 documents, as well as RTF files. (More on RTF files later.) Be aware, however, that opening a document in icWord does not allow you to manipulate the text.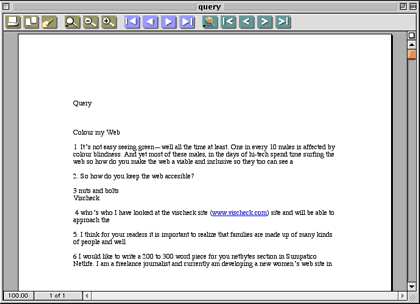 WYSIWYG
How it Works
To open a document in icWord, simply drag your Word file onto the icWord icon (or, open icWord, select Open from the File menu, and choose your Word document). The document will open in the format in which the document was saved—almost, that is. Columns, for example, do not show as columns, but appear one column after another. Similarly, although most drawings are shown in icWord, some free-form drawings do not show.
icWord purports to open the ".doc" format from various Word programs, but there is a caution in the documentation file that says: "The better formats are Word 2000, Word 98 for the Macintosh, and Word 97. Use the RTF format only when you have no other choice." I don't know why RTF format is even mentioned, however, because I couldn't open RTF. I got translation errors instead.
Despite the inability to read RTF files, icWord seems to work quite well. I printed several Word 98 documents right from icWord and had no complaints. To print (similar to Word itself), click on the printer icon or choose Print from the File menu. A print options box appears, with familiar Word choices: number of copies, which pages to print, ink selection, etc.
icWord's simple yet eye-catching toolbar contains various icons, most of which are self explanatory. From the left, there's the printer icon and the copy icon, then a flashlight that represents Find. Click on this icon to find a word in the text. Of curse, you can also choose Find from the Tools menu or use the keyboard shortcut.

The Toolbar
Next is a group of three spyglass icons for altering the document view. The first spyglass changes the relative size of the document from 25% to 400%. The second spyglass (with a minus sign) zooms out, and the last spyglass (with a plus sign) zooms in.
The next set of icons (four blue squares with white triangles on their sides) allows you to jump to the first page, the previous page, the next page, or the last page in a document.
The last set of icons—five sea-green squares with white v's in the center—are the Jumpmark keys. A Jumpmark allows you to jump around from point to point or paragraph to paragraph in a document instead of scrolling.
If you like the clean look, click on the white box on the right hand side above the vertical scroll bar to make the toolbar disappear.
A helpful feature for the oh-so-organized among us can be found in the Windows menu. If you're like me and tend to work on several documents at once, you can choose to Tile or Stack the windows in a neat and orderly manner.
Is it Worth it?
Obviously not, if you have Microsoft Word. But I know someone (new to the Mac) who says icWord does all she needs it to do: open Word documents that come attached to e-mail messages.
icWord seems to be a practical and user-friendly program for those Mac users who don't have Word and need to read Word documents. The simple toolbar layout is easy to navigate without the help of the documentation. The Tile and Stack Windows options are very useful, and the overall look of the program (especially the toolbar) is clean and tasteful.
However, there are some bugs. Not every document opens in its original form, as noted with the columns and pictures examples. Perhaps more important (as we're dealing mainly with text here), RTF files don't seem to translate in icWord. But I still think icWord is worth a look, or at least a free 30-day download.