About This Particular Web Site
Screen Gems Network
Web: http://www.screengemsnetwork.com
Classic TV programming


If you like watching the cable TV channel Nick at Nite, you'll love the Screen Gems Network. It's the first broadcast-based service for classic TV programming. Shows covered include: Charlie's Angels, The Partridge Family, I Dream of Jeannie, Bewitched, and Starsky & Hutch. All kinds of juicy little tidbits about these shows are exposed, from secret love affairs to battles with network bosses. There are some very clever Flash animations replicating the opening credits of some shows, bringing a tear of nostalgia to anyone who loved these programs. There are even some trivia games to test your knowledge.
The Smoking Gun
Web: http://www.thesmokinggun.com
Poke your nose in other people's business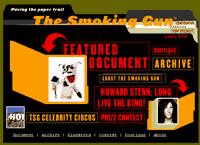 If a celebrity is having legal troubles, The Smoking Gun probably has a file on them. Here you can peruse the official legal documents involving whatever celebrity is making headlines. This is the site that first revealed Rick Rockwell's first divorce papers. It currently features the lawsuit between the Pets.com sock-puppet dog and Triumph the Insult Comic Dog from NBC's Conan 'O Brian.
The Macintosh Store at Amazon.com
Web: http://www.amazon.com/exec/obidos/tg/stores/browse/-/macintosh/
Amazon.com sells much more than books. As a matter of fact, they sell quite a few Mac products and have created a section exclusively for us Mac users. From books to software to printers and other hardware, Amazon.com offers competitive prices in a familiar environment. Just like other areas of Amazon.com, when you select a particular title, in addition to detailed information about the product, you get customer reviews and titles of other similar items.
FlightArrivals.com
Web: http://www.flightarrivals.com
Real-time arrival & departure information

Before you head off to pick up Uncle Bob from the airport, check out FlightArrivals.com. You might just save yourself from killing a few hours in the airport gift shop! Whether departing or arriving, you can find out the flight's most current status. Just select the airline, enter in the flight number, and pick the date. You'll receive up-to-the-minute reports of the flight and notifications of any delays or cancellations.
TV Barn
What's going on behind the scenes on TV

Want to know the latest information about what's going on behind the scenes at your favorite TV show? TV Barn delivers all of this in a very simple format, using minimal graphics and little fluff. From changes to show lineups to TV specials, the barn covers it all. You can also access weekly ratings to see which shows did the best and which shows may be on the chopping block.