Review: Eudora Pro 3.0
Product Information:
Published by: QUALCOMM© Incorporated
Phone: 619-587-1121
Web: http://www.eudora.com
List price: $89 US

Requirements:
Apple Macintosh® Plus or above, System 7 or higher.
Approximately 6.5 MB Disk Space
Mail account with an Internet Server Provider or Internet-style network account.
Access to your mail account via a modem (9600 bps or higher recommended) or Internet-style network account.

In these days of computers, modems and Internet connections, the aphorism "Waiting for the mail" is about the most archaic concept you can find in the field human communications. Knowledgeable observers of computers and related technologies dub electronic mail correspondence as today's most popular application, having pushed aside word processing, spreadsheets, games and the like. Usually, once we are "up and running" with our Internet connection, we adopt whatever application came packaged with our Macintosh® for our e-mail correspondence. Rarely do we reflect on how the software should, or could make our e-mail tasks easier, quicker, more efficient, or even more fun.
After many years of happily sending and receiving my e-mail using the freeware application Eudora Light[TM], I became aware of Eudora Pro[TM] 3.0 by QUALCOMM® Incorporated. The contrast between the two e-mail applications could be likened to the difference between driving my Geo Metro vs. my BMW Z3 Roadster. Both do the same job (getting me, or my mail, to a destination), but the features and options in Eudora Pro[TM] 3.0 and the Roadster make the mechanics of getting there more efficient and pleasurable.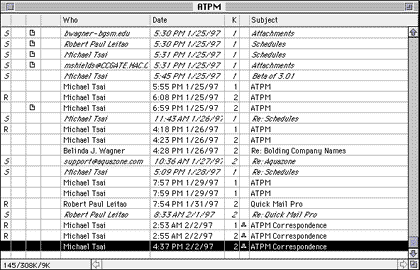 Installation is easy, with 68K, PowerPC or a Universal (Fat) versions of fered. If you already have an Internet connection, Eudora will automatically enter your present POP/SMTP settings in the appropriate locations. Further "Settings" such as Server Instructions, Mail Checking Intervals, Fonts and Displays and numerous other aspects of the application are easily fine-tuned from within the "Special" Menu bar selection. If you need assistance with Eudora Pro[TM] 3.0, it can be found in the comprehensive and very readable manual packaged with the three diskettes. Additionally, a thorough on-line "Help" manual is accessible from the "Balloon" icon in the Menu bar.

One feature that immediately captures attention is the user-configurable "Toolbar." Visually, this option places a series of "buttons" on the screen giving you links to commonly used Eudora commands. "Buttons" can be icon- or name-driven, appear in small or large icon format, be placed vertically or horizontally on the screen, or assigned to one of the funciton keys on an extended keyboard. Common tasks such as checking mail, creating new mail, replying to incoming mail, checking mailboxes and so forth are only a mouse click or function key-press away. At first, I was skeptical about this feature, fearing the amount of desktop "real-estate" the "Toolbar" might command. After I fine-tuned my "Toolbar" to a vertical configuration with small names only, I realized that the time-saving advantages far outweighed my concerns. Not only were Menu bar "pull-downs" minimized, I was able to create and include my own mailboxes in the "Toolbar."
The bland "black and white" world of electronic messages is changed with Eudora Pro 3.0. It has a majority of features associated with a true word processor. You have access to all installed fonts and all of the typical stylizing options such as: bold, italics, underline, size, justification, and even color text. Speaking of color, a real bonus of Eudora Pro 3.0 is its ability to accept "Embedded URLs" in the body of a message. Any URL you enter into the body of your mail text (designated by <> brackets) is automatically colored blue and underlined. When the recipient of your message 'command-clicks' this URL, their preferred Web browser is launched and automatically pointed to that Web site. [Editor's note: these features are also available on the freeware version, Eudora Light 3.0.1]



This leads me to mention two critical observations concerning Eudora Pro 3.0. Currently, neither stylized message text nor embedded URLs are recognized by recipients who are not using Eudora Pro 3.0. Perhaps friendly cooperation between competing developers in the field of e-mail applications will resolve this annoying barrier. However, incoming e-mail correspondence containing URLs written in the standard "<http://....>" format are highlighted for your use, no matter what application the sender uses to generate the message.
Included with Eudora Pro[TM] 3.0 is the spell check application, Spellswell from Working Software, which performs simple checks for grammar and spelling errors. The 93,000+ word dictionary is considerably robust for its size, has an intuitive interface, and is user-expandable. In a world where spelling errors are an embarrassment, this feature is a welcome addition. It's really quite awkward to check mail after it's been sent only to discover a drastic mistake or two!
Most e-mail users are concerned with the 'nuts and bolts' of "Message Management," so readers will be pleased to know that QUALCOMM Incorporated has wisely included the full capabilities of features like "Drag and Drop" in their application. Not only can messages be dragged from mailbox to mailbox, but all the usual "cut and paste" features of word processing work with this application. External text and its formatting can be imported without change from any other document into a Eudora e-mail message.
Other enhancements such as "Multiple File Attachments" and "Stationary Files" make this one of the most flexible mail programs I have used. The latter option allows you to automatically generate oft-repeated messages, or to automatically reply to incoming correspondence that you are on a well-deserved holiday and won't be returning for a week or two! Eudora Pro[TM] 3.0 has a powerful "Quick Search Engine" which allows you to use a VCR-like interface to find any particular text string in any message or mailbox.
One of Eudora Pro's most powerful features, however, lies buried in the section called "Filters." This interface may initially look slightly overpowering, but a quick read of the manual or an intuitive experiment or two will prove that this option is user-friendly and an invaluable asset. Five "Action Boxes" allow for the automatic management of e-mail through numerous actions and reactions to incoming and outgoing mail. Commands such as "Forward," "File in Mailbox...," "Sound Alert," "Auto Reply," "Notify Sender," "Open," and "Print" are only a few of the possible "filter journeys" you can assign to mail moving in either direction.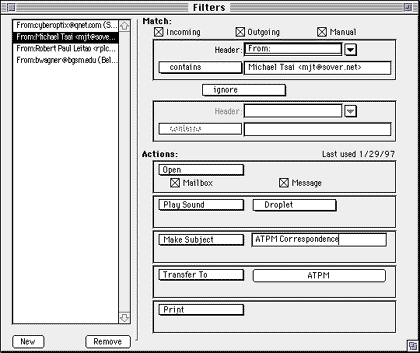 An adjunct to the "Filter" system is a more powerful "Address Book," which stores addressee information. E-mail addresses, street address, phone numbers and incidental notations concerning your correspondents are easily stored and accessed. You may also initiate e-mail messages directly from the Address Book, either to individuals or groups.
After years of tolerating messages larger than 32K being split into multiple messages, it is a pleasure to see that Eudora Pro 3.0 accepts messages of any size as complete documents. For those who might wish to begin to further customize this program, you should access http://hyperarchive.lcs.mit.edu/HyperArchive.html and do a "Eudora" search. Various sound alerts and scripts are available.
In the final analysis, I find this application to be excellent, flexible and robust. As an aside, when I caught sight of the name John Norstad as one of the people responsible for the initial development of Eudora, my faith in this application was confirmed. The name of John Norstad should reassure any Mac user. In case the name is not ringing any bells, Mr. Norstad was responsible for the best anti-virus freeware available for Macintosh computers, "Disinfectant." Thanks to him for that gem and for his contribution to an excellent mail program which was developed further by the people at QUALCOMM Incorporated.
For those who might be interested, I drive the Metro, not the BMW (but I can dream!).